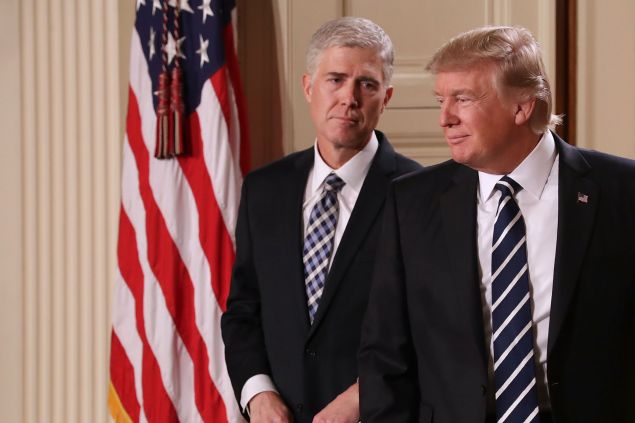 Rev. Al Sharpton railed against the Republican-led U.S. Senate for refusing to consider D.C. Circuit Court Judge Merrick Garland, former President Barack Obama's pick to replace the late Supreme Court Justice Antonin Scalia—and for now pushing the swift confirmation of Colorado Circuit Court Judge Neil Gorsuch, President Donald Trump's nominee for the vacant seat.
The controversial black activist lashed out at GOP Majority Leader Mitch McConnell and his conference during the weekly Saturday morning rally at the Harlem headquarters of his National Action Network. Sharpton recalled how Republicans refused to hold any proceedings to weigh Garland's nomination, which they justified by insisting that a president in the final year of his term should not get to fill a vacant Supreme Court seat
"President Barack Obama was in office when Scalia died. He nominated to take Scalia's seat Merrick Garland. Garland, by all accounts, was qualified—more than qualified—to take the job," Sharpton said. "They not only would not vote to confirm him for the Supreme Court, they wouldn't even give him a hearing to discuss whether he was qualified or not. I want you to watch this now: from February to February, they would not even consider the nomination of a sitting president called Barack Obama."
Garland's nomination expired in early January, weeks before Trump assumed the Oval Office. On January 31, the new president put up Gorsuch for Scalia's seat.
Sharpton noted that Republicans have looked to fixate the conversation about the latter nomination by emphasizing Garland's credentials. He alluded to Article Two of the U.S. Constitution, which grants the president power to appoint justices to the highest court "with the advice and consent of the Senate."
The civil rights leader warned that allowing Gorsuch's nomination to go through uncontested risked permanently politicizing the process.
"Now they want to talk about, since Trump has nominated Gorsuch, how qualified he is. Well, he ain't no more qualified than Garland was," he said. "The danger of this proceeding is, are you now saying that you will select Supreme Court judges based on if the party on the White House corresponds with the party that is the majority of the Senate, then you have in effect changed the constitutional requirements to select a Supreme Court judge."
"They can stall as long as they want till their man gets in the White House," Sharpton continued.
Sharpton then launched into an impersonation of Gorsuch, before ending with a warning to Democrats about the perils of submitting to the Republicans' new precedent.
'I'm going to see this guy, I'm going to see that guy, he told this guy that, he told that guy there'—the issue I want to know is how are you all going to have a hearing on Gorsuch, and wouldn't have one on Garland?" Sharpton said. "You cannot submit to a double standard without getting double-crossed. The minute you allow a double standard, then you are being double-crossed."
Sen. Kirsten Gillibrand has vowed to vote against Gorsuch, citing his decision in favor of the Christian-owned store Hobby Lobby in its suit against the Affordable Care Act's requirement employers finance workers' contraceptives. Senate Minority Leader Charles Schumer invoked the same case in voicing "very serious doubts" about the Colorado judge.