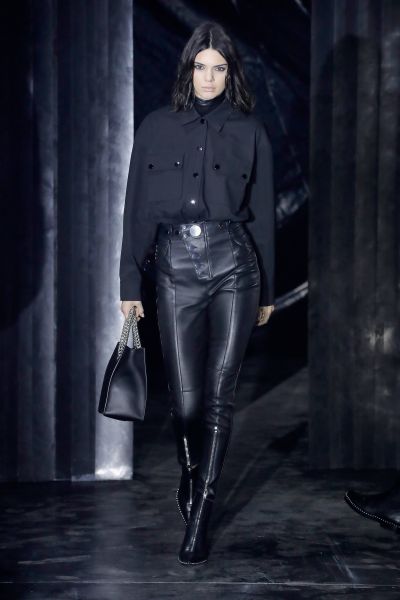 Alexander Wang rallied the fashion troops and brought them all the way up to 146th Street and Broadway for his fashion show on Saturday night. They trekked hundreds of blocks north, in spite of the promise that there would be no after party, which is usually what most of his showgowers look forward to.
Instead, the standing room only show, which was held in the beautifully decrepit RKO Hamilton Theater, was the only Wang attraction of the night. However, the show feel like it could've been a rager thanks to plastic cups of Peroni, a DJ set by Metro Boomin and major teen celeb sightings (including Sofia Richie, Brooklyn Beckham, Anwar Hadid, Ansel Elgort, Kylie Jenner, Fetty Wap and Sarah Snyder). The designer kept his designs in line with that party theme, and in doing so, only offered clothing in one color: black.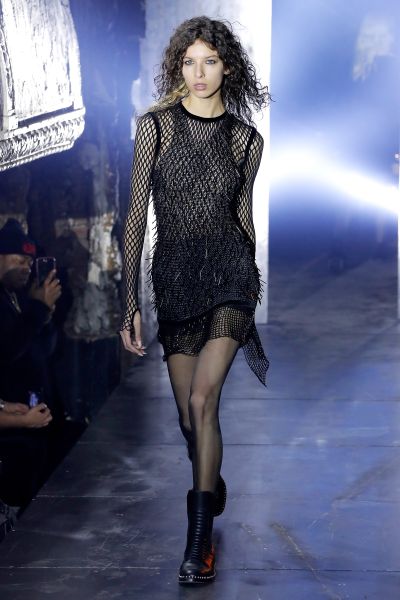 There were leather catsuits, studded booties, fishnet dresses with drips of sparkle, heavily studded leather jackets, bell-sleeved velvet blouses and jodphur pants, all matching in shades of deep black. The accessories also followed suit, from the crystal-embellished black bags to the flat noir boots; even the smudged eyeliner went along with the dark color code.
Ok, to be fair, there were a few other minimal colors spotted in the collection: dark blue denim and a grey herringbone pattern, plus a singular white t-shirt, worn by Bella Hadid. But it was clear that the main message here was to wear more black.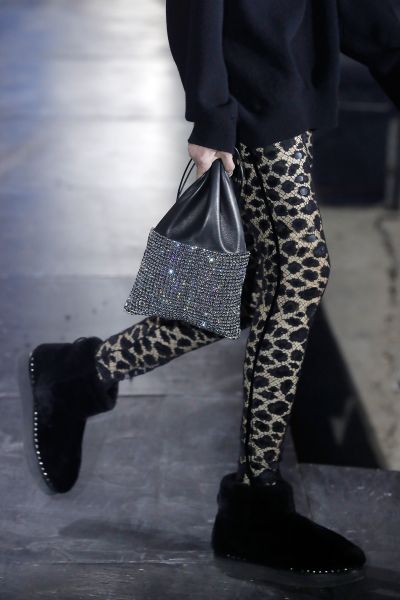 While most of the collection was very downtown party girl (like leather shorts layered over leggings), there were a few standouts that could be worn by those who have graduated from the club scene. Particularly, the western shirts that were painted black, down to the buttons and arm fringe, along with the wool overcoats with a smattering of silver buttons. However, we have a feeling that most of Wang's customers will embrace the slinky silk dresses with fishnet details instead; they're more ideal for a night of partying.