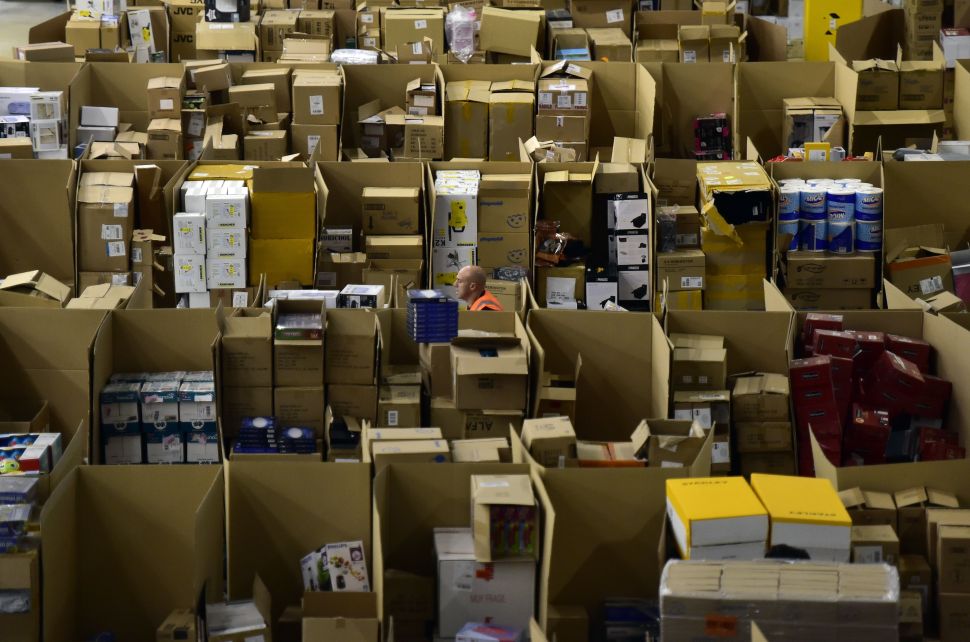 Amazon (AMZN) and Walmart are preparing for the battle that will decide which will dominate e-commerce, and this is very good news for American consumers.
Amazon is the pioneer of e-commerce. Walmart, its soon-to-be rival, has built its success in traditional brick-and-mortar. Amazon has decimated other traditional retailers, yet Walmart has found a way to thrive.
The two companies are preparing to face off on Amazon's turf. Walmart just ended a subscription program and now offers free two-day shipping on any purchase above $35. This is a direct shot at Amazon Prime, which offers free two-day shipping for a membership fee of $99 a year. In addition, Walmart has a free "ship to store" pickup option.
Previously, Walmart offered free shipping for purchases over $50 but with a delivery window of 4-6 days. The Shipping Pass membership program—which was recently cancelled by Walmart e-commerce CEO Marc Lore, who said that customers now expect two-day shipping—charged $49 a year for two-day shipping.
Will Walmart raise prices elsewhere to offset the end of Shipping Pass? According to Lore, no. Lore told CNBC that they're planning to "get more aggressive" on pricing. Walmart bought Lore's startup, Jet.com, last year and brought him onboard to revamp their e-commerce strategy.
Both Walmart and Amazon are bringing unique attributes to the e-commerce battle. With thousands of locations all over the country, Walmart has a physical presence that Amazon could never match. On the other hand, Amazon has a media library that is second to none and is capable of using it to incentivize customers to remain loyal.
The two companies also have differing emphases. Walmart is a discount retailer and is known for its "everyday low prices" model. Amazon offers higher quality merchandise and approaches e-commerce with innovation. For example, it's hard to imagine Walmart experimenting with drones to deliver packages.
Culturally, the two companies could not be any different. Walmart, which is based in Bentonville, Arkansas, is known for its ties to middle America. It runs a "buy American" campaign in which it sources as much product as possible from within the United States. Amazon, based in Seattle, appeals to a more cosmopolitan consumer and is known for progressive policies.
Because both companies are branching out beyond their traditional business models, Amazon and Walmart butting heads will have a widespread impact. For example, Amazon is a media production company as well as a media delivery company, which brings it into competition with Netflix (NFLX) and Hollywood studios. In an even crazier spin off, Walmart will soon start selling cars at some of its locations. Expect the two to go into other ventures to outflank one another.  
When companies compete against each other, the American consumer wins. The first result of Amazon and Walmart's battle was that Walmart was forced to cut shipping prices. The pressure is now on Amazon to either do the same for Amazon Prime or offer more features to keep its customers coming back. Walmart also continues to cut prices on merchandise, which will likely force Amazon to do the same.
There could be another winner in the war between Amazon and Walmart: the small business owner. After all, both companies are platforms for small businesses to sell their merchandise. Amazon Marketplace allows businesses to sell their product in exchange for a monthly fee and a portion of the sale, and Walmart Marketplace is an invite only portal that charges fees based upon the business's sales.
Partnering with small businesses offers both companies additional revenue streams and the opportunity to feature more products. The partnerships give small businesses access to a marketplace and a customer base that they wouldn't otherwise have. It's a win-win for all that are involved.
As both companies look to grow their marketshare, value hungry consumers will find great deals online. It may even open the door for both companies' competitors, such as Overstock and Target, to enter the fray and grab a portion of the market. All in all, it's a great time for online consumers.
Kevin Boyd is a Louisiana-based writer and commentator who has been previously published by Rare.us, IJReview.com, the Foundation for Economic Education, the R Street Institute, the Capital Research Center, and other media outlets. He also serves as the Blog Editor at PracticalPoliticking.com. You can follow him on Twitter @TheKevinBoy