It's drizzling rain outside when I meet Ashley Eckstein, the actress who voices the fan favorite animated Star Wars character Ahsoka Tano and founder of the rapidly growing geek girl fashion line Her Universe. But inside Alice's Tea Cup—her suggestion for tea, scones and restorative afternoon treats—we've found a cozy sanctum. Up a colorful rickety staircase, and beneath a glowing chandelier, I'm greeted by Eckstein, who is donning one of Her Universe's newest designs: a fitted jean jacket embroidered with the Star Wars credo across the back, "May the Force Be With You." While Eckstein is only in New York briefly before heading West to check out the new Her Universe offices in Los Angeles now that the company has been acquired by retail giant Hot Topic, and then flying back East to her home in Florida, she happens to be a devoted Alice in Wonderland fan, and so there's always time for a tea party.
Having trouble finding a women's Star Trek t-shirt, or perhaps a Doctor Who hoodie that is not pink? Her Universe has you covered. The company began as a small t-shirt business in 2010 and has since evolved into an online fashion destination for affordable, diverse and refreshingly chic fan gear for women. Eckstein started Her Universe shortly after she began her voice work as Ahsoka Tano, when a personal search for Star Wars clothing to celebrate her new role left her with unsettlingly few options.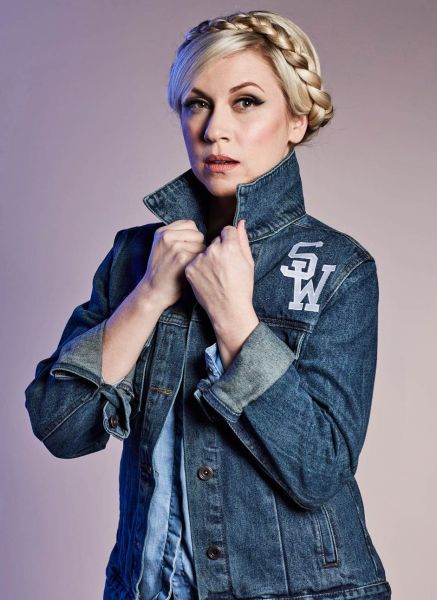 "It really started honestly from a selfish place: What would I want? What would I wear?" she tells me, as our tea arrives at the table. Early on, she set out to be different, and established a few rules that have become the core of what makes Her Universe appeal to fangirls. "I love the color pink, but in the beginning [I decided] there would be nothing in our line with the color pink. Female fans, they'd kind of been treated like an afterthought. They would make 20 shirts for guys and one shirt for girls, and it would be in pink and it would say 'I Heart Star Wars.' We've got enough pink t-shirts to last a lifetime. I want a black t-shirt with Darth Vader on it, which was at the time unheard of."
"We've got enough pink t-shirts to last a lifetime. I want a black t-shirt with Darth Vader on it." — Her Universe founder Ashley Eckstein
And so, Eckstein embarked on an ambitious venture: to create an apparel market for female fans where there was none. She found a manufacturer to partner with, and sought out her first license with Star Wars from Lucasfilm. "I think we started out with 9 t-shirts, and that was it," she says. As the company grew, it acquired licenses from the Syfy channel, Disney (DIS), Marvel, BBC and Studio Ghibli, and expanded its offerings to include sweaters, jackets, dresses, leggings and an accessories line. Browse the Her Universe website and you'll just as soon find retro-style shirts with Thor, Spider-Man and Loki as you will a black skirt decorated with rainbow lightsaber design and a red, yellow and blue Captain Marvel Jacket. The company's line is stocked with graphic tees, dresses inspired by characters like Boba Fett and Agent Carter, as well as plus size options and clothes for kids.
Taking the leap from t-shirts to fashion, meant finding a bigger partner. In 2016, Her Universe became a subsidiary of Hot Topic, though Eckstein still retains full control of the company. The move, she says, has just allowed the company to do more. Today, Her Universe hosts an annual fashion show at San Diego Comic Con, has retail partnerships with brands such as Kohl's to create a line of activewear, and a publishing imprint. In just a few short years, Eckstein has helped make geek girl gear into an industry.
Fandom has been a part of Eckstein's life for as long as she can remember, she tells me. Growing up, her father worked for Disney, and her love of Star Wars has always been a constant. She moved to Los Angeles in 2000 and worked in film and television before landing what she calls her "dream come true" role voicing Ahsoka, the first female Jedi to lead a series in the Star Wars franchise, and who has helped pave the way for a new generation of strong female characters like Rey and Jynn Erso. But while women today are more visible in the sci-fi and fantasy world than ever (roughly half of Comic Con attendees are women, and a 2013 survey by Wired found that similar numbers applied to fans of Game of Thrones and The Walking Dead.) However, in 2008 when Eckstein began her work with the franchise, she found that female fans faced more discrimination and bullying than acceptance.
"I thought, this is no way to live your life. Being a sci-fi fan is literally a part of your DNA, it's a part of who you are. Like I said, to me, I love tea parties, I love Alice in Wonderland, I love cupcakes and I love Star Wars. It's just a descriptor of who I literally say I am—it's not a trend."
So while Her Universe is primarily known for its apparel line, it's also become a tight knit community for fangirls, both online and at comic con conventions and fan events. Eckstein travels constantly, bouncing between her work as Ahsoka and being the public face of her company. Critical to her success has been staying active on social media. Today, Her Universe's Twitter account has 54,000+ followers, on Instagram 67,000 and the brand reaches across Facebook, YouTube, Pinterest, Tumblr and Snapchat.
"A big part of our strategy was to go grassroots…to interact with the fans directly," she says. "If the girls think they're talking to me it's because they are, and it has been from Day 1. It's just me asking the fans, What do you want?"
And what they want, it seems, are options. "We need [designs] for different aspects of our lifestyle. When you go to work you're not just going to wear a big logo T. Maybe you're going to wear a blazer where it's just a black blazer on the outside, but the lining is lined with Delta shields." Her Universe now offers exactly that: Behold the open-front Trek Blazer, which is part of the new collection for ThinkGeek.  
While Her Universe designs offer wide appeal to the most casual and devoted fans (who doesn't love R2D2?), creating designs that will appeal to both isn't always easy. "I did discover there's a difference between super inside designs that may speak to the hardcore fans, and then you have to offer a design that even casual fans will like to. If you can find that design that speaks to both the hardcore fan and the casual fan…that's like the unicorn design," says Eckstein.
"If you can find that design that speaks to both the hardcore fan and the casual fan…that's like the unicorn design," says Eckstein.
Her Universe may have opened the market for geek girl fashion, but it's no longer the only player in the game. Major companies such as M.A.C. cosmetics and Columbia sportswear have created Star Wars-inspired collections, and Rodarte hit the run way with a line of couture gowns. But Eckstein isn't intimidated by the competition—far from it, she embraces it.
"I'm so thankful for it because everyone always wants to strive for what they see on the runway, but not everyone can afford that $4,000 dress. So, then they come to companies like ours. We're known for being affordable fashion," she says. "The more mainstream it becomes in fashion, it makes it more acceptable for girls to walk in to work and wear a Star Wars blazer, and for it to be acceptable. And that's what I want. [For] fans to celebrate their fandom."
Now that geek girl has gone mainstream, what's next? Eckstein has some predictions: "The Superhero lifestyle and look is on trend. But also—last year we saw it at the Met Gala and we saw it at the Her Universe fashion show—is wearable technology." The winner of the 2016 Her Universe fashion show used thermochromatic pigment and heating tape to make the Marauder's Map from Harry Potter appear and disappear on a dress in the time it took to walk the length of the runway.
"Years ago that would have appeared very geeky in the fashion world…now it's becoming couture," she quips. "And so I'm excited about that, I think that trend is just starting. We're seeing it on the runways, and it'll be interesting to see if that comes into everyday fashion."
Eckstein admits that there's still plenty of work ahead before the pop culture world becomes an equal space for female fans and entrepreneurs. But in fashion, the geek girl revolution is well on its way.