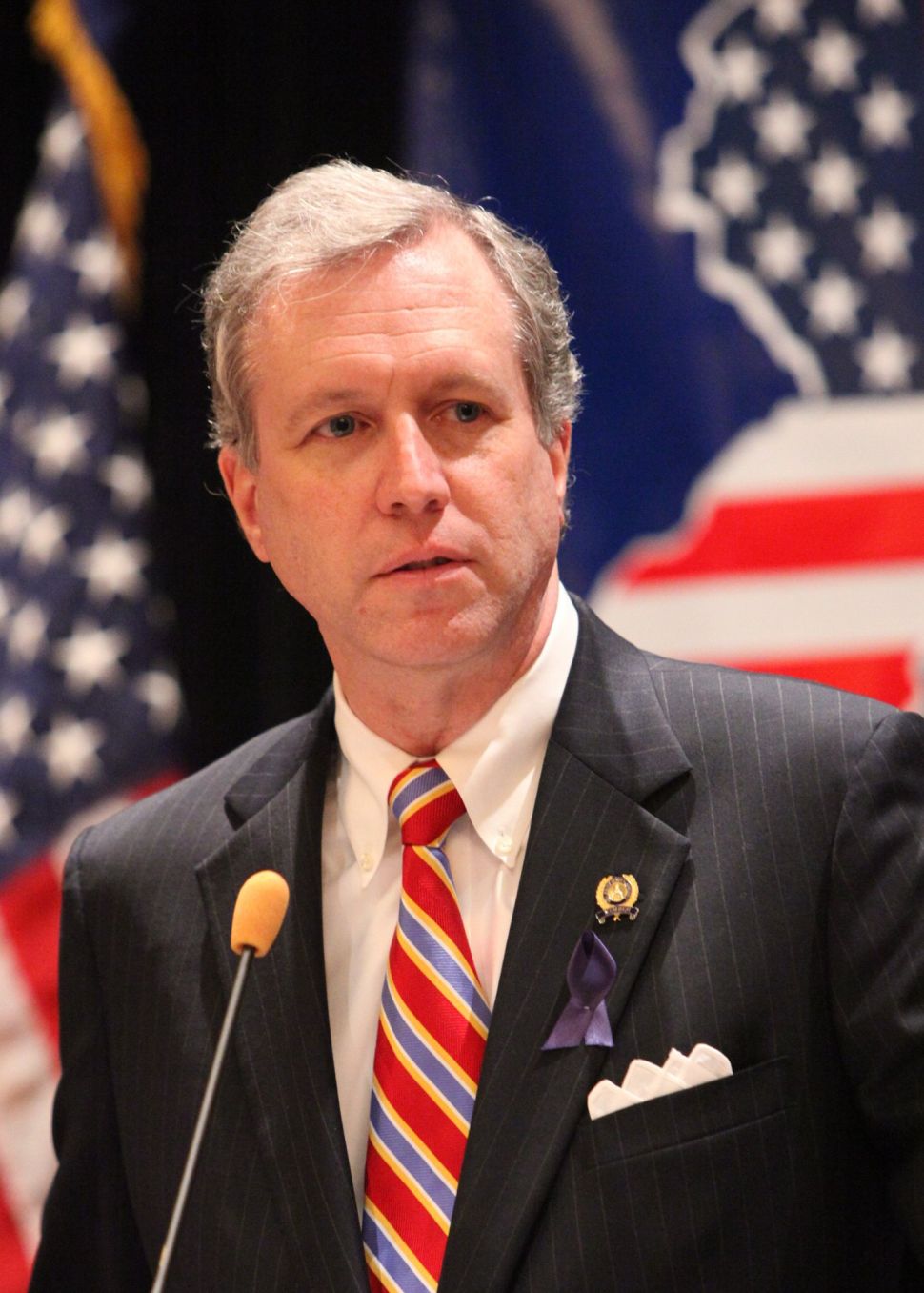 PolitickerNJ has learned that Assemblyman John Wisniewski (D-19) has been representing the interests of a polluter in Middlesex County in its dealings with Carteret, a town he represents in the Assembly. The mayor of Carteret, Dan Reiman, is so appalled by a conflict of interest he calls "very disturbing and troubling" that he told PolitickerNJ, "It's the fundamental reason I don't speak to the Assemblyman. He's not welcome in Carteret and hasn't been in Carteret for several years."
Wisniewski has made it a central plank of his run for governor to upend the way things get done. The very first thing a visitor to his campaign website sees is a bold promise "to fundamentally change the way government works in New Jersey." That message, along with a swerve to the left—he was the only prominent elected Democrat in the state to back Bernie Sanders in the presidential primary—has given the campaign of this long-serving Assemblyman a shot in the arm.
As Wisniewski travels the state, he has picked up some endorsements (the respected Princeton Community Democratic Organization backed him after an all-candidate forum) and has clearly sought to differentiate himself from centrist rivals, particularly front-runner and former investment banker Phil Murphy, who Wisniewski has sharply criticized for recommending cuts in public pensions.
So it is perhaps surprising that a candidate who seeks to paint himself as both a progressive darling and someone who is committed to "fundamental change" in the political process has been advocating on behalf of a major polluter against a town in the 19th District that he represents in the Assembly.
PolitickerNJ can now reveal that Wisniewski has quietly been advocating on behalf of a company called US Metals, which is coming to the end of a 7-figure clean-up agreement with the town of Carteret. A little background is required.
In December 2012, Carteret mayor Dan Reiman issued the kind of press release that's so boring it gets ignored by even political junkies.
"Former smelter owner agrees to cleanup and $1 million settlement," read the headline and the release goes on to describe how a company called U.S. Metals had agreed to "investigate and clean up potential contamination on public and private properties in the area surrounding USMR's former smelter site."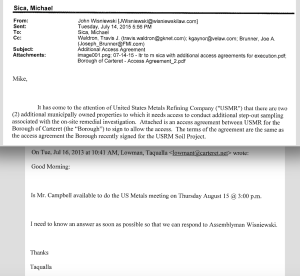 The company had five years to pay the million bucks and remediate—the mayor told PolitickerNJ, "The company is 100% responsible for remediation on borough property and private prop, which will cost them tens of millions. But the million they deposited in escrow was for us to hire experts – environmentalists, geologists, engineers—to make sure we can monitor what they are doing without costing the taxpayers." The agreement offered the town of Carteret, a Middlesex borough of 22,000-ish that was named after some of New Jersey's earliest settlers, the chance to withdraw and sue the company if terms of compliance weren't met.
PolitickerNJ has obtained records via the state's Open Public Records Act that show Mr. Wisniewski has represented US Metals throughout its dealings with Carteret.
On June 19, 2105, for example, he sent a "high importance" email from his law firm address to Michael Sica, chief of staff to Mayor Reiman. The email references an earlier telephone call that seems to have established the rules governing USMR's ability to access properties that require remediation. A month later, Wisniewski emailed Sica again to add two additional municipally owned properties to which it needs access."
In New Jersey, it is hardly uncommon for elected officials to have "real jobs" that sometimes come into uncomfortable contact with their duties as legislators. But here that conflict is on particularly unseemly display.
While the records reveal that employees of Wisniewski Law are careful to refer to their boss as "John," his status as a legislator is clearly on the minds of the Carteret officials with whom he is dealing.
In one email, for example, Taqualla Lowman from the mayor's office is trying to nail down a meeting between Bradley Campbell, New Jersey's former environmental protection commissioner who represented Carteret, and Mr. Wisniewski. But even though Wisniewski is acting in his capacity as lawyer to US Metals parent company USMR, Ms. Lowman continually refers to him as "Assemblyman Wisniewski," as does Maureen Delaney in Campbell's office.
In short, what's going on here is that wearing his attorney hat, Wisniewski is representing the interests of a polluter in meetings with elected and appointed officials from a borough that he represents as a member of the legislature. This puts the assemblyman in the uncomfortable role of acting in the interest of his client, the polluter, against the interests of his constituents, who would prefer greater compensation or more extensive clean-up.
There are plenty of able lawyers in New Jersey. It is at least worth wondering whether US Metals couldn't have identified one who does not also represent the very people against whom he is negotiating.
Campbell himself harshly criticized the arrangement, taking the rare step of personally criticizing opposing counsel on an ongoing negotiation (perhaps even rarer when that counsel is a sitting assemblyman). In an interview with PolitickerNJ, Campbell said " It's unseemly and this is a more egregious case than I've seen previously. It's a disturbing example where there's really not even the slightest alignment between his client's interests and those of the people he's representing. By retaining the local assemblyman, [USMR has] cut off an avenue for the citizens to seek redress and essentially disabled the Assemblymen from giving his own constituents full representation because he has a conflicting interest. In this case, he's chosen the legal fees instead of the best interests of his constituents."
According to another lawyer reached by PolitickerNJ (who insisted on anonymity because he himself does business with municipalities and fears possible retaliation), the conflict isn't on its face illegal, but does present meaningful optics problems:
It certainly looks bad … The Rules of Professional Conduct (RPCs) for lawyers would govern as would the State Conflict of Interest law applicable to legislators. … It's not simple without very specific facts, but certainly doesn't look good for a sitting legislator. This is exactly why I would never seek public office while doing public legal work, it's a hornet's nest of potential conflicts.
Campbell went a step further, directing PolitickerNJ's attention to RPC 1.8(k), which states:
A lawyer employed by a public entity, either as a lawyer or in some other role, shall not undertake the representation of another client if the representation presents a substantial risk that the lawyer's responsibilities to the public entity would limit the lawyer's ability to provide independent advice or diligent and competent representation to either the public entity or the client.
According to a lawyer who spoke to PolitickerNJ off the record, Wisniewski could very conceivably face censure from the bar if a complaint was lodged. "If a citizen of Carteret wanted to file and ethical complaint, they could go to the grievance committee and that would be a credible complaint."
Beyond any violations of laws or ethics, the question remains whether representing a major corporate polluter in in keeping with the Bernie-infused identity the Assemblyman has embraced, both in endorsing the Vermont senator for president and now in his own governor's run.
The Assemblyman declined multiple attempts by PolitickerNJ to interview him, but did send emailed comment via his campaign manager, Robert Becker, in which he seemed reluctant to acknowledge that he represents US Metals.
"John is a practicing attorney bound by ethical obligations and doctrines of privilege and confidentiality," wrote Becker. PolitickerNJ asked whether representing "a big corporate polluter like USMR is at odds with the progressive image the assemblyman has presented." Mr. Becker responded, "It's not an image, it's a progressive record — forged by two decades of service in the General Assembly. As a member of the Environment and Solid Waste Committee, John Wisniewski co-sponsored legislation opposing the proposed $225 million ExxonMobil settlement (originally $8.9 billion in damages) for natural resource damages at the Bayway and Bayonne oil refinery sites."
Becker added, "John has confronted our climate emergency head on by pushing a progressive agenda for more energy conservation, more investment in solar and wind energy and fighting corporate polluters. That's why the Sierra Club and other leading environmental groups have endorsed his campaigns for the Assembly year after year."
At least one person involved in the case offered a different opinion regarding the gap between the crusading Bernie Sanders and the lawyer for a corporate polluter. According to Bradley Campbell, "This kind of thing is much more consistent with old-style New Jersey politics than it is with the progressive brand the Assemblyman has put forth."
It won't be known until the primary on June 6 whether Democratic voters will hold this kind of thing against the man who goes by "The Wiz" and who's been comfortably re-elected every two years since winning his seat in 1995. But with Mayor Reiman fuming about what he considers a clear conflict of interest, it remains to be seen whether Carteret, in the heart of the assemblyman's legislative district, will be in The Wiz's corner.