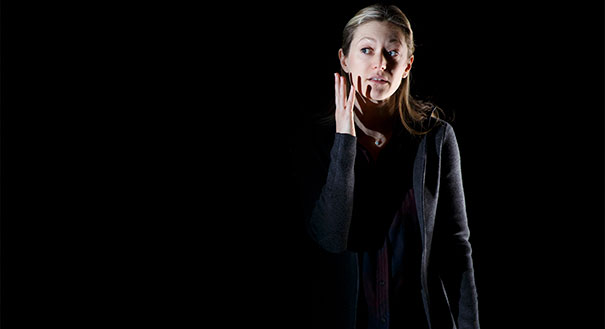 One of five showcases in New York devoted to "new and experimental works" produced by the Roundabout Theatre Company in its "underground" program, the tiny Black Box Theatre, Sixth Avenue and 46th Street, is currently hosting Martin Zimmerman's On the Exhale, a remarkable one-hour, one-woman monologue by the enchanting actress Marin Ireland inspired by the heinous school shooting at the Sandy Hook Elementary School in Connecticut. The subject has been explored before, but never with this much emotional power. It's a one-hour session in electroshock therapy without leaving your seat.
Patrician and appealing, Ireland, who is no stranger to roles that hold the attention and drain the emotions (who could forget her in Neil LaBute's Reasons to be Pretty?), plays a single mother whose only son is killed in a pointless outburst of gun violence. The aftermath leaves her grief-stricken as she searches for answers that will not come. She is also a teacher propeled by a fear of students carrying concealed weapons and what she considers the fruitless new "conceal and carry" ruling that forces businesses to post regulatory warnings on their windows that everyone ignores. She tries to leaven tragedy with humor, but the play inevitably becomes a plea for gun control anyway, and a reminder of the challenge we all face in everyday life at the mercy of unregulated firearms. The more she analyzes, the less sense she is able to make of the rife insanity of random violence. In the course of the hour, we learn every step of a mother's recovery process.
She talks about the stores that legally sell weapons of murder and mass destruction, the gun lobby that protects them, the despair of never knowing what actually happened in the schoolrooms where the action unfolds behind closed doors, the pity aroused and eventually discarded by the public and the press but always endured by the suffering parents of both the victims and the assailants alike. And finally, trembling with confessional intimacy, she talks about how it feels to at last be drawn to buying a rifle herself, and all the wrenching feelings of terror, doubt and then satisfaction that eventually go with it. The play is so well constructed that is achieves a gradual feeling of self-control she describes as liberating—from the shooting range to lessons in how to use the safety, the trigger and how to fire. Unable to give up her new companion, she learns to depend on it and embrace the deadly power hidden in her purse while simultaneously joining parental groups testifying in government hearings to outlaw gun lobbyists and politicians who use media as a platform to express how exaggerated the figures are about the number of children killed in school shootings, labeling it "liberal hysteria."
It's an incendiary monologue, and you leave it empowered and enlightened by Ireland's colorful, persuasive artistry. One caveat: The direction by Leigh Silverman encourages the star to speak so softly, in a whisper only a dog could hear, that you sometimes have to strain to hear her. This is pretty amazing since the Black Box Theater is so tiny and claustrophobic (only five rows of seats) they probably don't think it is necessary to speak up. She doesn't mumble, but the annoying result of such intimacy without projection is that Ireland often sounds like she's talking to herself while writing a letter in the privacy of her bedroom. Still, On the Exhale is a shattering experience in the presence of a cogent, captivating actress who deserves a bigger audience. See it and learn something.
*
Another tiny off-Broadway offering currently worth seeing is Orion, a 90-minute comedy at the Studio Theatre on 42nd Street's Theatre Row about the vagaries of young love among lovers trying to balance college, jobs and sex with minimum savvy. Negotiating the awkwardness of knowing exactly what to say and how to get your priorities straight to avoid unnecessary grief when a relationship ends, two couples take us in and out of love in ways you don't quite expect.
Sam (Blake Merriman) is a nerdy lover who is going to New York to accept a scholarship at Columbia. He's afraid to leave his girlfriend Gwen (Amanda Jones), but she's starting a new job and they both need space. Neither is sure if they can ever pick up the pieces after a separation and start over again. Sam's best friend Scott (Scott Brieden) and his girlfriend Abby (Simone Serra) try to help but say all the wrong things. If they're overly positive, it's infuriating. If they're negative, it only makes everyone feel worse. As scenes jump around in a confusing array of nonlinear encounters, Scott marries Abby, settling for the fact that nobody I ever going to love you more than you love them back, so the best thing you can hope for is that if you're lucky they will let you love them the best you can.
Meanwhile, Gwen moves on, unfazed by the breakup with Sam. It takes him much longer to get over her, but he eventually finds happiness with a new girl in New York. That's when Gwen realizes she wants him back, but it's too late. The ship has sailed.
The actors have charm. The play, written by Matthew McLachlan and economically directed by Joshua Warr on a stage the size of a Kleenex, bursts with interesting ideas about relationships that are young but insightful. But the ideas in Orion have been around before, best expressed years ago in a wise song lyric by the one and only Cole Porter:
I loved him,
But he didn't love me.
I wanted him,
But he didn't want me.
Then the gods that nurse this universe
Indulged in another whim…
Now he loves me,
But I don't love him.