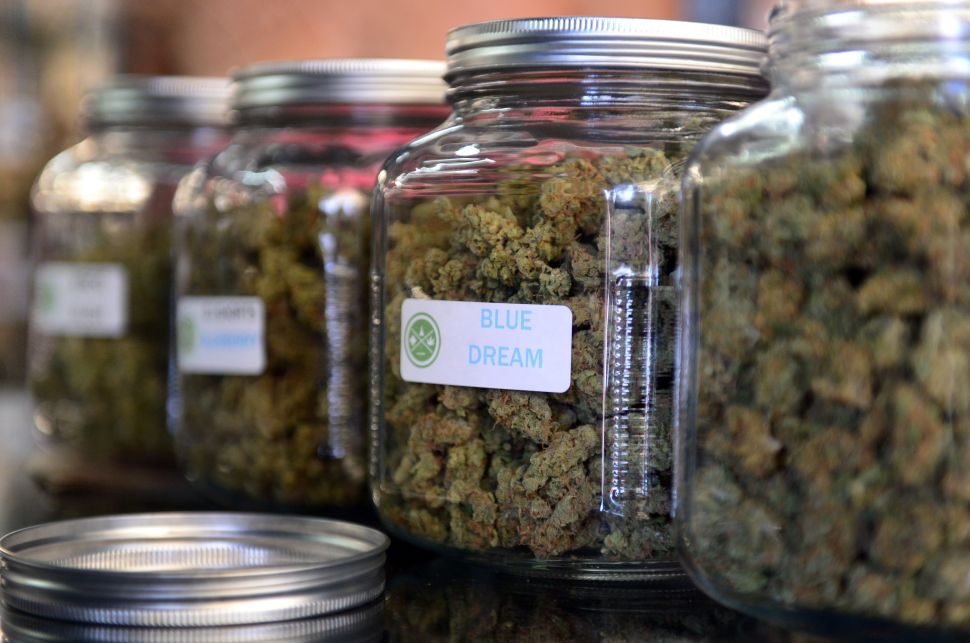 Stoners always find something to make them paranoid. The current round of whispered fear derives from something Attorney General Jeff Sessions said during an April 2016 Senate drug policy hearing: "Good people don't smoke marijuana." This has led to dire warnings and bad advice: Hide your habit and disinvest in a booming multi-billion-dollar industry. The big bad Alabama wolf is coming to blow your grow house down. But it's just not true. His party won't let him.
Sessions' retrograde dope ideas hearken back to Agnew-era Republican clichés. To him, it's a demon weed smoked by hippies and ghetto people. Much of the rest the GOP, on the other hand, has moved on. The most morally forceful calls for marijuana reform are now coming from veterans and conservative Christians, the molten virtuous core of the Republican base. Liberal Activists have bravely lugged the legalization ball down the field for 40 years. Now Republicans are going to punch it across the goal line. If good people don't smoke marijuana, that means a lot of Jeff Sessions' supporters aren't good people.
In January, Jim Neely, a Missouri doctor and conservative Republican state representative, introduced a bill that would allow terminally ill patients access to medical marijuana. He said that his daughter died of cancer in 2015, and marijuana would have helped with her pain. "If you've seen people suffer, there ought to be a way that makes things better," he said.
Meanwhile, in Tennessee, two conservative Christian legislators introduced a comprehensive medical marijuana bill, calling it a "very Republican bill that gets the government out of our lives." Another Republican says there will be a "big push" for medical marijuana in Tennessee as an attempt to stop the opioid epidemic that is ruining the state.
Veterans form the capstone of the conservative argument for marijuana. Last September, at its annual convention, the American Legion, which represents two and a half million soldiers, formally asked Congress to "amend legislation to remove marijuana from schedule I and reclassify it in a category that, at a minimum will recognize cannabis as a drug with potential medical value." Congress still refuses to allow veterans access to medical marijuana in VA hospitals. That seems unlikely to last. Last week, the Army began conducting clinical trials in Phoenix and Baltimore to help veterans with PTSD.
In Texas, the most electorally important Republican state, marijuana reform has substantial and growing bipartisan support. The State GOP adopted a medical-marijuana plank in its 2016 platform with the support of 78 percent of its delegates. In 2015, State Representative David Simpson, a deeply conservative Christian from Longview, shocked everyone when he introduced a bill calling for full legalization without government restrictions, writing, "I don't believe that when God made marijuana he made a mistake that government needs to fix."
Simpson is out of office now, primaried by a less-radical Republican. But Jason Issacs, a more respectable but still very conservative Christian, has signed on as a co-sponsor to a House bill that would effectively decriminalize weed in Texas, making possession of an ounce or less the equivalent of a traffic ticket. At a recent marijuana lobby day at the Texas State Capitol, at least half of the 350 people badgering their representatives were Republicans. As one activist from Houston told me, "there were so many Republicans on my bus, I couldn't talk to them about anything but weed. It was the only thing we agreed about."
Cannabis is fully legal in eight states, and some form of medical cannabis is legal in 28, including Texas, North Dakota, Alaska, and Montana, the reddest of the red. People who live in flyover country have borne the most losses in the opioid epidemic, understand completely how PTSD destroys lives, and have seen their elderly parents find sweet pain relief from cannabis oil treatments. There's going to be some pushback from Big Pharma, from the alcohol business, and especially from the law-enforcement lobby, which often uses weed as a pretext to seize assets, but even those constituencies have a lot to gain from the end of prohibition. A few weeks ago, I asked Joe Moody, the Texas State Representative and former prosecutor who wrote the state decrim bill, who his opposition was. He said, "I don't know. No one. Maybe probation officers."
Republicans have made a move on the federal level as well. President Trump repeatedly said during the campaign that marijuana reform should be left to the states. Last week, Dana Rohrabacher, a conservative Republican from Orange County, introduced the "Respect State Marijuana Laws" act, which would exempt all people complying with state laws from federal prosecution. His cosponsors include Republicans from Florida, Kentucky, and Michigan. The government, Rohrabacher said, is "spending billions of dollars and wasting the time of Federal employees-hundreds of thousands, if not maybe tens of thousands of Federal employees-in order to prevent adults from smoking a weed, marijuana."
The marijuana reform is coming from inside The House! Rohrabacher has personal reasons for filing this bill. Last May, this headline appeared in The Orange County Register: "Rep. Dana Rohrabacher: I use medical marijuana for my arthritis."  Someone gave him cannabis wax at a pot expo. He applied it to his aching joints. And then Rohrabacher came out as a cannabis user in a newspaper article. No one cared. He's still a right-wing Congressman.
Even the most reactionary voices are growing bullish on marijuana. The other day I was flipping XM channels in the car. I landed on "Patriot," Channel 125, which for six years was a miasma of noxious Benghazi conspiracy theories. So I was surprised to hear a woman saying, "When my grandmother had Stage 4 colon cancer, marijuana really helped her out. It eased her pain. It made her mind calm. I was really grateful."
Then a familiar male voice came on. "It helps a lot of people, so they say," he said. "You know, I hear that marijuana is a gateway drug. But alcohol can be a gateway drug. Anything can be a gateway drug. Maybe it's not so bad."
The man was Sean Hannity. The woman was Michelle Malkin. At that moment, I knew that the debate had tipped. We're not going to go backwards on weed. And if we do, it'll be contrary to the will of almost all the people.
Neal Pollack is the author of ten semi-bestselling books of fiction and nonfiction, including the memoirs Alternadad and Stretch, the novels Repeat and Keep Mars Weird and the cult classic The Neal Pollack Anthology Of American Literature. For some reason, his byline has appeared in numerous automotive publications, includingCar & Driver, Road & Track, and Yahoo! Autos. He lives in Austin, Texas, against his will.