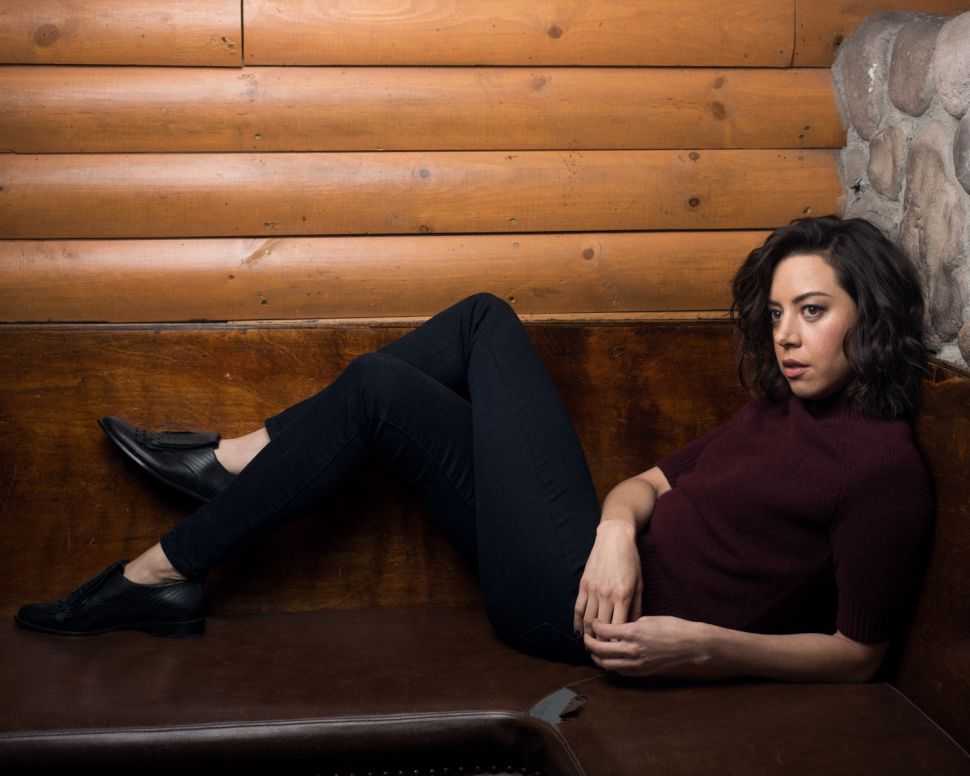 If you are standing right now, I suggest you sit down, because we're going to begin with some truly shocking news: Aubrey Plaza is not a 50-year-old man.
Truthfully, this should be clear to anyone who has followed Plaza on her rise to stardom over the years—the seven seasons portraying the human embodiment of an eye-roll, April Ludgate, on NBC's Parks & Recreation, her quieter standout roles in indies like Safety Not Guaranteed and Ned Rifle, or more recent big-screen endeavors like Mike & Dave Need Wedding Dates. Certainly, it's clear to me, sitting across from the actress at a Los Feliz noodle bar, a month before she's set to co-star in Legion, FX's Marvel-universe mind-bender from Fargo creator Noah Hawley.
But is it clear to Hawley? Harder to say. In the original pilot script for Legion, Hawley wrote the character of Lenny Busker as a male, middle-aged former drug-addict, the resident, older sage of Clockworks Psychiatric Hospital, providing both optimism and advice to our mutant main character David Haller (Dan Stevens). The question becomes, What made the writer-director, after a single meeting with Plaza, decide the 32-year-old actress would be a perfect fit for the part?
"Honestly, I don't know, and I don't want to know," she says and laughs, before changing tact. "I mean, no, I get it. I think that maybe that's my real, underneath persona, and at heart, I'm like a 50-year-old drug addict living in a mental hospital. And Noah saw that's who I am, really, underneath it all."
That's a typical answer from Plaza. You often don't realize she's joking until halfway through a sentence, and by then it turns into a game of catch-up with an Upright Citizens Brigade veteran. But it's not a cold-shoulder thing, either, not a heightened social awkwardness. Despite what every interview with the actress written between 2009 and 2015 would have you believe, she's not actually April Ludgate. The first order of business she suggests after sitting down is that we take a C-Shot together. Despite having no idea what a C-Shot is, I agree. "Great, let's just go crazy," she replies, stone-faced.
"Crazy," as it turns out, is an apropos way to begin any conversation over Legion. Any viewer expecting the formulaic blueprint of your typical Marvel blockbuster—the family tragedy, the unwilling hero, the British thespian hamming it up as the villain, etcetera, etcetera—is likely to come away disappointed or, at least, plenty confused.
The character of David Haller has been around in paper-and-ink form since 1985 when writer Chris Claremont and artist Bill Sienkiewicz brought him to life in New Mutants #25. The son of chrome-domed psychic Charles Xavier (a spoiler for the comics but not, as far as I know, the show), Haller is the human equivalent of an overbooked hotel; his mutant ability is essentially a heightened form of dissociative identity disorder, formerly known by its cruder term "split personality," with each unique persona adding to a deafening cacophony of separate abilities.
With Legion, Hawley has taken this idea—what if you were several "yous" somehow simultaneously—and translated it to the small screen in a way that is not only immersive and exciting but, at times, overwhelmingly confusing. Characters jump timelines and swap bodies. Reality often shifts, without warning, or gives way completely to another layer underneath, and on at least one occasion, that layer is a synchronized dance number. To wit, Legion is weird—and unlike anything Marvel has done before.
And through it all—the confusion, complexity and chaos—the one constant remains Plaza's blood-shot Lenny Busker. "My goal was for Lenny to be the happy place for David, at all times," she says.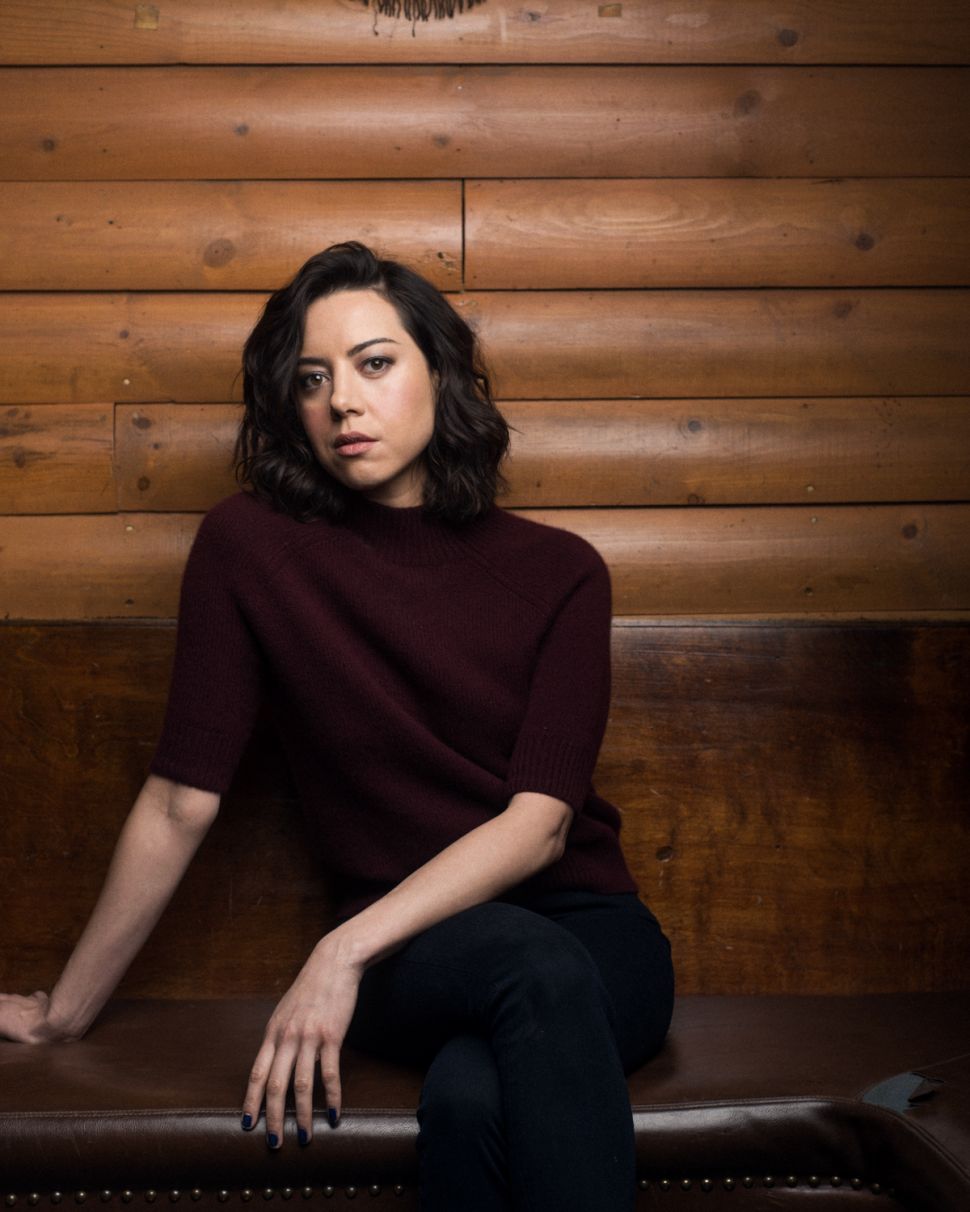 "Having that to focus on, with all that other bad stuff lingering in the background for me, was a good combination. It helped me play the character as someone fighting against the bad stuff and allowed it to be more than just, 'Ugh, I'm so crazy. I'm like, totally tweaking out.' "
That border, between comic-book storytelling and the reality of mental illness, is where Legion walks its finest line. After all, the series' main thesis, spouted from inside a psychiatric hospital, is that occasionally the illness is your strength, and more dangerously, the voices in your head might be telling some form of truth. In a scene from the pilot, David, Lenny and newcomer Syd (Rachel Keller) sit in support group, while a doctor grills them on their respective problems. "What if your problems are in your head?" Syd asks. "What if they're not even problems?"
Lenny, who until then is too busy grooving to oversized headphones to participate, leans forward. "I like you," she says, eyes wide. "You got what the kids these days call 'moxie.' "
"I liked the idea, and I think Noah really likes the idea, of having Lenny be this optimist despite the challenges she's facing," Plaza tells me. "You have this character in a mental hospital. She's a drug addict. She pretty much has everything possible going wrong for her. But she's the one making jokes, to cheer David up, to be the bright light in it all. That was interesting to me."
With that, our C-Shots arrived, a mixture of cayenne pepper and lemon that, very much like Legion, is simultaneously refreshing and hard to swallow. We drink. I cough. She does not.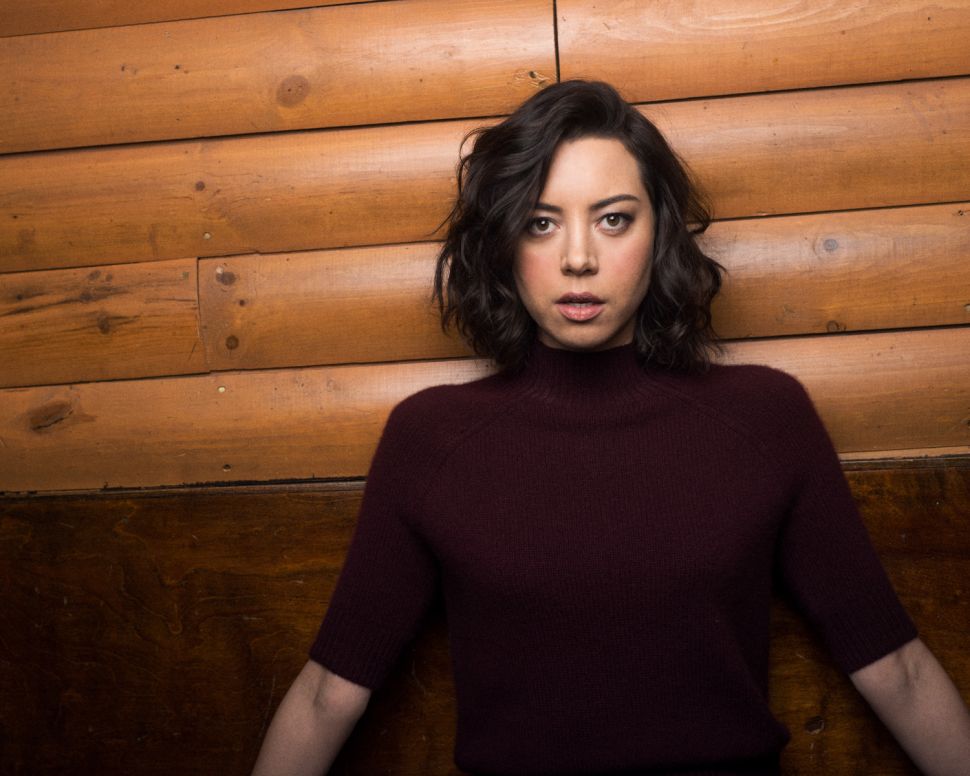 It's entirely plausible that the reason Hawley saw Lenny Busker as fluid is Plaza herself, as a character actress, is nearly impossible to typecast down. Every move post-Parks, even across from Robert De Niro in the critically maligned yet financially successful Dirty Grandpa, has looked like a move away from an April Ludgate-shaped trap, marked with that dreaded qualifier, "deadpan." This, Plaza tells me, is deliberate. "There was definitely a time where people couldn't see beyond April Ludgate," she says. "But I've always been interested in playing all different types of parts, and getting those parts are hard when people put you in a box."
Two Plaza-starring features debuted at this year's Sundance Film Festival, as different as they were successful. The first, Ingrid Goes West, is part social media satire, part twisted road-trip film. Plaza, who also served as producer, plays Ingrid, an Instagram-obsessive who moves across the country to befriend social-celebrity Ingrid Sloane (played by Marvel peer Elizabeth Olsen, of Avengers fame). "It's a bit of a social media commentary, but it's not really about that," Plaza says. "It's really about human relationships, and human connections, and how some people have a really hard time making them."
A phenomenon, to prove there is no limit to art imitating life, that Plaza knows all too well. A few days prior to our conversation, the actress deleted her Twitter account (@EvilHag, of course), an act nearly blasphemous in the age of instant information.
"That was a long time coming," she says. "I just felt like it made sense to do it right before the new year started, some kind of lame way of saying, 'Fuck it, I don't care anymore.' I realized that it was adding nothing positive to my life. It was unhealthy. It just bummed me out, honestly."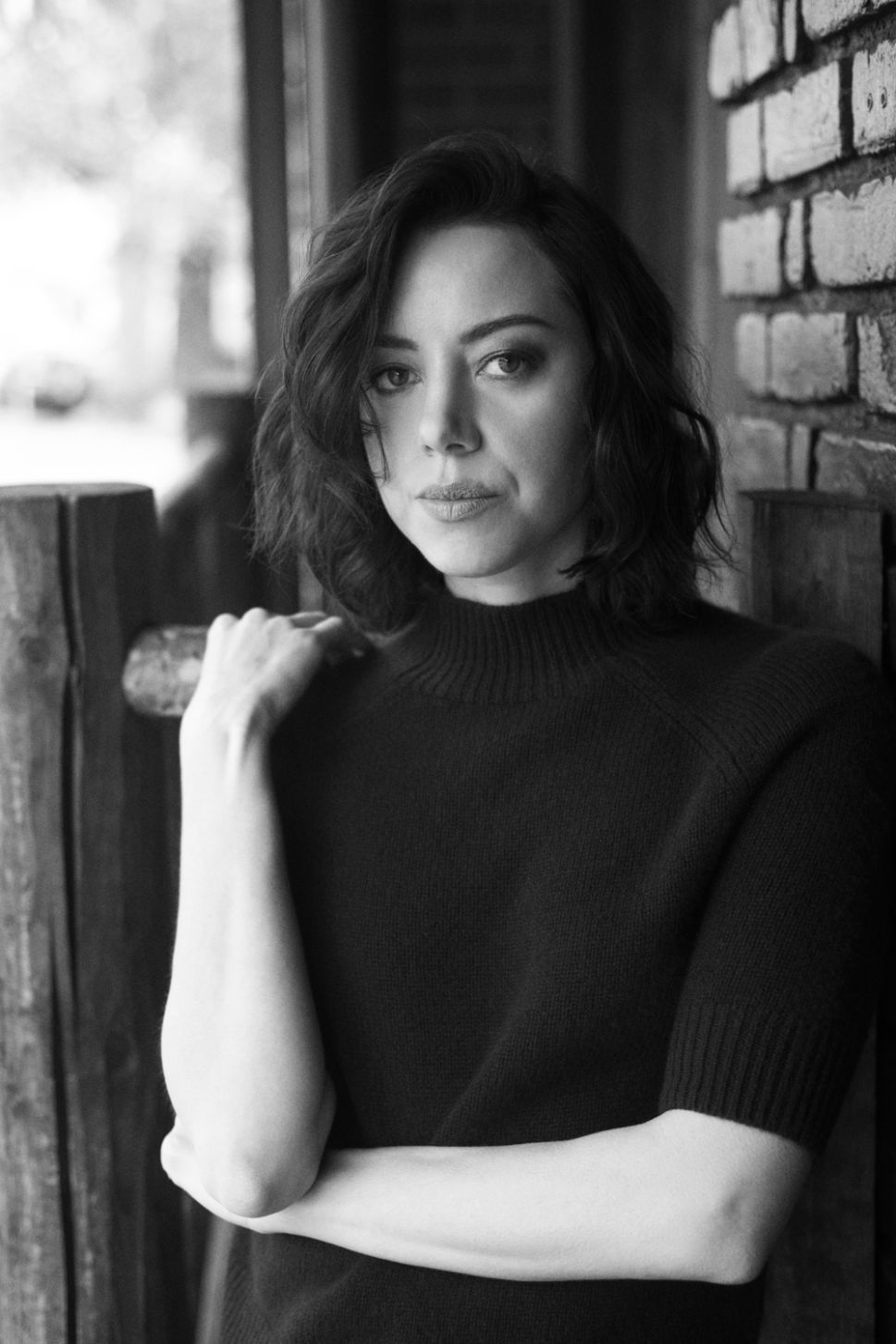 Plaza's second Sundance offering is, well, a little harder to explain, 140 characters or not, even for the actress herself. The Little Hours, Plaza's third collaboration with writer-director Jeff Baena, has so many conflicting personalities it could star in Legion. At once a faithful adaptation of 14th-Century novella collection The Decameron and a raunchy comedy, the film sees Plaza playing a nun but not really, she warns, without further explanation. But yes, a nun (kind of), forced to live in a convent in the age of the Bubonic Plague. "It's almost academic. I think colleges would show it to explain that time period," Plaza says. "If, you know, it wasn't so fucked up."
Along with starring beside the likes of John C. Reilly, Alison Brie and Dave Franco, Plaza was put on prayer duty; that is to say, Baena asked the Catholic born-and-raised actress to ensure The Little Hours' dialogue, in between the countless "fucks," was as Biblically accurate as possible.
"It was kind of funny because I was working on Legion, which is a very different thing, a very dark thing," Plaza remembers, "and I kept switching from that to literally reading the Bible at night. I, like, stole the Bible from my hotel room."
And as she reads, she remembers: memories, she tells me, of a childhood in a Catholic home, of leading mass as cantor, of Bible study and even of her very first paying job working the front desk of a convent attached to her all-girls high school. "I just sat there and answered phone calls, mainly from the shoe cobbler who would have the nuns' shoes nice and cobbled.
"Nothing really crazy happened. I wish I had a scandalous nun story for you," she continues. I point out the cosmic irony of, decades later, playing a nun herself.
"Oh, I know," Plaza smiles. A few weeks later, reviews pour out of Sundance for The Little Hours, focusing primarily on sacramental wine chugging, chastity-vow breaking and a particular scene in which Plaza pelts a man with radishes. "I'm going to make them all so proud."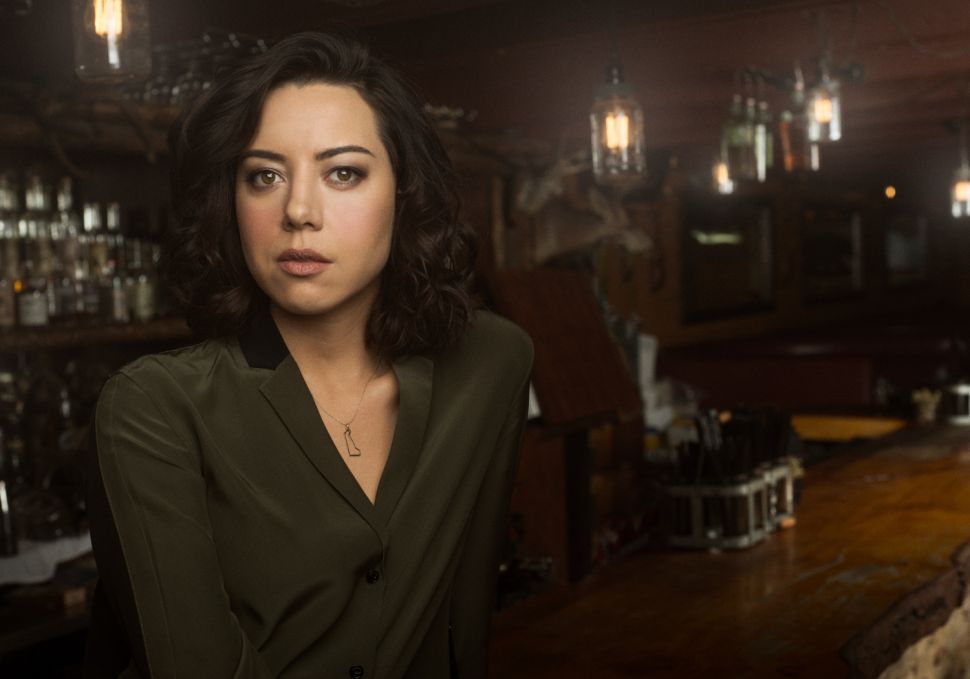 Plaza began her 2017 with a dance. As the clock struck midnight on December 31, the actress, her Twitter deleted, Legion set to debut in two months, had a single resolution. "My goal was to start a legit dance party," she tells me.
"I had a massive New Year's Eve party at my house, about 200 people," she continues. "We packed it in. There was one point, right before midnight, there were so many people there you couldn't move. It was a fire hazard. And I wanted to get everyone to a dance floor."
Plaza keeps herself busy with work—"I only act," she tells me, a statement that remains true well into 2017—and doesn't really do New Year's Resolutions, or, at least, can think of none off the top of her head. Which makes this single objective, in the middle of a packed house, a unique one.
"We were playing all of the songs you want to hear—Bowie, Prince, George Michael—we were trying to do a whole, 'Can you fucking believe what happened in 2016?' playlist. But then I just was like, We gotta get some Chance the Rapper and start getting down and dirty with it. I felt there was kind of an energy to that party where everyone was just like, 'Ugh, I want to dance off 2016, get it out and start over.' That's all I wanted, and it happened, right after midnight.
"It was," she continues, "what the kids these days call 'a rager.' "
Listening back over the interview audio later, things clicked into place right there, mostly, I imagine, because Plaza borrowed a phrase from her own character, Lenny Busker, the aforementioned "what the kids these days call…"
Not to presume I understand Noah Hawley—there are still parts of Legion I couldn't describe, even on a good day—but on one particular point, I could attempt a guess. What did he see in Plaza, in one meeting, that made her the perfect fit for Lenny Busker? Let her tell you a story over one interview, over one meeting, and the matter of gender and age fall away; instead, you see there is no difference, really, between the woman who looked at a year of darkness, death and uncertainty and thought first of a dance-floor, and Lenny Busker, the eternal optimist in oversized headphones, lighting the way through the mental asylum.