Barack and Michelle Obama have been having a fantastic time on vacation since completing their presidential duties on January 20. After a short trip to Palm Springs, the couple headed to Necker Island, Richard Branson's private Caribbean getaway. Their vacation chariot? Branson's private jet, of course.
If you have access to the Internet in any way, shape or form, you are also surely aware that Barack Obama went kitesurfing with Branson—in fact, our former president beat the Virgin Group CEO in a kitesurfing contest. We hope Joe Biden isn't too upset about any impending #bromance.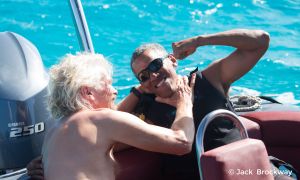 As we've previously mentioned, you can rent out the entirety of Necker Island for $80,000 per night, which can accommodate up to 34 guests. But with Valentine's Day just around the corner, those with the monetary means are in luck; for a limited time, Necker Island is offering individual room bookings.
From now until February 16, single rooms are available for three to seven nights. Rates begin at $12,840 per night, which is much cheaper than renting out a full villa or, you know, the entire island.
The price includes all meals and drinks—yes, alcohol beverages as well—so make sure to get your fix of piña coladas and strawberry daiquiris while lounging on the pristine white sand.
Sadly, kitesurfing with the Obamas isn't included, but you can still try and make the most of the many water sports, like windsurfing, waterskiiing, sailing or scubadiving. There are also two freshwater infinity pools and a hot tub on the beach. For those who prefer to stay on dry land, check out the two tennis courts for a couples round.
Aside from the usual luxury experience offered at Necker Island, there are a few special extras for those who want to celebrate Cupid's day. The team on the island will help arrange private couples dining experiences customized to your liking, located on your private balcony or a secluded beach spot.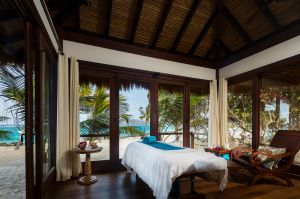 If you want to do even more for your SO, there is also a 'Duos in Paradise' couples massage offered—spa treatments start at $220 for thirty minutes, and up to $600 for ninety minutes.
If you haven't found the right dinner reservation for your paramour, and flowers just won't do, why not take a cue from Obama and fly to the British Virgin Islands for a luxe retreat filled with water sports and a champagne toast? It sure beats staying in and ordering Seamless.