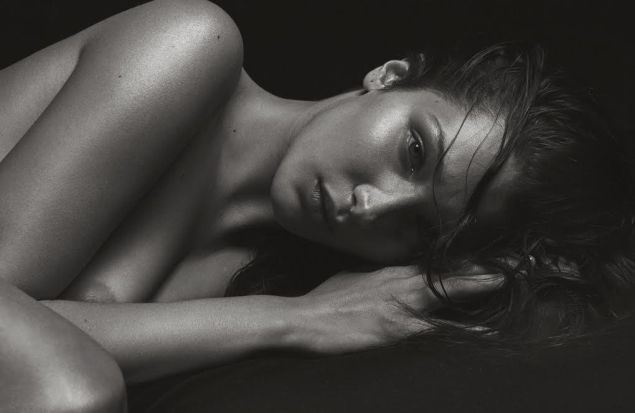 Bella Hadid is all over the runways at New York Fashion Week, but she's sporting a more dressed down look in the latest issue of V Magazine. As in, she's barely wearing clothes.
Hadid's natural beauty comes through in the gorgeous photos, in which Mario Sorrenti recreated the iconic '90s Calvin Klein "Obsession" campaign featuring Kate Moss.
"[E]very time we shoot or every time we see [Bella] we always see her being very glamorous," Sorrenti told V. "The photographs always focus on the fashion and less on the girl, and I think she's such a beautiful, sweet girl. I really felt like taking some pictures of her that kind of reveal a more sensitive and natural side of her."
Sorrenti focused less on Hadid's well-known social media personality in the editorial, choosing instead to emphasize her simply as a model. The black-and-white spread features Hadid in minimal make-up, with natural, damp hair and sporting a number of relatively simply black ensembles, including a beaded camisole and halter.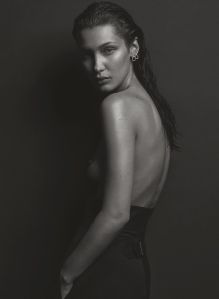 "I don't know her as a public figure, but as a model, I think she's interesting because she's beautiful and she's very sweet," Sorrenti said. "The thing I like about her is that she loves doing photographs and being part of making images and that's exciting when you're working with somebody that really gets the process and enjoys it. She's a beauty, so that's part of the reason why I enjoy working with her."
The most eye-catching shots from the editorial might be the ones in which Hadid confidently poses topless; her hair is slicked back and she looks at the camera sideways, clearly channeling Moss' stare in the Calvin Klein "Obsession" ad. In fact, Hadid has starred in a few Calvin Klein ads herself, along with her sister Gigi.
Hadid looks incredible in the nearly nude photos—the model attributes her physique to gym sessions three or four times a week, as she told InStyle, though her fashion week schedule prevents her from sticking to a strict workout regime. "It's kind of crazy because I don't really like working out…But, during fashion week, I crave it," Hadid said.
The runway fixture doesn't let the pressures of modeling or Fashion Week get to her, including when it comes to her diet, though. "I am really bad about fashion week because there's always such good food," Hadid told InStyle of her nondiet. "So, it'll be like mini pizzas, sandwiches, bread and croissants."
You'll have to wait until the spring issue of V Magazine comes out on March 9, but you can head over to the website to get a sneak peak at the stunning photos.