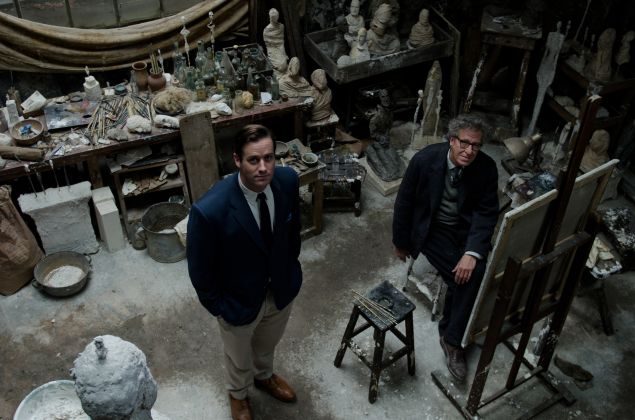 "You have to burn yourself down to ashes. Otherwise, what's the point?" So says Joseph Beuys (with a deft nod to Nietzsche) in the vivid documentary Beuys, Andres Veiel's loving ode to the German provocateur whose antics left a transformational mark on the postwar art world. It's the second movie this week at the Berlin Film Festival, after Stanley Tucci's slight but atmospheric Giacometti study Final Portrait, which explores the creative mind in all its paradoxical, dysfunctional, essential glory.
A protean talent crowned famously by a Homburg hat, Beuys created works that ranged from drawing to sculpture to performance pieces, while embracing Fluxus and other forms of experimentation so as to explore his radical notion that everything is art and everyone's life is essentially a social sculpture that should be recognized as the modern-day version of gesamtkunstwerk.
Scores of photographs, film clips, and audio interviews dominate the film's structure (more than 90% of it, by one estimation) and vibrantly bring to life an artist who died more than 30 years ago but left a lasting intellectual, political, and aesthetic legacy. And some of the footage shows how downright loopy his works could be, including 1965's How to Explain Pictures to a Dead Hare, in which he covered his head in honey and gold leaf, held a deceased rabbit in his arms like a baby and then whispered into its ear while moving it like a puppet around a room.
"Provocation always prompts something to come alive," he explains at another point, insisting with almost consistent good humor that what he does is meant to be illuminating, not exploitative. One of his most famous pieces, 7000 Oaks, is beauty incarnate and as simple as its name: plant 7000 trees throughout Kassel, Germany, and enlist the townfolk to help, proving indeed that art can be experiential, immersive, and have a measurable social impact.
Tucci's affectionate Final Portrait is interested less in art's impact than in the artistic process, detailing a few weeks in the life of Swiss painter and sculptor Alberto Giacometti (played by dead-ringer Geoffrey Rush) in his Paris home as he struggles to paint a portrait of art critic and author James Lord (a game Armie Hammer, given very little to do but be polite and sit still).
In certain ways, it's a view of an artist in all his quotidian splendor, chain-smoking cigarettes after waking even as he sits at the side of his bed and struggles to face the day. Small fortunes in francs from his gallery are delivered as bricks of cash in brown paper bags, then tossed aside almost absent-mindedly into ludicrous hiding places. His atelier is an ashen disaster zone, cluttered and unkempt, and he massages raw clay with abandon in a suit and tie, never bothering to put on a smock.
But painting is the most torturous process, both for him and for the subject. He groans and curses as he fusses with his brushes and palette, then hangs his head in agony. Lord, expected in New York, keeps pushing his departure date by another week, and then another, as Giacometti blithely reassures him that he won't need more than a few more days.
And all the while, he ping-pongs between a long-suffering wife (Sylvie Testud) and a fickle prostitute mistress (Clémence Poésy) as his placid brother Diego scurries in the background, quietly prepping his older brother's materials. Tucci sketches a vibrant world, although to what end is never really made clear. It's a curious film, a charming ode to a curmudgeon, and one which doesn't gain gravity or insight as it goes along. Yet it does convey the haunted desperation that some artists feel as they create—the sense that their talent is not quite theirs to control, and that they must succumb to it before they can hope to channel it.
If life is capable of being a work of art, then the most compelling proof at the Berlinale is Sebastian Lelio's A Fantastic Woman, a deliberative drama suffused with longing that focuses on young transgender singer Marina Vidal (Daniela Vega) whose life goes into a tailspin when her older lover Orlando (Francisco Reyes) drops dead from an aneurysm.
At the hospital, she faces suspicion and prejudice, as though her gender identity is somehow nefariously linked to Orlando's untimely death. And the life they shared—an apartment, a German shepherd—is suddenly yanked out from under her when his ex-wife and adult son make claims on his possessions, pushing Marina out of the picture because they're so ashamed and disgusted that Orlando's post-divorce life centered so much around her.
And yet the adversity only makes Marina stronger, as the film patiently shows her self-doubts transform into determination (one surreal shot shows her walking defiantly into a gust of wind, leaning into it at a progressively more severe angle). The indignities pile up, while the deafening silence of Orlando's absence makes her see him everywhere. But her only recourse is to learn how to fully claim her own identity—a definition no one else can make. If anatomy is destiny, then A Fantastic Woman is poignant proof of its capacity for victory.