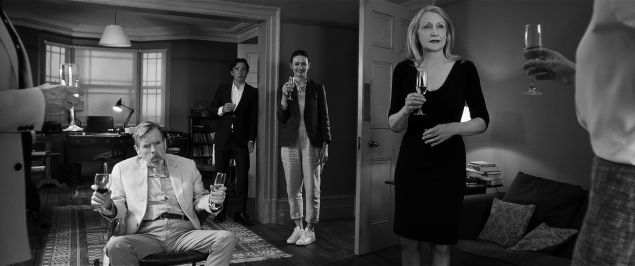 There's nothing tastier than being invited to share a five-star dinner with Richard Gere, Steve Coogan, Laura Linney, and Rebecca Hall. The only hitch is that they're eating each other alive.
Killer instincts are guiding the action at the Berlinale, where conflict is king as the movies keep twisting the knife figuratively and literally. In Oren Moverman's overstuffed The Dinner, a high-powered congressman running for Governor (Gere) insists that he and his elegant but brittle spouse (Hall) break bread with his chronically caustic younger brother (Coogan), a frustrated high school teacher; and his wife (Linney), an eternally patient and questionably doting mother.
The setting is a regal restaurant where the bespoke, locally sourced selections get waxingly poetic descriptions and a phalanx of synchronized waiters delivers each dish with a silent flourish. The real dish on the menu, though, is a harrowing family secret involving their kids that none of them wants to face.
It's a delicious premise (based on the same-titled 2009 Dutch bestseller by Herman Koch) that slowly reveals a widening narrative ambition groaning under its own weight: sibling rivalry, career ennui, marital strife, life-threatening illness, mental instability, alienated youth, the pressure of corralling legislative votes, the plight of the homeless, the eternal tension between white privilege and dark racism. (Oh, and the legacy of Gettysburg, believe it or not.) Moverman is definitely biting off more than he can chew—audiences will choke on all the subplots and flashbacks—but his hungry appetite keeps this lurching drama consistently unexpected and surprisingly subversive.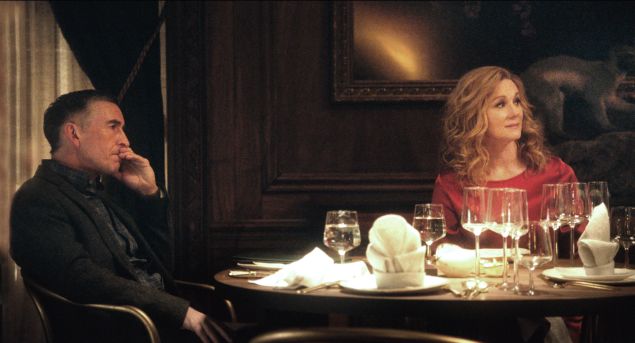 It also helps tremendously that the casting is spot-on: silver-haired Gere is perfect as a preternaturally charming politician who vacillates between cold calculation and sincere empathy; Coogan draws from his deep wells of comic misanthropy to play an insufferable cynic who gradually earns the viewer's sympathy; Hall shines as the undervalued and overeducated trophy wife; and Linney exploits her matronly warmth to fuel an unexpectedly dark third-act desperation. The Dinner is a shoot-the-moon accomplishment that may not reach the high bar it sets for itself but clearly shows more intelligence and conviction than most movies these days.
What is it with intimate gatherings? Sally Potter's The Party also unspooled in the competition lineup, and quickly formed an unintentional but undeniable diptych with Moverman's jaundiced meal. In Potter's venomous chamber piece, Kristin Scott Thomas plays the newly elected Minister of Health who decides to throw a small soirée to celebrate. The problem is, no one's feeling very festive.
Her longtime confidante (Patricia Clarkson) wants to dump a loopy life-coach boyfriend (Bruno Ganz). Her feminist academic friend (Cherry Jones) is feeling paralyzed by the sudden announcement that her wife (Emily Mortimer) is pregnant with triplets (quite possibly all boys, to boot). Her longtime colleague's husband (Cillian Murphy) has just shown up, jittery and manic, with a penchant for coke-snorts in the bathroom and a loaded pistol secretly tucked into his armpit holster. And, worst of all, her near-catatonic husband (Timothy Spall) has just confessed that he has a terminal illness and wants to leave her for another woman.
The movie is a short but nasty piece of writing, a messy dissection of betrayals and slights with more than a few comic zingers that cut to the bone. "You're a first-rate lesbian and a second-rate thinker," chides Clarkson to Jones. "You need to protect yourself from so much negative female energy," Ganz advises Spall, who keeps getting physically bitch-slapped by Scott Thomas until Murphy cold-cocks him. And Scott Thomas has the best gag of all: "I believe in truth and reconciliation," she repeats to herself before biting down on her arm and wailing in agony.
Despite the verbal ballistics, a war of the worlds still trumps any war of the words. Berlin has also offered glimpses of military madness, with a couple of disturbing documentaries that probe the insanity at the root of modern conflict.
Andrea Luca Zimmerman's Erase & Forget is a flawed but fascinating look at James "Bo" Gritz, the self-declared inspiration for Rambo, Col. John "Hannibal" Smith from The A-Team, and quite possibly one of the influences on Francis Ford Coppola when he was conceiving Col. Kurtz for Apocalypse Now. Or so he says at least, as Gritz reveals himself to be an unreliable narrator but a master showman who is selling the alt-right's fantasy of a survivalist vet whose superior training will be America's ultimate salvation. Ronald Reagan even asked Hollywood chum Clint Eastwood to help raise money and bankroll Gritz on a $250,000 secret Southeast Asian POW rescue mission—based on nothing but the ex-Green Beret's gut feeling that POWs were still there. (He never found any.)
How troubling is Gritz's life? On his many tours around the U.S. promoting his books and mythos, he sometimes gives out weapons to admirers. And one of them actually kills himself with the deadly gift only an hour after one of Gritz's talks. Asked if he feels any guilt, he shrugs it off and explains how he has lived with death all his life, then weirdly boasts about having taken more than 400 lives in the line of duty. (At one point, he pulls out an army-issued assault knife and mutters with pride how he doesn't know whose blood is on the blade.)
He later details how he and other anti-government supporters decided to buy a swath of "safe" property in Idaho and start their own idyllic "covenant community" after determining that most of the country is otherwise threatened by natural and man-made disasters. And then, just a few miles from the town, even he puts a gun to his heart and pulls the trigger, amazingly surviving his own suicide attempt. "I could live with these guys," Gritz says wistfully as he gazes at a military collector's house full of mannequins in full military uniforms—before actually wheeling one away on a dolly. Defiance, depression, delusion: Erase & Forget touches on all these ideas, showing how the fog of war can spin into a mental disease.
Maybe the best way to handle that destructive insanity is to recast the images as experimental art. Over the weekend, the festival hosted a screening of the bomb, a visual meditation showcasing images of atomic weaponry at the moment of detonation.
Co-directed by Kevin Ford, Smriti Keshari and "Fast Food Nation" author Eric Schlosser (whose book on the flawed U.S. nuclear weapons system, "Command and Control," was also made into a documentary last year), and accompanied by a live performance by The Acid, the film is a mesmerizing and terrifying reminder of the awful power contained in too many arsenals throughout the world. "Now I am become death, destroyer of worlds," intones J. Robert Oppenheimer at one point, in footage of him quoting from the Bhagavad Gita. The movie is an abstract wonder and a literal nightmare: a dazzling view into the abyss.