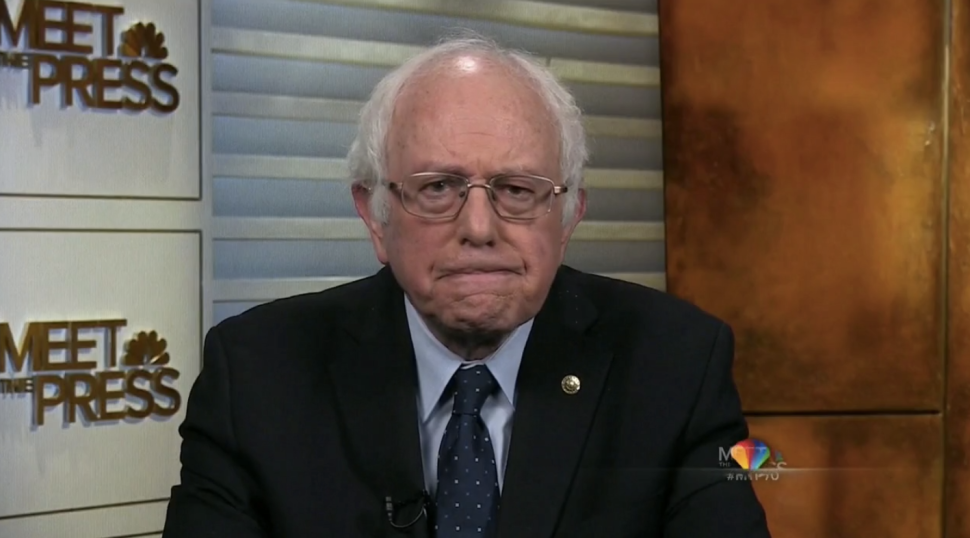 Listen, you Sunday show TV anchors: Don't you DARE challenge Stephen Miller.
Don't even think about it! Miller works for President Donald J. Trump as a senior policy adviser. Miller is all of 31 years old.
One of the very important duties of this very important young man is to put Muslims and Mexicans in their place—outside America's sacred, white, Judeo-Christian borders.
And if you anchors want to argue with Miller, he will put you, too, in your place, just as he does with federal judges.
Judges! Hah! How dare they challenge Trump and Miller on constitutional questions stemming from Trump's cruel and reckless crackdown on immigrants?
George Stephanopoulos learned his lesson when he interviewed Miller on ABC's This Week.
"The point I want to make to you, George…is that we have equal branches of government in this country," Miller said. "The judiciary is not supreme."
That seemed to call into question the very words "Supreme Court" but, no matter. Miller was on a roll.
"A district judge in Seattle cannot force the President of the United States to change our laws and our constitution because of their personal views," Miller said. "This is an ideological disagreement between those who believe we should have borders and controls and those who believe there should be no borders and no controls."
Of course, that was fatuous exaggeration about a thinly disguised Muslim ban that also was struck down by a federal appeals court panel in California.
Those three judges also displeased Miller, who appeared on four of five network shows Sunday with his cobra-like mien and his sharp, mean tongue.
He also spoke down to John Dickerson on cbs's Face the Nation, to Chris Wallace on FOX (FOXA) News Sunday and to Chuck Todd on Meet the Press on NBC.
However, Miller and the White House pointedly shunned Jake Tapper on CNN's State of the Union. Is that because Tapper generally asks the toughest questions and is therefore feared by Trumpists? Nah. Trump's regime is filled with tough, powerful people.
"Our president's powers here are beyond question," Miller told Wallace in reference to Trump's right to inflict a sloppy executive order two weeks ago that intentionally turned immigration centers into scenes of chaos and fear.
On NBC, Todd asked Miller about Latinos and others being deported under Trump's crackdown only because they are undocumented, and not because they've committed a serious crime.
Some deportations are breaking up families. Tough luck, Miller said.
'He lies a lot,' Franken said. 'That is not the norm for a President of the United States or, actually, for a human being.'
"If people don't like the immigration laws of the United States," Miller said, "they can reform them."
When Dickerson on CBS asked Miller "What have you learned?" from this fiasco, Miller didn't seem to get the hint.
"We have a judiciary that has taken far too much power," Miller said. "I mean, it's just crazy, John."
"Crazy" might be the most honest word Miller spoke. One of the serious topics on a couple shows was Trump's very sanity. When Miller wasn't talking over the anchors in his loud voice, they managed to make a few points here and there.
One was about claims by Trump and Miller about illegal voters only they can seem to see.
"Just for the record," Stephanopoulos told Miller, "you have provided no evidence."
Hand me the remote . . .
THIS WEEK
Another serious topic Stephanopoulos raised with Miller concerned Mike Flynn, Trump's National Security Advisor, who first said he didn't speak with the Russian ambassador in December about U.S. sanctions against Russia, but then changed his story to "I don't recall" after The Washington Post revealed that he did indeed speak about sanctions against the Russians that were announced that day by President Obama.
Our spies leaked the story to the Post, the paper wrote. Others have confirmed it. You have to wonder if they recorded the voices, hmmmm?
In that Vice-President Mike Pence last month supported Flynn's false statement, Stephanopoulos wanted to know about consequences. The loquacious Miller suddenly seemed tongue-tied.
"Then why are you coming on," Stephanopoulos said, "if you can't answer questions being posed about the White House?"
He persisted about Flynn.
STEPHANOPOLOULOS: "How do you think he can continue to serve as the National Security Advisor after misleading the vice-president?"
MILLER: "I don't accept that what your question is saying is accurate. I don't have any information one way or another to add anything to this conversation."
Shortly after Miller left, Congressman Elijah Cummings arrived.
"Did the president instruct General Flynn to talk to the ambassador?" Cummings asked. "And did he know about it? . . . And when did he know it? . . . I would be very interested to know how the vice-president feels after he was, basically, thrown under the bus."
STATE OF THE UNION
Trump's feud with CNN results in fewer White House spinners polluting the airwaves and more time for more truth-tellers.
One was Al Franken, the Democratic senator from Minnesota, who had sort of half-joked on Real Time with Bill Maher on HBO on Friday that some Senate Republicans have told Franken that Trump is "not right mentally. And then some are harsher."
Asked by Tapper to clarify, Franken said only "a few" Republicans have expressed such misgivings to him about Trump's mental health. Then he continued discussing The Great Leader.
"He lies a lot," Franken said. "That is not the norm for a President of the United States or, actually, for a human being."
Franken continued in a serious vein about Trump's ties to Russian President Vladimir Putin, whose hackers meddled in the November election to favor Trump over Hillary Clinton.
"We don't know what he owes Russia," Franken said. "We don't know how many Russian oligarchs have invested in his businesses. He has sidled up to Putin in so many ways . . . He's got a bit of a Putin crush. I want to know how much of that is tied to maybe financial strings."
Another Senate Democrat critical of Trump is Elizabeth Warren of Massachusetts, ordered last week to sit down and shut up by Senate Majority Leader Mitch McConnell, who disapproved of her reading a letter from the widow of Dr. Martin Luther King.
The Kentucky Republican was offended that Warren and Mrs. King found fault with Jefferson Beauregard Sessions III, the Confederate senator from Alabama who was confirmed as Trump's Attorney General despite a history of opposing the right of African-Americans to vote.
In meetings with other senators last week, Trump called Warren "Pocahontas," an Indian name.
Had he been there, Franken said, he would have said something to Trump.
TAPPER: "What would you have said?"
FRANKEN: "Mr. President, with all due respect, that's racist. Please stop doing that."
Tapper was again spoofed on NBC's Saturday Night Live along with White House mouthpiece Kellyanne Conway. In a parody of the 1987 film "Fatal Attraction," Beck Bennett played Tapper and Kate McKinnon played Conway as his stalker.
The sketch showed Conway—spurned as a guest by Tapper for telling too many tall tales on TV—waiting to ambush Tapper in his darkened apartment.
"I'm not going to be ignored!" "Conway" says.
"Kellyanne, no!" "Tapper" replies. "We can't have you on TV if you're just going to keep lying!"
She threatens him with a knife; she falls out a window.
"You're sick!" he tells her. "You're toxic! You're done!"
RELIABLE SOURCES
Host Brian Stelter offered a lively show on CNN and no guest was livelier than Andrew Sullivan of New York magazine. He questioned Trump's mental state in a current piece titled "The Madness of King Donald."
Sullivan seemed concerned that Trump believes and spreads stories that are not true about imaginary illegal voters, imaginary inauguration crowds and imaginary murder statistics in our national hellscape filled only with predators and their prey, God help us.
"To have such an unstable figure incapable of accepting reality at the center of the world is an extremely dangerous thing," Sullivan said. "This is simply, completely bonkers. He is saying things that do not exist . . . If he doesn't know they are false, he needs to be informed . . . And, if he doesn't know, he shouldn't be in that office."
Sullivan said Trump's statements and apparent cognitive disfunction are not the sort of thing journalists often wish to point out to their readers and viewers about their leaders. Sullivan understands.
"I don't want to believe the President of the United States is just delusional or cannot accept reality, of course not," Sullivan said. "It pains me. It gives me great pain and concern and distress. But, at some point, being a writer or a journalist requires one to simply say what one is seeing in front of one's eyes. And, sometimes, you have to say that in plain English."
Taking a slightly milder tone was James Bennet, editorial page editor of The New York Times, who reacted to Trump's declaration of "fake news" when polls show his popularity falling.
"It's terribly worrisome to me and, I think, should be to a lot of Americans, when the very idea of truth is under assault like that," Bennet said.
Stelter's producers showed a screen grab of the Times website with the headline on an editorial that said "America's so-called national security advisor." It was about Flynn and it mocked how Trump called U.S. District Judge James Robart in Seattle a "so-called judge."
FACE THE NATION
Republican Sen. Jeff Flake of Arizona spoke of  Guadalupe Garcia de Rayos, an undocumented Mexican immigrant who is 36 years old and has spent the last 22 years in Flake's state.
She was deported to Mexico and taken away from her children by Immigration and Customs Enforcement last week because she used a fake social security number to work at a water park many years ago.
"I don't think anybody wants to put her in the same class as aggravated felons," Flake said. "There is a lot of worry here in Arizona."
On the pundit panel, reporter Peter Baker of The New York Times spoke of Trump's management style.
"Things are under control," he said, "if, in fact, what you want is chaos."
FOX NEWS SUNDAY
Speaking of the immigration ban, pundit Laura Ingraham told Wallace in the panel discussion that the Trump White House may have a tactical mistake in its first major legal case.
"They have to learn that running full-bore into a buzz saw of the Democrat resistance in the Ninth Circuit is probably going to distract you for a while," she said.
Poor Ingraham must be hard of hearing. She seemed under the impression that "Democrat" is used as an adjective. It's not. It's a noun. The correct pronunciation of the adjective is "Democratic."
Two other members of Wallace's pundit panel were Juan Williams of Fox and Michael Needham of the right-wing Heritage Action for America. Needham's primary role was to interrupt Williams, Fox's token liberal.
MEET THE PRESS
Bernie Sanders, the independent senator from Vermont, said Miller was playing a "shell game" by discussing immigration and courts while Trump attacks laws that protect working class people. Sanders called the immigration crackdown "racist . . . based on anti-Muslim ideology."
"We're supposed to hate Muslims," Sanders said, in reference to Trump's positions. "We're supposed to hate Latinos. We're supposed to hate blacks."
Of Trump in general, Sanders said "We have a president who is delusional, in many respects a pathological liar." Told that his statement was harsh, Sanders replied: "It is very harsh."
Referring specifically to Trump's allegation that three to five million illegal voters gave Clinton the majority over Trump in the popular vote, Sanders said "It's a lie. It's a delusion."
MEDIA BUZZ
On Fox, host Howard Kurtz welcomed White House aide Sarah Huckabee Sanders, who said: "We are so frustrated with the amount of fake news out there and the reporters are not letting the facts get in the way of those fake news stories."