Bethenny Frankel is listing this Soho apartment.
Evan Joseph
Frankel is planning on staying downtown.
Evan Joseph
Frankel purchased the home in 2014.
Evan Joseph
A wood-burning fireplace in the living room.
Evan Joseph
The secondary bedroom Frankel created for her daughter is idyllic.
Evan Joseph
And very, very pink.
Evan Joseph
There's a balcony off the living room.
Evan Joseph
Imported marble in the kitchen.
Evan Joseph
The master suite.
Evan Joseph
Master suite avec dog.
Evan Joseph
Perfect for mixing some Skinnygirl cocktails.
Evan Joseph
Prepare for the closet montage.
Evan Joseph
The crucial chandelier.
Evan Joseph
A close-up of the shoes was apparently necessary.
Evan Joseph
A custom closet at its finest.
Evan Joseph
An ideal Housewives setup.
Evan Joseph
Frankel renovated the entire apartment.
Evan Joseph
Lots of marble.
Evan Joseph
The kitchen is all imported marble.
Evan Joseph
An additional glitzy bathroom.
Evan Joseph
Real Housewives star Bethenny Frankel is keeping busy this Valentine's Day, and not only in the flowers and chocolates department. Frankel just listed her impeccably renovated and designed 2,392-square-foot Soho apartment, with a $5.25 million price tag attached.
Frankel purchased the two-bedroom, 2.5-bath condo for $4.2 million in October 2014, during the height of her highly publicized and rather messy divorce from Jason Hoppy. At the time, Hoppy was refusing to vacate their Tribeca abode at 195 Hudson Street, so Frankel went on to purchase a unit at 22 Mercer Street, under the limited liability company, Beyond Hudson. That is real estate #shade at its finest.
But over two years later, the reality star is ready for something new. "When I bought the apartment, I was in a situation where I really needed to buy something," Frankel told People. "It was a time when I needed to get some stability for Bryn and myself and I needed a home for us…[o]ur Soho apartment is an amazing place, but I'd like a bigger place now for both of us."
If Frankel's past real estate transactions are any indication, she'll have no problem at all parting ways with this condo—she found a buyer for the Hudson Street loft, at the full $6.95 million listing price, after just one day on the market.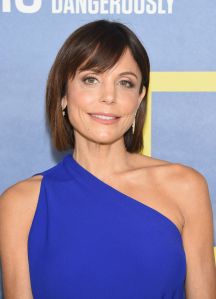 The Soho apartment is "architect renovated," per the listing shared by Douglas Elliman brokers Fredrik Eklund and John Gomes, with a sunken living room, wood-burning fireplace and balcony.
The open kitchen is "fit for a Michelin star chef," claims the listing, and fitted with imported marble and SubZero, Gaggenau and Miele appliances. There's also a large pantry with the requisite extra wine storage; Frankel is the creator of the Skinnygirl empire and she obviously needed a place to store all that low-cal vino.
There are 14-foot ceilings and walnut flooring throughout, but the pièce de résistance is the closet in the master suite. More specifically, it's a chandelier-lit, customized walk-in, complete with shelving that can store a copious amount of shoes and bags. The listing photos even indulged in a few close-up shots of Frankel's designer heels.
The en-suite marble bath has a soaking tub and steam shower, while a secondary bedroom for her daughter, Bryn, is a pale pink dream.
"I have been doing really well in real estate and I've got the bug," Frankel, who is planning on staying downtown, told People. Indeed, aside from selling the Tribeca apartment, in the last few years Frankel has purchased a five-bedroom Bridgehampton home and also rented out a Broome Street apartment to use as office space.
"I never like to buy anything new and perfect," Frankel added. "I adopt these properties, and give them some love. I never bought the apartment with the intention of living there permanently. I added value and now I'll find another place to do the same thing to." We'll just have to wait and see where Frankel, her shoe collection and her Skinnygirl margaritas go next.