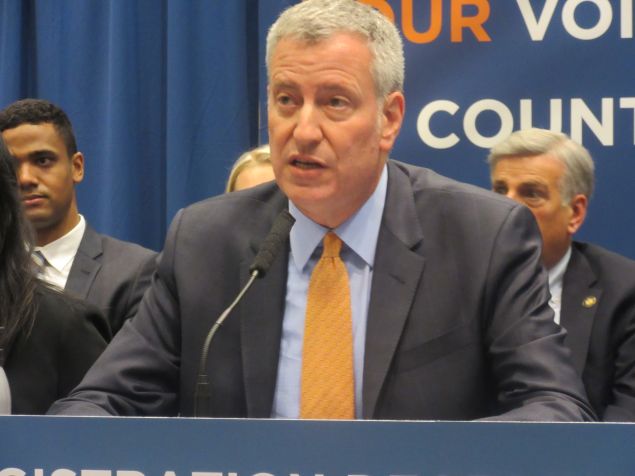 Mayor Bill de Blasio did not receive or even ask for immunity in exchange for participating in ongoing interviews with the offices of Manhattan District Attorney Cyrus Vance and U.S. Attorney Preet Bharara regarding the two grand jury investigations into his political fundraising, according to a fact sheet his office released this morning.
The mayor has spent weeks avoiding answering questions about his past and upcoming discussions with Vance and Bharara regarding their respective probes into his unsuccessful efforts to help Democrats take the State Senate in 2014, and his now-defunct political nonprofit, the Campaign for One New York. Both prosecutors have impaneled grand juries to consider charges against the mayor and/or his top political aides, but de Blasio's office today insisted that his meetings with them were not part of any sort of deal.
"The mayor did not request and was not offered immunity in exchange for participating in these discussions," according to the fact sheet released by mayoral spokesman Eric Phillips this morning. "The administration has released all it will provide at this time concerning these meetings."
The release maintained the mayor's innocence, and insisted he had never been told he personally is the target of potential charges.
The fact sheet states that the mayor has voluntarily agreed to meet and discuss Bharara's review in the weeks ahead and that he had a similar conversation with Vance's office in December. It also states that the meetings came about because lawyers from both sides reached "mutual agreements" and that they are a "natural step in the progression of reviews of this nature."
"The administration has and will continue to cooperate fully with these outside reviews," the fact sheet said. "The mayor and his aides acted appropriately and well within the law at all times. The mayor has never been informed that he is a target of these reviews. This is the extent to which the mayor will discuss his, or his administration's, cooperation with this process."
More than two weeks ago, the mayor confessed that he had an "interview" with Vance's office about one of the investigations, but abruptly ended a press conference after reporters requested more details. He would only state that the meeting was a "few weeks back," that he and lawyers had attended and that the meeting was "fine" and "good."
The sheet released today reiterated that the city employees who have met with investigators had a right to taxpayer-financed legal counsel. But the administration insisted that de Blasio's own lawyers would get compensated out of a private fund he has not yet set up.
"The mayor's lawyers will be paid with outside funds from an account that has yet to be established or funded," the fact sheet continues. "More information will be released concerning these payments once any relevant accounts are formed."
At issue in Vance's investigation is whether the mayor or his apparatchiks sought to circumvent state campaign contribution caps by directing their political allies to write checks to upstate Democratic county committees, which do face the same donation ceilings. Bharara is studying whether the mayor's office traded favors for cash given to the Campaign for One New York, which promoted de Blasio's agenda.