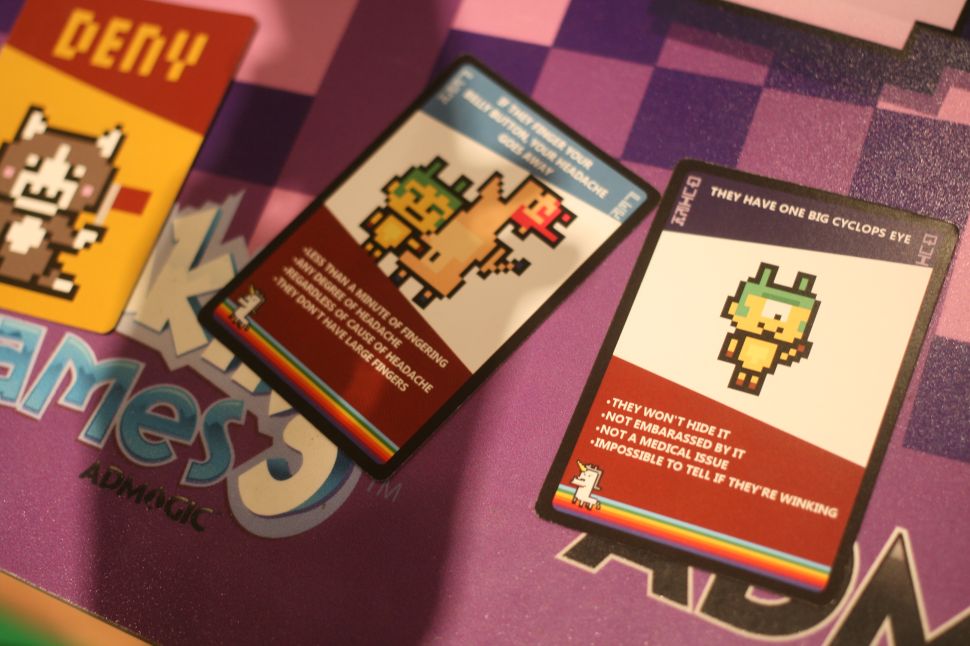 If the fake news propagated by Facebook taught us anything, it's that we overdiscount the power of social media over our lives. Individually, we all kind of understand that we spend too much time on it, but collectively we refuse to believe that these services are as potent as they are. We'll never know if fake news out of Macedonia actually swung the presidential election, but it seems clear it nudged the dial.
It's one thing to really agree that social media is powerful and another to really internalize that. Who knows how many hand-wringing think pieces a person needs to read before they become a truly sophisticated user and observer of social media, but there's more than one way to deliver critique. At Toy Fair 2017 we encountered two board games that take on the way our brains work in a digitally connected age.
Free Me: The Game ($17.99 on Amazon) is brand new, minted by a Kickstarter campaign. It's a game that posits we all win by unloading the phonies in our digital lives. "The object of the game is to lose your four self-indulged fake friends," Jeff Levine, one of the co-creators told the Observer. 
The cards have a bunch of surprises built in that engender crazy effects, such as an ex-girlfriend card (lose half your friends). It's also full of jokes about social media gaffes, such as taking a selfie on the toilet.
To make its point about social media, players accrue black cards as they go. These cards have IRL consequences at the end of the game: players have to take the real social media actions once the game ends. Mostly, these are embarrassing social media behaviors, such as humble brags, awkward videos or selfies—stuff the wise man regrets in advance.
Levine and his co-creator, Jose Pablo Cantillo (an actor who has appeared in a bunch of action-oriented TV shows and films, including The Walking Dead), met for a trip to New York from their home in LA one morning, and Levine told Cantillo about how he found out his young daughter felt like he was on his phone when he should be playing with her. They started doing a series of dares where each had to stay off social media or face ridiculous consequences.
The first time they made the dare, Levine ended up dancing to a Shakira song in an elevator with strangers. On the flight home, they started making a list of classic social blunders, such as "liking" a photo you shouldn't have (such as while sizing up someone you're interested in). Eventually, the idea evolved into a game—the duo's first.
"We worked really hard on the mechanics," Levine said. "There are easter eggs throughout the game."
Up next, they are working on something a little more positive about making real friendships, aimed at kids. Sounds nice, but this reporter would like to see an adult oriented expansion that goes deeper into the darker, raunchier side of Internet awfulness.
But, they're dads.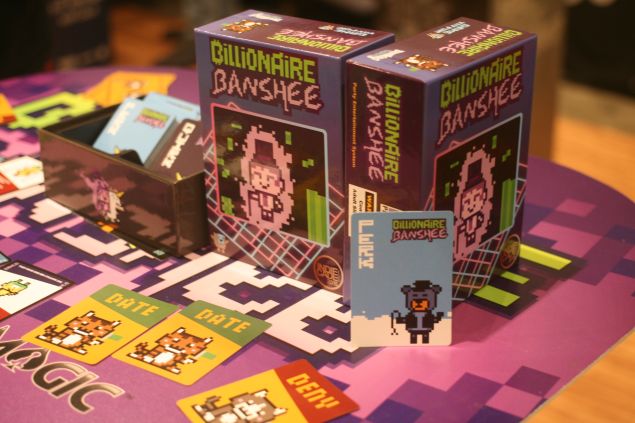 Billionaire Banshee ($25.00 on Amazon) has been out longer. Steven "Razlo" Bailey, a game industry veteran, explained to the Observer that he created it out of a game he played on road trips with friends, constantly trying to ask ever more personal questions. The game toys with the way people choose whether or not they want to get to know each other better based on tiny little details about the person.
In this game, every player has two cards with identical backs. On the front, they say "date" and "deny." Players take turns drawing a "perk" and a "quirk from the two decks. The conceit is that one potential match for that person has these two characteristics. The first perk we plucked out of the box said (and we're paraphrasing) "can have sex in every possible position."
Obviously, the game can get racy. "It's dealing with relationships, so the age range automatically is teens and up," Bailey said. It's also adjustable on the fly. Each perk and quirk shows on the front what category it falls in (sexy, fantastical or real). If someone is not comfortable playing the sexy questions or they don't like entertaining the thought of dating a mystical creature, they can just move that card to the bottom of the deck without looking at it.
Once the imaginary suitor has been picked (for example, "He's a billionaire but he's also a banshee"—get its name now?), every player gets to talk through why they think the person in question might or might not date the person. Then, each player puts a "date" or "deny" card down. When the player who picked the two cards reveals his choice, all the players whose pick matches get a point (though as Bailey explained, winning is seldom the true objective).
The game makes perfect sense in a day and age where Tinder has an Apple TV app so that friends can all weigh in on one's swiping. In fact, Bailey said that bars have been some of his best customers. The game helps people mix up, meet strangers, stay longer and buy more drinks. 
This reporter does not endorse the constant hand-wringing about "what social media is doing to our brains." I sort of suspect that everyone already had lousy attention spans and social media is the hot new excuse. Still, these games provide a useful new way to reflect on how we use this stuff. Also, as I've said before, games are more fun than talking, and these particular games shouldn't even stress out your friend who hates games because they never win.