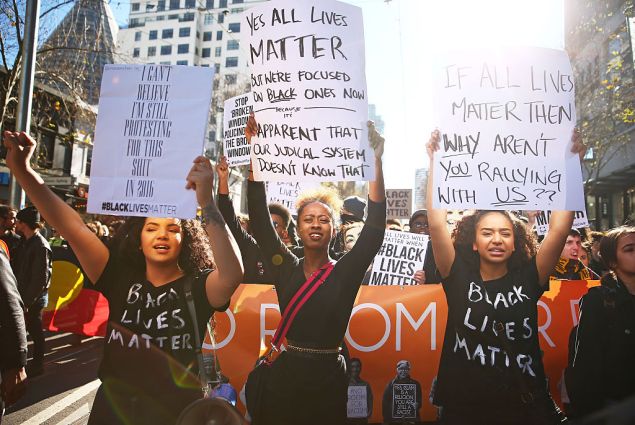 One of the co-founders of the Black Lives Matter movement urged black immigrants and African-Americans to "rise up" and "defend each other" against the "pretty dire" situation President Donald Trump has presented with his executive order.
Trump has signed executive orders expanding former President Barack Obama's deportation priorities, calling for for federal authorities to expel undocumented immigrants not just when they are convicted of a violent crime, but when they have been charged with any offense. He also signed three executive orders earlier this month that he says support law enforcement and instruct his new Attorney General Jeff Sessions to form task forces that examine how crime can be reduced and look at how to destabilize transnational criminal organizations and drug cartels—seen by some as an affront to advocates fighting police brutality against people of color.
Opal Tometi, who founded Black Lives Matter in 2012 with two other activists after the killing of 17-year-old Trayvon Martin, said that black immigrants and African-Americans are dealing with the same issues.
"Black immigrants and African-Americans share diverse, rich cultures and a lot of beautiful things, but we also share the global fight against a system that operates on racism," Tometi said during BAJI's President's Day telephone town hall Monday night on the impact of the executive orders on the two groups. "And so right now, this moment, it's very, very critical that we rise up and we defend each other. We have to fight to ensure that all black lives matter and there are some practical ways we can engage in this work."
Tometi, who now serves as executive director of the Black Alliance for Just Immigration, asserted that black immigrants and African-Americans both experience unjust outcomes in areas such as access to quality public schools, "being over-policed, working long hours and struggling to retire." But she noted some additional challenges black immigrants face.
"You add that family separation component, the unique language barriers and challenges to just employment, and the fact that black immigrants are far more likely than any other immigrant group to face detention and deportation in our immigration system as a result of criminal contact, the situation is pretty dire," Tometi continued. "It's been pretty dire and we can see that things are becoming a little bit more acute."
U.S. Immigration and Customs Enforcement recently launched "targeted enforcement operations" throughout the country it says arrested more than 680 of what it described as "convicted criminal aliens and gang members," as well as people who had re-entered the country after getting deported. Immigrant advocates also announced that federal agents arrested five male Mexican nationals in raids on Staten Island.
BAJI, an education and advocacy group made up of African-Americans and black immigrants from Africa, Latin America and the Caribbean, was established in April 2006 in response to immigration bills Congress was considering at the time. It has offices in New York City, California and Georgia.
"What we're learning, what we are witnessing and what we are experiencing is truly unprecedented and it's brutal," Tometi said. "However, we have the duty to know our rights, we have the duty to assert our rights and to fight for justice, and that's what tonight's call is all about."
Tometi, a Nigerian-American, said that people can take action by taking advantage of resources on the group's official website that helps families prepare to defend themselves in the event that they are profiled or raided, and that the site also includes tools to help people organize their local neighborhood and get involved with the group locally.
She added that people can also become members of the Black Immigration Network, which trains community members, coordinates campaigns and supports the leadership of black immigrants and African-Americans simultaneously. And she told participants to email tips of any ICE arrests or raids in their communities to the group, but urged them to document raids they witness safely.
Trump is also expected to issue a new executive order barring entry to people from seven Muslim-majority countries this week, after the West Coast's Ninth Circuit Court of Appeals upheld a temporary restraining order earlier this month preventing its implementation. Carl Lipscombe, BAJI's programs manager, said the group's sources informed him that the new order could be introduced as early as Wednesday.
Lipscombe said that the administration's calls for detention of non-citizens suspected of violating any federal or state law could impact green card holders, under 1996 laws that increased the number of deportable offenses. He also said the order reestablishes the Secure Communities Program, a DHS program that establishes partnerships with state and local law enforcement to facilitate deportation
"Oftentimes the rhetoric around the border tends to focus on immigration from Mexico and Central America…but over the last year, we've actually seen a dramatic surge in migration to the border by Haitians as well as African immigrants seeking asylum in the U.S.," he said. "So those migrants will also be impacted by this executive order."