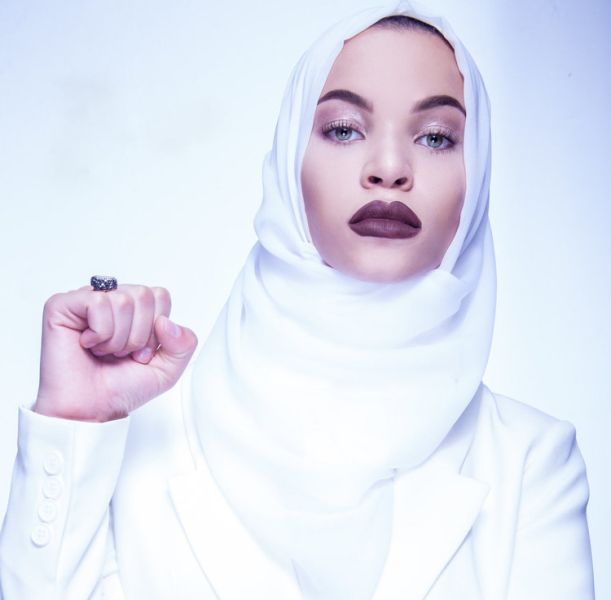 The Women's March on Washington was almost a month ago, when just under 5 million people worldwide grouped together to stand in solidarity for women and a variety of issues stemming from the inauguration of President Donald Trump. This article is part of our Marching On series about activists who are keeping the momentum going.
On September 11, 2001, Linda Sarsour's mother gave her a warning: "We can't wear it right now." Her mother was referring to her hijab, which she had taken off.
Sarsour, now the executive director of Arab American Association of New York and co-chair of the Women's March on Washington, was 21 at the time and wasn't accustomed to seeing her mother without her hijab, she told Observer previously.
"It got scary," Sarsour said. "People were detained and then just went missing or were deported. There was so much unwarranted surveillance. There was so much chaos. The [Muslim] community was torn apart."
Unfortunately, history is now echoing itself to a new generation.
In the early morning of November 9, 2016, Muslims the nation over felt the same way. Except this time, instead of a terrorist attack, the fear originated in the rhetoric of the individual being voted into the presidency: Donald Trump.
With campaign promises like the Muslim registry and the executive order banning travel, Americans' worries were not unfounded. And then came the blatant racism soon after in the name of then-President-elect Trump—like from young American students, chanting, "Build a wall."
'I mourned the death of American freedom.'
Blair Imani knew things were different as soon as Trump's numbers began to grow out of Hillary Clinton's reach. Except "different" isn't exactly right.
"As I watched Hillary Clinton's chances of winning the presidency dwindle," Imani said in a piece for Vice's fashion channel, i-D, "I remembered the fact that this presidential campaign has awoken and empowered a side of America that has always been here."
That same "side," she said, she felt even at Clinton rallies, where she was once called a terrorist. Surely, much of America felt it, this side, as Americans were murdered.
"Donald Trump's rhetoric of bigotry, discrimination and scapegoating has been felt by all oppressed people," Imani said. "Unfortunately, it has also given people with hate in their hearts a license to act on their biases."
Imani, in the aftermath of the election, had decided to no longer wear her hijab. If for nothing else, she did it for her own safety.
"I mourned the death of American freedom," she said, "as bigotry and the very real threat of physical violence scared me from exercising the right to express my faith."
Imani was not alone: Muslims all over America posted about their fears on social media soon after Trump was elected. In this collective fear, however, is some light at the end of the fearful tunnel.
"The glimmer of hope that I hold onto now is that Trump's administration will unite marginalized people toward a common goal and force allies to realize that they must center the voices and lived experiences of marginalized people," Imani sad. "If all of us who comprise 'the other' are given the space and liberty to enact the path toward our collective liberation, I believe it will come a lot sooner."
To get that space and liberty, activism and solidarity among all Americans are needed more than ever. Two things in which Imani has plenty of experience.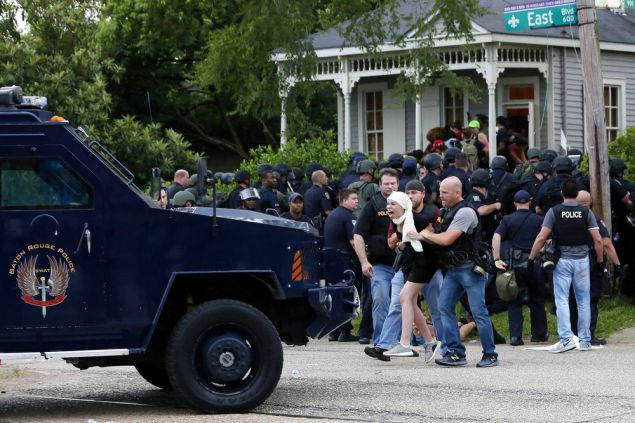 Imani, now based in New York, grew up on activism in a way, having been raised by parents who weren't afraid to "push back."
"My parents have been huge advocates but in a more quiet or mainstream way because, being the only black family in the neighborhood we grew up in, in Southern California, there was an increased scrutiny on them," she told the Observer.
Her dad, she said, would teach for Black History Month if there wasn't a local program. And her mother would volunteer for field trips to make sure something like a museum tour didn't skip over their culture.
It wasn't until Imani went to college and was on her own, however, that the activist inside her really came out. In the familiar setting, she said, it's easy to "get caught up in the idea that racism doesn't exist and oppression doesn't exist," but when you return, you can really see what's wrong. That's precisely when the revelation came about.
"It helped show me that activism isn't something needed to have happen in the past," she said. "It's something needed in the present."
Imani has carried this view of activism since and would not concede to the idea that standing up was needed more now, since Trump's inauguration, than ever before.
'Protests have always been an important part of a healthy and equitable society.'
"I have always felt it's important to mobilize and to do these things," she said. "I think in the past, organizers, such as myself and folks like Black Lives Matter organizers have been in the position where we have to urge the general public that these issues matter and they're important to discuss."
This parallels her earlier sentiment that underlying issues, or that "side of America," have long been around. What really changed was "we couldn't sweep these things under the rug anymore."
"That shift, I think, is why you're seeing so much more support for protests," she said. "But protests have always been an important part of a healthy and equitable society because we have to criticize and improve upon our government structures if they are to remain just."
Blair Imani doesn't just talk the talk, either. She's organized for LGBTQ causes. She's protested with Black Lives Matter—like in Louisiana when she was arrested and then days later held a vigil for fallen officers because, as she told The Advocate, "All violence is wrong." She's stood in solidarity, like volunteering for the Women's March on Washington. She's even started, in 2014, her own organization for women's rights, Equality for HER.
"Initially, I started it to do training," she said, "because I very much believe in the idea that very few people are intentionally being malicious and lying."
Rather, Imani finds ignorance and a lack of education on an issue as the usual causes of misunderstanding that can come off as this maliciousness and these lies. From there, it became a platform from which she could take apart issues considered to have a certain makeup.
"It's important to talk about things like domestic violence in the context of all relationships and not only a home situation," she said. "These types of violences happen in the workplace, they happen on the subway. I was breaking down the idea of what a certain type of situation should look like and also what a certain person should look like."
This same philosophy lead her, as part of Equality for HER, to take apart the idea of womanhood and allow it to accept all women.
"That's the core vision of it: Change the dialogue about how everyone deserves to have their humanity honored," Imani said. "And that's through education, through sharing stories." All of which she tries to provide through her organization.
With all this and her highly active Twitter account and her day job in women's health, Imani really walks the walk. And she has no plans of stopping. She's planning to continue to build up Equality for HER into a self-sustaining organization, and she's working on solidifying her own values and beliefs into something clean and transparent as she becomes more of an audible voice in the activism spectrum.
Though, the restless activist might also just take more time for herself: "I'm always caught up with the idea that I'm not doing enough. It's really bad. I need to work on it."
'Human beings have the capacity to either decide to teach people to do good work or hurt others and be violent. That doesn't belong to a religion, that doesn't belong to a race.'
Imani grew up Baptist and later, in college, converted to Islam. While she said she feels "so much happier and at peace," her newly adopted religion has brought on unexpected results—results tied in with that "side of America" awoken by Trump.
"Like many have been dealing with for their whole lives and generations, I'm dealing with this stigma where I announced that I'm Muslim, and all the sudden people don't want to be my friend. Or I'm wearing a hijab, and people don't think I speak English," Imani said.
"It also made me really angry because one moment I'm a black American women—I'm still am—fighting for a more just America. Then I start wearing hijabs, and I'm perceived as a Muslim who hates America and should go back to where they came from…
"That made me so frustrated because I'm the same person, and I've always believed that there's no identity that is all good or all evil," she continued. "Human beings have the capacity to either decide to teach people to do good work or hurt others and be violent. That doesn't belong to a religion, that doesn't belong to a race."
Imani took to Islam because she found it to be tolerant, which has helped with the fear that took ahold of her on Election Day. Enough so, she's taken her hijab out of hiding. But with caution.
"If I'm going to a place I've never been before where I don't really know how the climate is, I'll probably wear a baseball cap, I'll probably a beanie because it's just not a fight I feel like I can fight on my own," she said. Because, for her, Islam is about surviving and being well intentioned and doing good work, even if that means removing her hijab.
"Everybody wants to be safe," she said. "We should all be able to feel we are free, but that's not the case. It's about going off the real world and making real-world decisions. The sad thing is that sometimes that means hiding my faith."
But, during this time of uncertainty and tension, Imani has found a lasting comfort: "I feel in my everyday, at work and home with friends and family, I'm comfortable being myself."
---
Marching On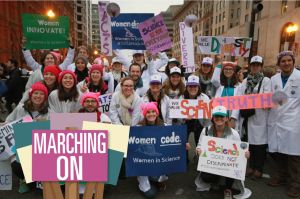 500 Women Scientists | Post-Women's March, These Scientists Focus on Education, Gender Diversity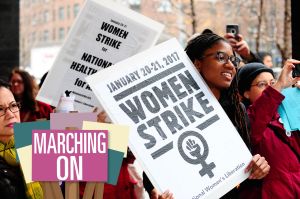 Activist Paulina Davis | For Activist Who Grew Up Seeing Black Women Lead, Women's March Is Familiar Terrain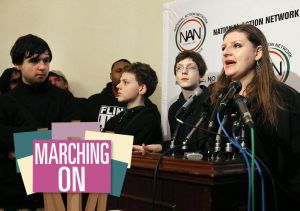 Flint Water Crisis | Flint Water Activist's Battle Continues Into Day 1,028, While US Cities Benefit
Read more.
Princess Leia Poster | Legal Issues Won't Keep This Artist Out of the Rebellion