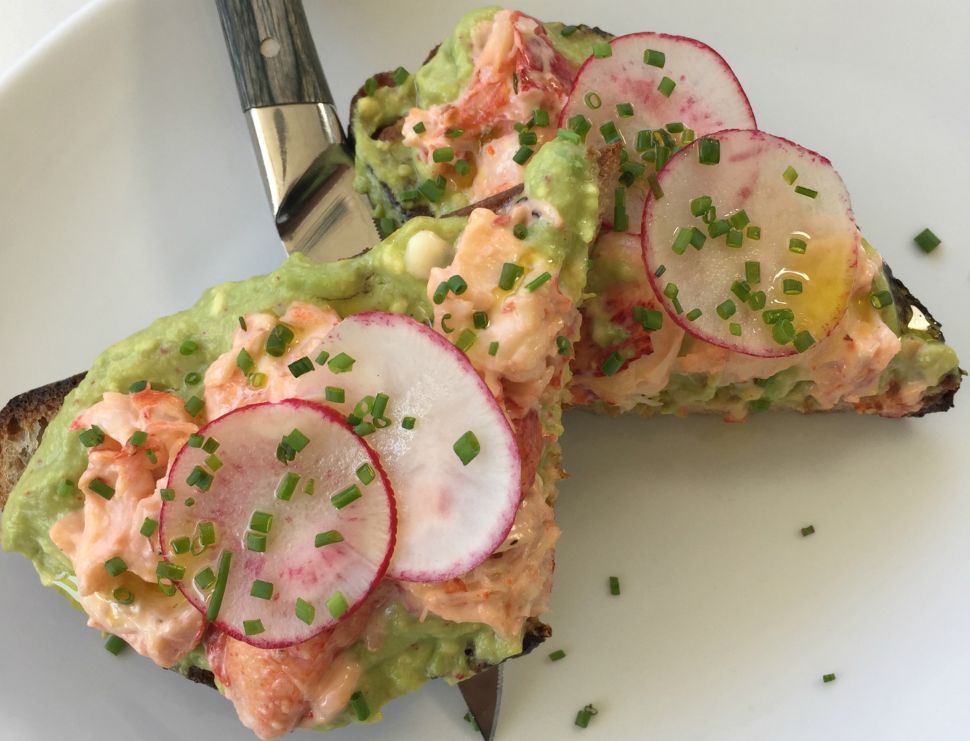 Avocado toast has been ridiculously on-trend in Los Angeles for some time now. And here's one way to make it even more on-trend: Use country bread from Lodge Bread, the Culver City bakery known for its "naturally leavened" and "wildly fermented" creations. Lodge is a destination that's sort of become the Sqirl of L.A.'s Westside, and it's in the process of expanding its space.
Bottlefish, the glistening new seafood restaurant in Brentwood, does indeed put avocado on Lodge country bread. But then it gilds the lily by using this as a base for lobster toast, which is really becoming L.A.'s answer to the lobster roll. (Bottlefish has a lobster roll too, though, because why not hedge at your crowd-pleasing, baller-friendly restaurant?) So, yeah, Bottlefish has managed to take one of the most on-trend food items in L.A. and make it way more on-trend. This dish is delicious, a generous portion of meaty and luxurious lobster balanced by the creaminess of avocado and the pop of radishes, all resting on an excellent piece of bread.
Let's give Bottlefish credit: This is balanced and creative. L.A. doesn't need more uni toast, and thank the heavens that we haven't seen a build-your-own tuna-poke toast yet. We're happy to have this lobster toast.
Bottlefish, from California Pizza Kitchen founders Rick Rosenfield and Larry Flax, opened at the Brentwood Gardens shopping center in December. It's a looker with its floor-to-ceiling 450-bottle wine display (showcasing a deep roster of both California and international selections), its glass-enclosed kitchen, and its covered and heated patio. This is a smart restaurant, sort of the seafood version of modern steakhouse Baltaire down the street on San Vicente Boulevard. (As one Yelp review notes, don't accidentally valet-park at Baltaire when you're going to Bottlefish.) Bottlefish understands its audience in ritzy Brentwood.
Bottlefish's raw bar has West Coast and East Coast oysters, of course. The Nantucket bay scallops, served on the half shell, are enhanced by brown butter. The yellowtail sashimi with orange, kaffir lime ponzu, fresno chiles and fresh herbs is an around-the-world burst of brightness. There are grand platters with jumbo shrimp, tuna tartare and sea-bass ceviche alongside the oysters.
There is a crab cake and a marvelous seafood chowder made with milk, San Marzano tomatoes, clams, shrimp and scallops. For main courses, you can opt for composed plates like petrale sole milanese, sea-bream tacos and the requisite fish and chips. Or you could go for a simply grilled option like pacific swordfish or mahi mahi with salsa roja, Sicilian herb sauce or lemon-butter-caper sauce. For those craving red meat, the cheeseburger and prime filet are both Creekstone Farms beef.
That's one lovely—and yes, fine, on-trend—thing about this new hot spot from veteran mega-restaurateurs: It sources its ingredients well. The decadent ice cream sundae with almond popcorn features salted caramel scoops from L.A.-based Sweet Rose Creamery, whose popular shops include one at the Brentwood Country Mart.