A bumper crop of Off-Broadway playwrights will be making their Main Stem debuts before season's end—an unprecedented phenomenon that Branden Jacobs-Jenkins finds particularly heartening. He's not among them, but he's often mentioned in the same breath as Joshua Harmon (Significant Other), Lynn Nottage (Sweat), J.T. Rogers (Oslo), Paula Vogel (Indecent) and Lucas Hnath (A Doll's House, Part 2), and it gives him hope he, too, will soon be asked to play at The Big Table with the grownups.
"Maybe it means Broadway is finally going to trust us and give us a chance," he ponders. "If that's the conversation that's about to happen, I'd love to be a part of it."
He has written six plays in his 32 years, and they've brought him comparable grants, commissions and award-hardware (a 2014 Obie for An Octoroon and Appropriate and a near-Pulitzer for Gloria in 2015). At present, he's holding strong Off-Broadway with a new play (his second in Signature's Residency Five program) now previewing to open Feb. 21 at the Pershing Square Signature Center's Irene Diamond Stage.
It's called Everybody, but it's really a modern-dress reworking of Everyman, the 15th century morality tale in which the title character (representing all mankind) is at death's doorstep, assessing the good and bad in the life he just led, while allegorical characters like Fellowship, God, Death, Kindred, etc., look on or join in the debate.
This production has been outfitted in a cluster of Obie-winners (David Patrick Kelly, Marylouise Burke and Brooke Bloom), a recent St. Clair Bayfield Award-winner (Louis Cancelmi), Michael Braun, Chris Perfetti, Lilyana Tiare Cornell and Lakisha Michelle May–all listed in the program as Performer. A lottery at each performance will determine exactly who plays what. Lila Neugebauer directs, or spins the wheel.
Everybody evolved in a rather roundabout way, says Jacobs-Jenkins. His last New York play, War, had Charlayne Woodard drifting toward death after a stroke, and that set him to thinking about "how to actually represent a dying person on stage—what's tricky about it for a group of live people to watch an actor play someone who dies." (Plainly, this was before David Hyde Pierce put us through A Life.) With this running around in his head, he began his second play for Signature, which was to be an adaptation in contrast with his first Signature offering, Appropriate, an original.
"At first, this was going to be Eugene O'Neill's Emperor Jones, but it wasn't catching fire, and I kept thinking, 'God, this play really reminds me of Everyman.' Then, it occurred to me maybe I really wanted to do Everyman. What was intriguing about Emperor Jones was that O'Neill was trying to write an allegory about being black in America for an American theater audience and he did it by writing a black Everyman sort of thing. I thought, 'What if I just tried to make Everyman for the world today?'"
He took that idea to James Houghton, Signature's late founding artistic director, who liked it enough to find a slot for it in the following season. "It was one of the fastest processes that I've ever had from script to production," Jacobs-Jenkins notes.
"In retrospect, I've learned Jim was a bigger orchestrator of my life than I realized at the time. He ran Juilliard when I was there. In fact, he was instrumental in my getting in. He had no reason to do this. The only play I had produced was Neighbors, but I had these half-scripts floating around, and he found them, read them and asked to meet me at the Signature Café. I thought I was meeting this guy who ran Juilliard, then we sat down and had an amazing hour-long conversation about August Wilson.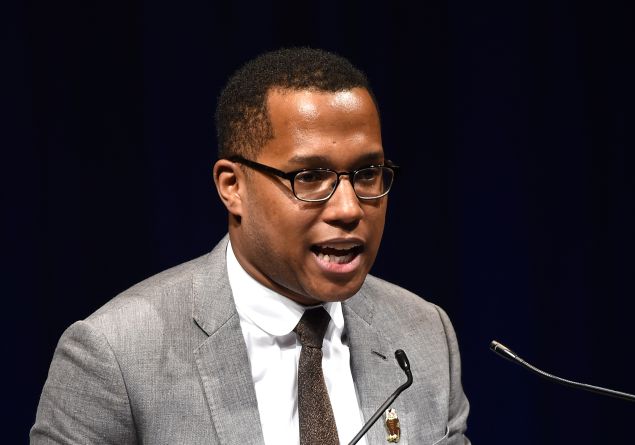 "The first theater subscription I ever bought was the August Wilson season at Signature. I remember thinking a whole season to one playwright was a great way for a master to do a victory lap. I turned a corner with August's work I didn't expect. It completely changed my sense of what my task might be as a writer. And, at the end of this meeting, Jim asked, 'How would you like to be a residency playwright?'"
Neighbors was written on a laptop in Brooklyn at Clinton Hill's Outpost Café, across from Annie Baker, who may have been tapping out her Pulitzer Prize-winning The Flick at the time. Now, they share the same season's bill at Signature (her play The Antipodes follows Everybody) as well as office space at Hunter where both teach.
"Annie and I are different in a lot of ways," Jacobs-Jenkins says, "but where we always connect is this investment in the tradition we're writing in. Theater is an old thing. It's thousands of years old. TV isn't. Film isn't. We're doing a really old thing."
He didn't exactly tiptoe into town. When Neighbors opened at The Public, with blacks in minstrel-show blackface and a title page that read N(e)ig(h)g(bo)ers, it was an incendiary debut. "I wrote Neighbors and never actually thought anyone would ever produce it, so I felt I had license to do whatever I wanted." The New York Times was not amused, and there was a mysterious, resounding three-year silence on his resume, from Neighbors (2010) to War, Appropriate and An Octoroon (all in 2014).
He was hiding out in Germany, of all places. (He'd studied German in college and had friends there.) "I read a ton of stuff and found out what being a writer full-time felt like. I got a little office-share and showed up every day and stared at my computer.
"But I wrote two and a half plays: the first draft of An Octoroon, a little over half of Gloria and the first draft of Appropriate. I tried writing a novel, but plays were the thing that kept feeding me, asking me to come back, sit down and be with them."
It's interesting that his Obie winners—An Octoroon and Appropriate—were marinating at the same time; race and class collide noisily in these depictions of Southern life a good century and a half apart. The first is a rompish riff on Dion Boucicault's 1859 antebellum melodrama, The Octoroon, about a plantation owner in love with a slave who is one-eighth black. Not even that fraction of color is present in the second, in which the all-Caucasian cast unites to divide the estate of an Arkansas patriarch and discover he was hiding a closet full of racial skeletons.
The play in-between, Gloria, gave race a rest and drew its battle lines between shallow young climbers and a beaten-down, gun-packing staffer at a contemporary workplace (not unlike The New Yorker where Jacobs-Jenkins toiled a few years as a reviewer/editor). Why call it Gloria? "There's this amazing Mark Morris dance called 'Gloria' I love, and I always wanted to call something Gloria. I love the name. Then, there's the idea that what people are ambitious for is glory, and this has a religious ring to it. I thought somehow that was a part of the experience–that it was about people trying to get to a place of spiritual settling after wrestling with a tragedy."
There's a downside to being a stranger in a strange land. Jacobs-Jenkins eventually saw his college-level German wasn't cutting it in Berlin. "I didn't realize how much my confidence had to do with my fluency in communicating. If you have the language skills of a ten-year-old, people treat you like a ten-year-old. I had to find a place where I could feel dignity or in control. What I immersed myself in was plays. I'd read plays, think about plays—that's how I kept myself feeling like a full person."
After two years, he was about to apply for his immigration to stay on and work odd-jobs. Then, what he calls (without exaggeration) "three magical things happened": Folks began waving him home with awards—first the Helen Merrill Award, then the Paula Vogel Award—then the clincher: Soho Rep offered to workshop An Octoroon.
He returned in earnest, but it was a rough landing ("Just try to get a lease on an apartment, with the profession Playwright"). In time, he wangled an adjunct job at NYU, which led to other teaching jobs. "You get better at the thing you do by having to explain it to someone else. That, I think, totally makes my work stronger."
When not teaching or writing plays, he's reading and thinking plays. His favorite playwright, he confesses, can never be nailed down, "but I have to say that Caryl Churchill is the hero for any playwright writing today with half a brain, just in terms of what she's covered in her body of work. She also changes from play to play and isn't afraid to be a thoughtful, intelligent maker of plays, which I find really moving. She has such an amazing mind. And I really love O'Neill—even when he's impossible trying to figure out what theater's supposed to be when he has only absorbed melodrama—but then, historically, I think I most connect to Tennessee Williams."
Appropriate gave him a chance to appropriate some Tennessee Williams, which, given all the moss and magnolias, was appropriate. (He's fond of titles with double meanings–the inevitable consequence, he claims, of having been a spelling bee kid.)
"My real involvement with the language was trying to memorize the dictionary at St. John's College High School in D.C. There's something about words that really stick to me. I'm always interested in etymology, how words become the words we use."
The present couldn't be more pleasant for Jacobs-Jenkins. Not only do his awards (7) outnumber his plays (6), the Windham-Campbell Literature Prize which he got from Yale included a cash amount of $150,000, and, when he was inducted as a MacArthur Fellow, that distinction came with "a genius grant" of $625,000.
If he has any worries, it's where his combustible talent will take him. "I notice this eagerness to attach the word provocateur to me. My feeling is: you can really only provoke once. After that, you're attracting people who want to be provoked. Is that provocation? I thought, 'How do I get people to think bigger in terms of all the things you can feel in the theater—not just discomfort?' I'm still working through that."