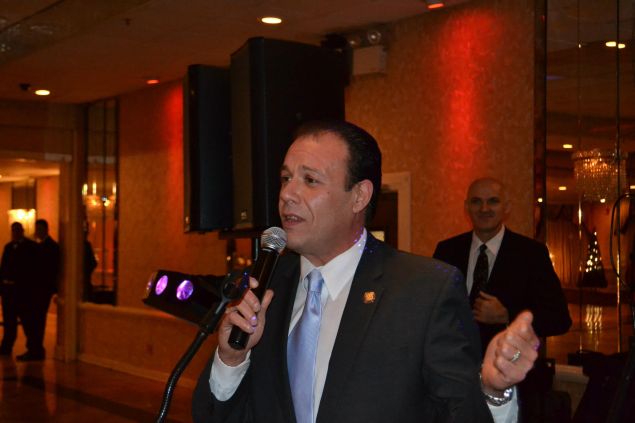 Bronx Assemblyman Mark Gjonaj, the frontrunner for the soon-to-be-vacant seat of term-limited Councilman James Vacca, dished out more than $72,000 in donor funds last month at a restaurant belonging to his brother Paul Gjonaj—the same sibling who has lent his campaign $150,000 since his first year in office.
The lawmaker's January filings with the state Board of Elections show him settling up with his younger brother on several accounts. The records report the Democratic pol directly reimbursed the restauranteur and realtor the full amount he has advanced the "Friends of Mark Gjonaj, Inc." committee since 2013.
Gjonaj's Assembly campaign also finally paid off eight outstanding tabs he ran up at Don Coqui by the Water, a City Island eatery, since 2014—tabs ranging from $816.53 to $20,736.87. The filings attribute the bills to fundraisers from 2014 and 2015, a party for the president of Albania in 2015, "Teacher Appreciation Breakfasts" from 2015 and 2016, and annual holiday celebration from 2014, 2015 and 2016.
The payments left the Assembly account more than $25,000 in the red.
Don Coqui is a mini-chain in the New York metro area started by Jimmy Rodriguez, the former owner of the iconic, now-shuttered Jimmy's Bronx Cafe. But Paul Gjonaj confirmed on the phone he owns the City Island location, and his name appears on both the liquor license and on building permits filed with the city dating back to 2009, when the spot was a seafood restaurant called the Lighthouse.
Several of the work permits give M.P. Realty—the Gjonaj family company, which the brothers' Albanian immigrant parents founded after coming to America—as the name of the business.
And one, from 2013, lists the assemblyman himself as a co-owner. There is an active stop work order on the property.
The filings indicate the campaign made seven of the eight payments at a Don Coqui location in New Rochelle. But local media reports on the various parties, fundraisers and events clearly state they took place at the Don Coqui on City Island.
A spokeswoman insisted nothing untoward had occurred.
"Assemblymember Gjonaj's campaign has returned all outstanding liabilities and all expenditures were paid at fair market value," said Jennifer Blatus, of the Advance Group.
Gjonaj is one of several state lawmakers looking to move to the local legislature, where salaries are almost $70,000 higher than they are in Albany. Don Coqui on the Water also hosted the pol's Council campaign kickoff in December—and his account with the city Campaign Finance Board lists a $1,578.69 outstanding liability to the restaurant.