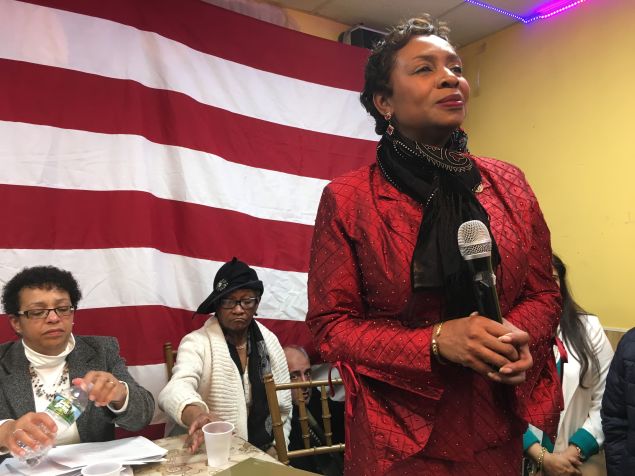 Brooklyn Congresswoman Yvette Clarke—co-chairwoman of the House Caribbean Caucus—has put forward legislation to protect undocumented Haitians from deportation in the aftermath of President Donald Trump's executive orders aimed at expelling millions of immigrants.
The Haiti Emergency Relief Act of 2017 would significantly expand the Temporary Protected Status program—which shields refugees from being deported to dangerous homelands—to include all Haitian nationals who were in the United States before November 4, 2016. Clarke pointed to extreme weather events on the island nation as reason to grant 18 months of TPS to every eligible individual.
"Those needs have increased since Haiti suffered extensive damage during Hurricane Matthew last year, when hundreds of people were killed and thousands of families were displaced," Clarke said. "Congress must act."
After the 2010 earthquake, United States Citizenship and Immigration Services established Temporary Protected Status for Haitians living in the United States to enable Haiti to commence recovery and provide support in the form of remittances to family members there. But those who arrived later than 2011 found themselves ineligible.
Clarke noted that if Congress passes the legislation, Haitians would be able to continue remitting money back to their homeland—money that makes up roughly 25 percent of the country's gross domestic product—which Clarke argued is crucial to the continuing recovery process.
"I urge my colleagues in Congress to work together to aid the people of Haiti at this crucial time," Clarke,, herself the daughter of Jamaican immigrants, continued.
In just a couple of weeks, Trump has signed executive orders mandating the construction of a wall on the Mexican border and allowing federal authorities to expel undocumented immigrants even when they are simply charged with a criminal offense. He also inked orders that slash federal funding for sanctuary cities—cities that offer a haven for undocumented immigrants—and prohibit entry to people from seven Muslim-majority countries. A Seattle judge temporarily suspended the Muslim travel ban last week, and the 9th Circuit Court of Appeals upheld that ruling last night.
In November, Clarke expressed dismay over the Department of Homeland Security's announcement that removal proceedings resumed for Haitians in the United States who do not have TPS. She said that most of the people that DHS sought to remove had not been accused of any crime and that the deportations would return thousands of Haitians to a country still plagued by the aftermath of natural disasters.
Clarke, part of the largely powerless Democratic House minority, recently convened an emergency meeting in Brooklyn's Little Pakistan neighborhood on Trump's travel ban. She co-sponsored Queens Congresswoman Grace Meng's "No Funds for Unconstitutional Executive Orders Act," which would ban Congress from allocating any funds to enforce the ban.
The West Coast's Ninth Circuit Court of Appeals upheld a lower court's temporary injunction against the fiat's implementation last night.