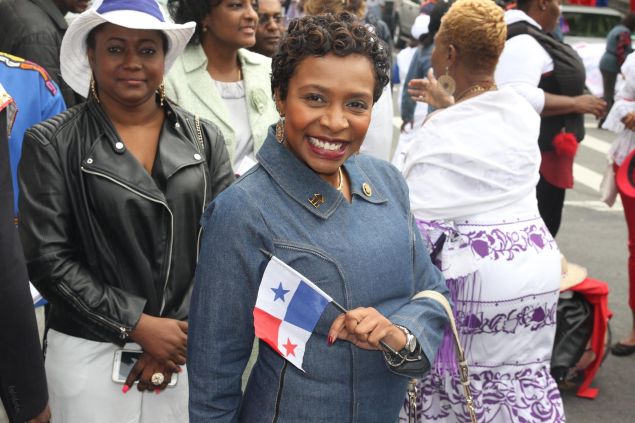 In the wake of Immigration and Customs Enforcement raids in the New York metro area and across the country last week, Brooklyn Congresswoman Yvette Clarke is pushing legislation that would block President Donald Trump's executive order targeting for so-called "sanctuary cities."
Clarke introduced the Protect Our Sanctuary Cities Act, which would end Trump's executive restrictions on sanctuary cities and prohibit the use of funds to enforce such provisions. The legislation would also require the Department of Homeland Security to present a report to Congress within 30 days explaining how the agency could develop trust with immigrant communities.
Trump's executive order calls for a halt to Washington dollars flowing to any "sanctuary city," though it does not define that term.
"Without sanctuary in New York City, undocumented immigrants are forced to live with the fear that any contact with the government—even a call to the local police precinct to report a crime—could result in deportation," Clarke said. "Nobody in New York City should have to live in fear of Donald Trump."
Clarke echoed Mayor Bill de Blasio's assertions that the NYPD's policy of not complying with most federal requests to detain undocumented individuals makes witnesses and victims who lack proper paperwork more willing to approach the police.
"As a result, this executive order undermines the safety of our entire community," Clarke continued. "We should build bridges, not walls, between Americans. I urge my colleagues to join me in resisting Donald Trump's cynical efforts to divide our nation."
Clarke is a co-sponsor of Queens Congresswoman Grace Meng's No Funds for Unconstitutional Executive Orders Act, which would prevent allocation of federal monies to an array of the president's recent decrees. But both Clarke and Meng are members of the largely powerless Democratic minority, meaning their legislation has little chance of passing in the GOP-dominated House.
Last week, ICE launched a series of "targeted enforcement operations" across the country it says apprehended more than 680 "convicted criminal aliens and gang members" and people who have flouted immigration laws, according to Homeland Security Secretary Kelly. Immigrant advocates reported that federal agents conducted searches in Staten Island that netted five men.
None of New York's sanctuary policies prevent ICE from operating independently within city limits.
Clarke, the co-chairwoman of the Caribbean Caucus, has also introduced legislation to protect undocumented Haitians from deportation in the aftermath of Trump's executive orders. That bill would substantially expand the Temporary Protected Status program—which keeps refugees from being deported to dangerous homelands—to include all Haitian nationals who were in the United States before November 4, 2016. She cited extreme weather events on the island nation to justify granting 18 months of protected status to every eligible individual.