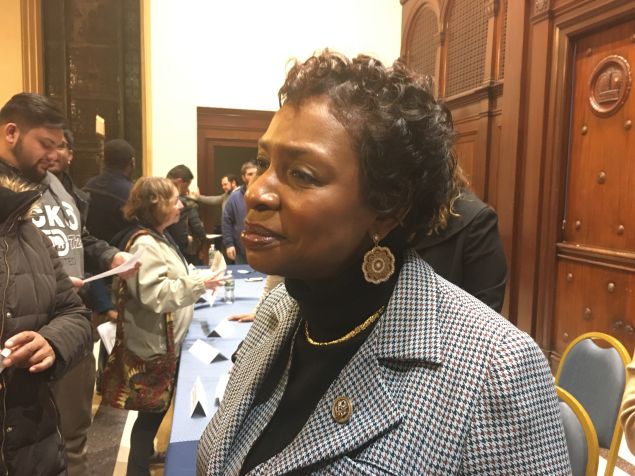 Brooklyn Congresswoman Yvette Clarke proclaimed at a crowded town hall last night that it "won't be long" before President Donald Trump is impeached—and predicted that Republicans currently scared of him will eventually join with Democrats like her.
At the beginning of her town hall on Trump's first 30 days at the Union Temple of Brooklyn in Prospect Heights, Clarke bluntly described Trump's presidency as the product of an "illegally hacked, illegitimate election"—a reference to Russian President Vladimir Putin's campaign of cyber interference in the election process confirmed by the intelligence community and former President Barack Obama. The Senate Intelligence Committee is currently conducting a probe of Russia's involvement.
When an attendee asked her about removing Trump, whom he called an "unfit" president, Clarke answered directly that she anticipates that it will happen sooner than people think.
"All of the ducks are beginning to line up," Clarke said. "They are really beginning to line up around this presidency and I will just say to you, it won't be long."
She said that the Democratic Party is in the process of developing its comeback strategy after the decimation it suffered on Election Day and in cycles prior, but argued that the party has to focus on winning back statehouses and start with grassroots organizing. She suggested that the party target Republicans, particularly Staten Island Congressman Daniel Donovan and Nassau County Congressman Peter King.
"We have Republicans in the state of New York who are, you know, are not doing what they need to do to protect New Yorkers," Clarke said, saying that they should both have town halls. "So I would suggest that we start with Dan Donovan and Peter King."
She also asserted that Democrats should go after GOP districts in which Congress members spoke out against Trump and won re-election anyway, and which Democratic presidential nominee Hillary Clinton won, claiming that there is an "enlightened electorate" voting in those areas. And she, along with Public Advocate Letitia James, who arrived at the end of the town hall, both argued that Minnesota Congressman Keith Ellison is the best candidate for Democratic National Committee chairman in the internal election in Atlanta this weekend.
Clarke also explained to attendees that there are Republicans who intimidated by Trump because he could support primary challenges, but predicts that they'll eventually "jump ship."
"They believe that he has galvanized the bases of their districts and that he could use his position to vote them out, to Primary Day," Clarke added. "And so that's what you're seeing in terms of the skittishness of a number of these members. When they see the crazy, they know the crazy and so again, I think a lot of this is coming to a head."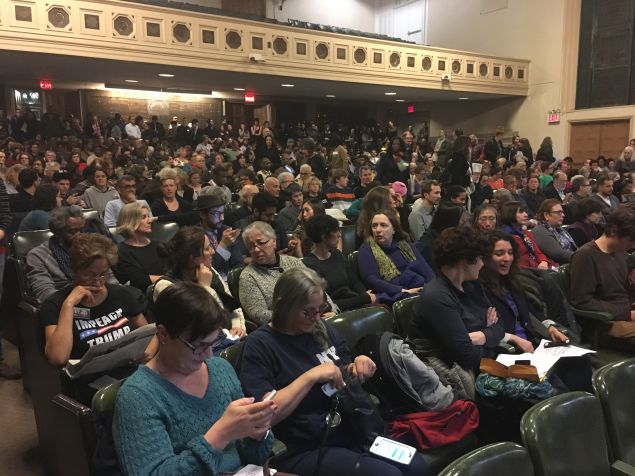 The town hall drew an animated crowd. People held up "Agree" posters anytime Clarke made a comment about Trump and his administration with which they agreed. They booed frequently, also when Clarke mentioned senior advisor Stephen Miller, top strategist Stephen Bannon and former Mayor Rudolph Giuliani, a prominent Trump surrogate.
Attendees also suddenly started chanting "Not my president!" multiple times during the panel. Clarke drew strong applause when she reminded them that she skipped Trump's inauguration and attended the Women's March on Washington instead.
Last week, Clarke introduced legislation that would block Trump's executive order severing federal funding to so-called "sanctuary cities" that provide a haven for undocumented immigrants. Clarke, co-chairwoman of the Caribbean Caucus, also introduced a bill that would shield undocumented Haitians from deportation under the recent decrees from the White House.
And at the end of January, Clarke held an emergency meeting in Brooklyn's Little Pakistan in the wake of Trump's enjoined executive order barring entry to people from seven Muslim-majority countries. She also co-sponsored Queens Congresswoman Grace Meng's No Funds for Unconstitutional Executive Orders Act, which would prevent allocation of federal funding to an array of Trump's decrees.
But Clarke and Meng, like the rest of the delegation from the five boroughs, excepting Donovan, is part of the largely inert Democratic House minority—meaning their legislative proposals stand little chance of passing.