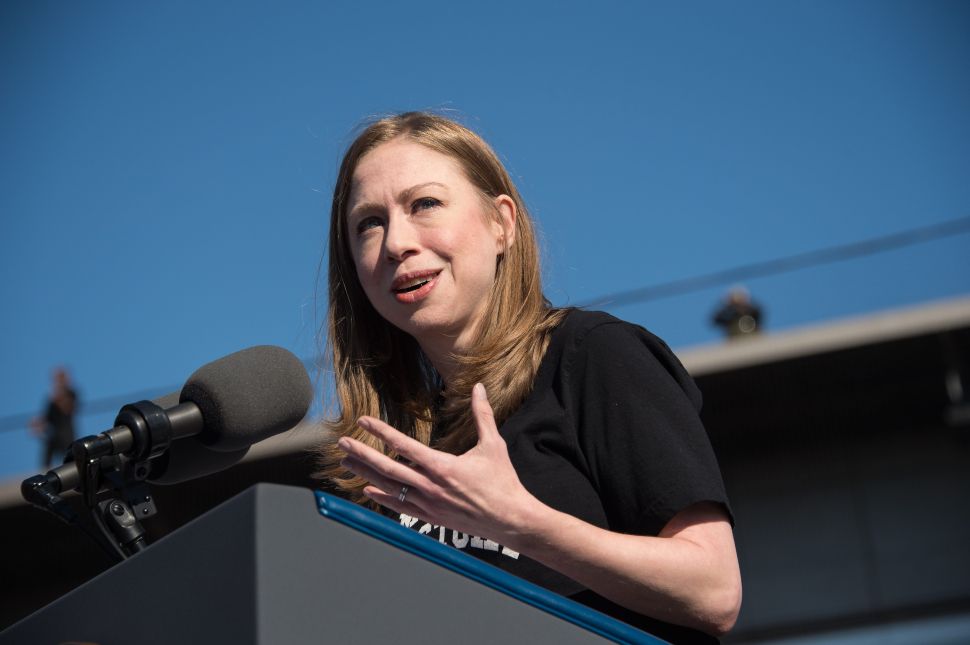 Since Hillary Clinton's presidential election loss, rumors have circulated that speculate about what she will do next. In trying to predict Clinton's future—from running for mayor of New York City to hosting her own TV show—the idea has also been advanced that her daughter, Chelsea Clinton, may enter politics herself. Though being the progeny of the widely-disliked Bill and Hillary should disqualify Chelsea, the Democratic Party's cultist obsession with her family's access to a vast network of wealthy donors leaves any congressional race of her choosing open to Chelsea if she wants to run.
This would be a disaster for the Democratic Party.
Instead of moving on—and being better off for it—another Clinton in public office would broaden the party's disconnect with working and middle class voters. Electing Chelsea to a major role among Democrats would do little to convey a message of change and progression.
The Washington Post recently reported Chelsea Clinton has begun to show an interest in politics. "In recent days, we've noticed a different Chelsea Clinton—one more than willing to speak out, often a bit bluntly. And she's speaking out specifically against President Trump, using his preferred medium: Twitter."
Business Insider further dramatized Chelsea Clinton's recent activity on Twitter by hyperbolically dubbing it a "crusade against Trump." "Very grateful no one seriously hurt in the Louvre attack …or the (completely fake) Bowling Green Massacre. Please don't make up attacks," Chelsea tweeted on February 3 in regards to Trump advisor Kellyanne Conway's "Bowling Green" gaffe. Conway responded to Chelsea by citing Hillary Clinton's infamous "Bosnia Sniper Fire" lie and noted Clinton lost the election, to which Chelsea Clinton didn't bother to retort back.
If the best Democrats can come up with for the "resistance" against Donald Trump is sensationalizing tweets from establishment elites as legitimate opposition, the Party is worse off than anyone understands. Huffington Post, ABC News, New York Post, the Hill and several other outlets covered the brief series of tweets between Chelsea Clinton and Kellyanne Conway, attempting to portray Clinton as a formidable spokesperson against Trump. Touting another Clinton to oppose his administration will only help Trump.
Hillary Clinton's failed presidential campaign drove the Democratic Party into the ground. Doubling down on her flawed strategy, partnering with wealthy elites and establishment celebrities to "get things done," continues to show Americans that the Democratic Party belongs to the top one percent.
Chelsea Clinton's potential emergence into politics opens the door for Democratic opposition to continue citing the litany of scandals and disastrous policies championed by the Clintons. The only good to come out of this would be for Chelsea Clinton to lose a congressional race, thereby re-teaching a lesson the Democratic establishment has continuously failed to learn.