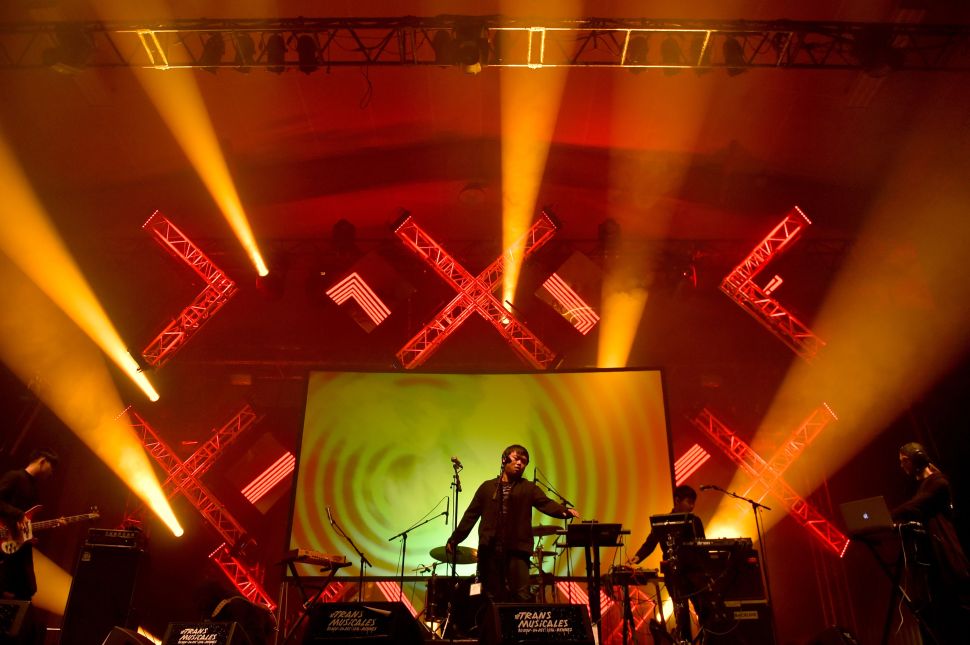 While China's vibrant underground music scene has made huge inroads by going on tours in North America, Europe and Australia their online presence may be moving in the opposite direction. While recording a podcast about Chinese underground music for Seattle-based radio station KEXP recently, Chen Xi, the lead singer of Beijing band Snapline and a Microsoft engineer currently based in Washington, had an interesting insight about this process.
The podcast's host was Darek Mazzone, who visited China last year and has started to dig deeply into its indie scene. Mazzone asked Chen how Chinese bands promote themselves. "I talked about Weibo, Douban, and WeChat, which most foreigners know nothing about," Chen recalls.
Weibo is the most popular Twitter-like microblog in China. Douban is a social network favored by fans of alternative music, books and film, and it's the most popular place for Chinese bands to post their recordings and list events. WeChat, created in 2011 by tech giant Tencent, is a messaging platform that has mushroomed into an "app for everything," and has largely supplanted both Weibo and Douban in terms of how most young Chinese—and diehard music fans—spend their time online.
Chen Xi's insight was this: "It seems that Chinese bands used to have a better connection with an international audience before. Back in the MySpace era, everyone had a MySpace site, and it was broadcasting to the world. Then we had Facebook and Twitter, and for Snapline I also created a WordPress blog at some point."
But this connection to the world was severed when each service was blocked by China's Internet censoring mechanism, the so-called Great Firewall. To limit the viral spread of protests flaring up around the country, the Chinese government blocked Twitter in June 2009 and Facebook the following month. WordPress was blocked around the same time, one week after Chen Xi had created Snapline's account there. "This directly impacted the exposure of Chinese bands to the world," he says.
Zhao Yue, a director at Douban Music, sees the picture differently. "I'm not sure the rise of social networks is the reason some of the specialized sites are declining," she says, adding that "more people than ever are listening to more music" online. The problem with global connectivity, she suggests, is that fewer young Chinese are inclined to listen to local artists. "Someone who's never been into music before now has so many options, local as well as international, that new, local bands have to compete with bands that are already popular [internationally]," she says. "The main challenge that new bands in China face is that people are less tolerant to them when they are just starting out. They need to be either really, really different, really good at packaging themselves, or really musically mature already."
Douban's mission to make more Chinese musicians heard faces stiff competition. Music streaming is a highly competitive field in China, and the mainstream sphere includes big-league players like Baidu (China's leading search engine), which in 2015 announced plans to merge with Taihe, a Canto-pop label founded in 1996 as a subsidiary of Warner Music Group. Taihe broke away from Warner to become independent in 2004 and, since its merger with Baidu, has been actively trawling China's explosive underground and new music scenes, seeking to build them up commercially. Alibaba is also tapping into China's music potential, along with shockingly successful upstarts like the mobile app Kugou, which claims to have more than 450 million active monthly users.
"In terms of what they can achieve, I think all platforms are more or less the same. So it's increasingly important that we do something extra to lead and educate the users and fans," Zhao says about Douban's position as a niche service for music fans that prefer alternatives to mainstream pop. "We do features and columns and reviews trying to interest people in music and turn them on to the more sophisticated side of it."
Douban has doubled down on its effort to support bands at the beginning of their career, according to Zhao. The 2017 Abilu Music Awards, which will be announced this month, include a new "Unranked" category for brand-new artists that aren't yet posting significant plays or likes but are recommended by the Douban Music editorial staff. At the same time, Douban is trying to get more developed Chinese artists heard overseas through their D-Force label. One of its upcoming releases is for Late Troubles, the solo project of Snapline's Chen Xi.
A focus on the underground could prove fruitful. Two years ago, Taihe hired a former senior member of indie label Maybe Mars in an attempt to replicate the latter's strategy of developing new artists in the major Chinese cities. Their main focus has been on digital distribution driven by a strong online presence. "I see the rise of the internet in general as a source of changes, but I don't think it necessarily means that some part of it is killing of the other," Zhao Yue of Douban concludes. "I think it's just a matter of competition, which is normal to the evolution of society."
Nevertheless, there is still a gulf between Chinese music and international audiences. Companies like Douban and Baidu can build platforms that make Chinese music more accessible outside China, as the former has done with this year's Abilu Awards, which are being promoted in both English and Chinese for the first time. However, international audiences largely overlook Mainland Chinese social media platforms. If they are interested in accessing contemporary Chinese culture, they will have to break out of their own Facebook and Twitter walled gardens in order to get a sense of what's happening on the rest of the web.
Josh Feola moved in 2010 from the US to Beijing, where he is a writer, musician, and former booking manager at two of Beijing's leading live music venues. He has written about Chinese music and art for a variety of foreign and Chinese publications, operates the net-label Sinotronics, curates Sally Can't Dance, China's leading experimental and avant garde music festival, and plays drums in Beijing band SUBS.
After fifteen years on Wall Street as a trader and banker, Michael Pettis moved to Beijing in 2002, where he is an economics professor at Peking University, a senior associate at the Carnegie Endowment, and the owner of 20 Percent Picture House, a private art gallery.