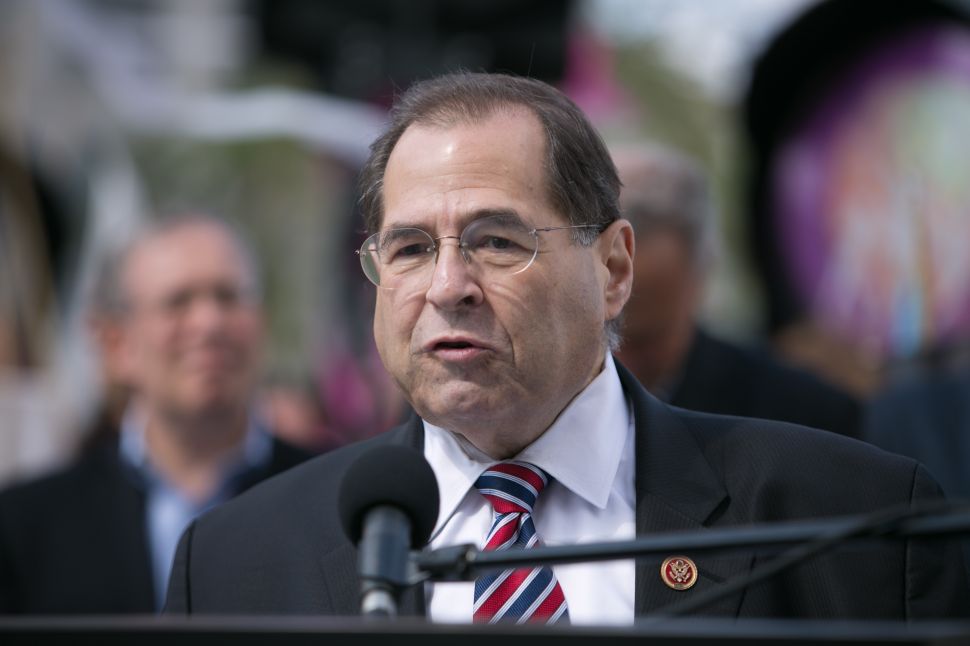 Congressman Jerrold Nadler is making one final pitch to members of the country's largest independent progressive advocacy group to sign a petition—which he plans to deliver directly to Congress—supporting his resolution seeking a probe into President Donald Trump's conflicts of interest and ties to Russia. The resolution is up for a vote tomorrow.
On February 9, Nadler—one of the most liberal members of the House Democratic minority—introduced a resolution of inquiry calling on the Department of Justice to give the House of Representatives any and all information pertaining to an inquiry into Trump and his associates' conflicts of interest, ethical violations—including the Constitution's "emoluments clause," which bans elected officials from getting financial benefits from another country's government—and his connections to Russia.
Three days ago, Republicans on the House Judiciary Committee officially gave notice of consideration of Nadler's resolution.
Jo Comerford, a campaign director at MoveOn.org—which has more than 8 million members across the United States—started a petition to be delivered to members of the House Judiciary Committee to support a vote in favor of the investigation. As of Monday afternoon, 438,000 people from all over the country signed the petition, and the petition says that 450,000 signatures are needed.
"We're far from finished in our pursuit of truth, and this resolution is one step in making sure every member of Congress takes a public stance on calling for an independent investigation," Nadler wrote in the email. "When it comes to Russia, to foreign entanglements, to financial dealings, we deserve to know what Trump knew, when he knew it, and what he might be hiding."
Lawmakers on both sides of the aisle have expressed concerns about Trump continuing to expand his personal fortune through business dealings with foreign leaders and Russian President Vladimir Putin's campaign of cyber intrusion in the election process which the intelligence community and former President Barack Obama both corroborated. The Senate Intelligence Committee is currently carrying out an investigation of Russia's involvement.
Nadler added in the email that he will hold a press conference on Tuesday—before which he hopes to get half a million signatures for the petition—to ensure that the public and the press "know that there is an avenue to investigate." And he reiterated that Americans "want to know the truth" and that Republicans on the committee are the ones "who are standing in the way." Two weeks ago, MoveOn.org team members sent an email to its members asking them to add their names to the petition.
Nadler also took to Twitter to rally support for his resolution from lawmakers across the political aisle. As of February 24, 87 members of Congress have offered their support for the resolution as co-sponsors. They include Congresswomen Yvette Clarke, Carolyn Maloney, Grace Meng and Nydia Velázquez as well as Congressmen Joe Crowley, Adriano Espaillat, Gregory Meeks, José Serrano, Eliot Engel and Hakeem Jeffries. No Republican members are listed as co-sponsors.
Three days ago, Nadler accused Republicans of attempting to "bury our debate" on his resolution by choosing to consider the resolution in committee instead of allowing debate on the House floor so that "only a few of their safest members be forced to take a vote" and that committee leadership purposely scheduled the markup for Tuesday given what will be "heavy media coverage" of Trump's address to a joint session of Congress.
He also said that Congressman Bob Goodlatte, chairman of the House Judiciary Committee, gave notice of the amendment in the form of a substitute to his resolution, with wording that he said is "virtually identical" to his resolution.
"I believe that the public sees this 'tactical scheduling' as an act of cowardice," Nadler said last week. "I predict that any attempt to curtail debate or limit media coverage of our markup will only backfire. As they say, the eyes of the nation will surely be upon them."
Nadler also recently called for changing the rules of the House Judiciary Committee to require it to immediately kick off  a probe every time Trump or one of his staffers tries to publicly smear a federal judge. He also previously urged members of the Senate to block Trump's Cabinet appointments unless he agrees to fully divest and disclose his personal assets and real estate business.