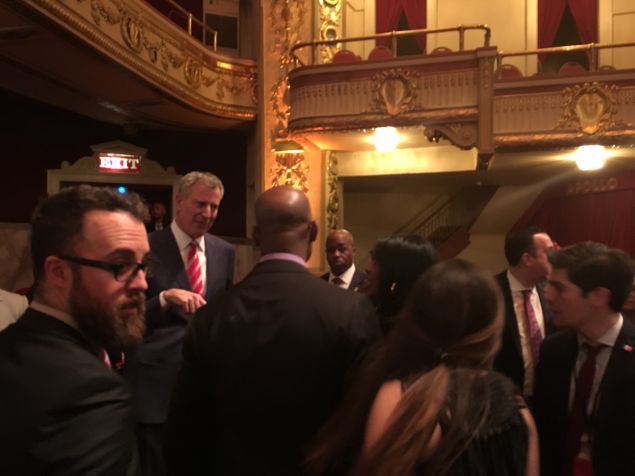 City Council members gave a cautious thumbs-up to Mayor Bill de Blasio's re-election year State of the City speech in Harlem tonight, pointing to uncertainties ahead under President Donald Trump's administration—and looking for more details about the new ideas the mayor unveiled tonight.
During his speech at the Apollo Theater in Harlem, the mayor highlighted his recent announcement that the city will provide universal access to legal advice or every tenant facing eviction in New York City Housing Court, including a free attorney for households earning $50,000 or less. Bronx Councilwoman Vanessa Gibson, who had pushed the "right-to-counsel" plan with Manhattan Councilman Mark Levine, said she was proud to see her work near fruition.
"Overall, I think it's obviously a little less traditional of what a standard State of the City address would be but I think the mayor came across heartfelt," Gibson told the Observer following the speech. "I mean we're living in some turbulent times but we don't want to be complacent, we don't want to accept the status quo and we really wanna make sure that we as a city are leading and we need an incredible leader who's strong, who recognizes that despite an election, that doesn't change our values."
She urged the city has to be "very, very proactive, very aggressive" in its fight against the new administration Washington, which hopes to sever funding to "sanctuary cities" like New York that refuse to comply with federal immigration authorities. Gibson noted de Blasio would have to fight in Albany to pass his "mansion tax" on luxury home sales, which would bring in $336 million in revenue each year.
"I'm really looking forward to, you know, continuing to make sure that with these announcements, we have funding and we wanna make sure that we have tangible resources that New Yorkers can feel," Gibson continued, noting that Council Speaker Melissa Mark-Viverito will give her own State of the City address on Thursday.
The mayor boasted in his speech that the city has already built, preserved or financed 62,500 units of housing as part of his affordable housing plan, which seeks to create and maintain 200,000 such apartments by 2024. He also pointed to continued low crime, rising graduation rates and a drastic reduction in the NYPD's use of the controversial tactic of stop-and-frisk.
Brooklyn Councilman Jumaane Williams praised the mayor for sharing "some of the good things that has happened." But he voiced curiosity and concern about the mayor's call to create 100,000 skilled jobs paying upwards of $50,000 a year.
"We do need some more details on how we're gonna get those 100,000 jobs," Williams told the Observer. "It seems like a great goal but I need to know more how it's actually going to happen."
During the speech, de Blasio touted a goal he launched in September of awarding 30 percent of contract dollars to minority- and women-owned businesses and enterprises by 2021. Brooklyn Councilman Robert Cornegy praised the mayor for having an office dedicated solely to boosting MWBEs.
"I kind of listened to the speech with a laser-like focus," Cornegy told the Observer. "As the chair of the Committee on Small Business, I really wanted to hear if there was gonna be consistency in his speech as there has been in his commitment and I still heard that tonight."
And he said he believes "there's a lot to look forward to," praising Deputy Mayor of Strategic Initiatives Richard Buery, the city's MWBE director, and Rev. Jonnel Doris, the city's MWBE advisor.
"I feel acutely responsible for helping, assisting him in honoring that commitment through that office," Cornegy continued. "I work very closely already with Richard Buery, already closely with Jonnel. So I feel somewhat confident that we're gonna move the needle at this point."
Former City Council Speaker Christine Quinn, who now runs a nonprofit that helps homeless women and children, said that as families prepare to leave shelter, they know that "truly affordable housing options are painfully few." But she commended the mayor for "taking action and addressing the issue head-on."
"We know the despair that our families feel when they see headlines and billboards for affordable housing that is out of reach for them, and we are ready to work with the city on implementing an affordable housing plan that finally includes so many of the families we serve," Quinn said.
The mayor outlined no new strategies in his speech for reducing the record-high number of families in city shelters, but promised to reveal such a proposal "in the days to come."
Councilman Ydanis Rodriguez, a staunch de Blasio ally, heaped praise on the mayor. He noted that he was pleased with the goal to increase the number of well-paid jobs, his universal prekindergarten initiative and providing legal representation for tenants. And he appreciated de Blasio's new approach to delivering the address.
"I believe that this time around, he focused more on his vision and his vision is training the workforce that we need in our city so that our youth can be able to say, 'We got a good training. We can make from $50 to $75,000 a year,'" Rodriguez said.