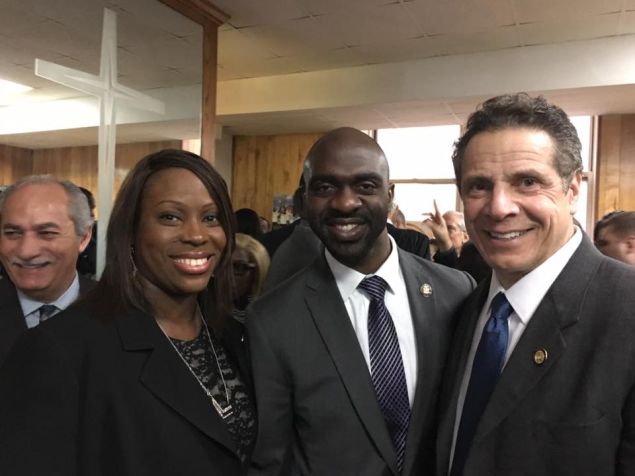 Gov. Andrew Cuomo backed Bronx Assemblyman Michael Blake and Queens Congresswoman Grace Meng for Democratic National Committee vice chair positions today—nearly two weeks after the pair received endorsements from the two leading Democrats in the Bronx party machine.
Blake, a veteran of President Barack Obama's presidential campaign and the White House, announced that he was running for the position last December. The 34-year-old assemblyman's platform—"Build Our Bench. Strengthen Our Party. Embrace Our Future."—centers on backing new candidates for local offices and recruiting top strategists in the DNC and establishing a mentorship-style candidate support program.
Meng is seeking re-election as a vice chairwoman, after winning one of the top slots in the organization last year.
"These proven leaders will bring uncompromising integrity to the executive committee, as well as a depth and diversity of experience that is second to none," Cuomo said in a statement, praising both pols as dedicated progressives. "Working together, we will create good-paying jobs to drive our economy forward, ensure our country remains a beacon of hope and opportunity for immigrants, and create a path forward and upward for our nation's middle class."
Blake said that Cuomo's endorsement is significant given that he is one of only 16 Democratic governors in the country, the policy chair of the Democratic Governors Association and a former Cabinet official and "his policy and political success that helps Americans in their everyday lives."
"I am proud to have earned the support of Governor Cuomo who fights for New York every day and supports my #LeadershipForTomorrow vision to Build our Bench, Strengthen our Party and Embrace our Future," Blake said in a statement.
Meng, for her part, said that Cuomo has shown strong leadership in the wake of Trump's election and recent executive orders he signed targeting undocumented immigrants and travelers from seven majority-Muslim nations. The governor created a hotline to assist New Yorkers who believe a loved one of theirs was among those in detention at John F. Kennedy Airport after the second fiat dropped.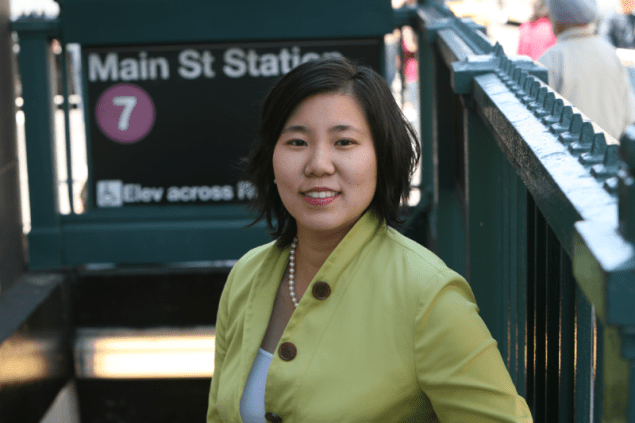 Last week, Meng introduced the "No Funds for Unconstitutional Executive Orders Act," which would prohibit any funds made available by Congress from being used to implement Trump's travel ban.
"From protecting reproductive rights to standing up against the travel ban, Governor Cuomo has shown how to forcefully push back in these new times," Meng said in a statement provided by Blake. "There is still much more work to be done, and I look forward to work with him to continue to fight for our progressive values."
At the end of last month, Assembly Speaker Carl Heastie—one of the most influential Democrats in the Bronx and across New York State—endorsed Blake, the latest sign the formerly chilly County machine was cozying up to the idea of the assemblyman as a national party leader. Heastie also backed Meng, an ally of Congressman Joseph Crowley, the Queens Democratic boss and fourth-ranked Democrat in the House of Representatives
That came just one day after Bronx Borough President Ruben Diaz Jr.—another leading figure in the Bronx Democratic Party—announced his support for both Blake and Meng's bids.
Blake had already received the backing of fellow Bronx outsiders like State Senator Gustavo Rivera and Bronx Councilman Ritchie Torres, as well as Sen. Kirsten Gillibrand. He's also gotten endorsements in middle America: current DNC Vice Chairman R.T. Rybak—the man he seeks to replace—and David Pepper, chairman of the Ohio Democratic Party.
The election for vice chair will occur this month among 450 DNC voting members, who elect the chair, five vice chairs, a treasurer, a secretary and a national finance chair. Former President Barack Obama's departure from office means that this will be the first competitive DNC race in eight years.