When I think of tea time, visions of the Mad Hatter and Alice float into my mind, along with a beautiful porcelain tea set with some crumpets on the side. Though there are plenty of places where one can experience a proper tea party in New York (Alice's Tea Cup comes to mind, if you don't mind your tea with a side of a 6-year-old girl's birthday party), iconic New York chef David Burke might have the most elevated iteration. He's putting a different spin on tea time at Tavern62, his first project with his new partner, ESquared Hospitality. Tea with Burke includes booze, which beats crumpets any day of the week.
"Tavern62 is all about unique, unexpected twists; we were inspired to take a traditionally stuffy experience of afternoon tea and turn it into a more accessible, affordable, happy hour option," Burke told the Observer of his new restaurant, which is located at 135 East 62nd Street. "Our layout and design lends itself to social, casual, after work. I think it's just what this neighborhood needs."
The Upper East Side will also enjoy Tavern62's unexpected twists on classic food and drinks, including "tea cocktails" like Peruvian Nights, which is made with Pisco 100 and matcha tea, and my personal favorite, The Kentucky Fire. Made with Woodford Reserve, cinnamon syrup and apple cider, this cocktail is the perfect drink to warm you up on a cold winter day.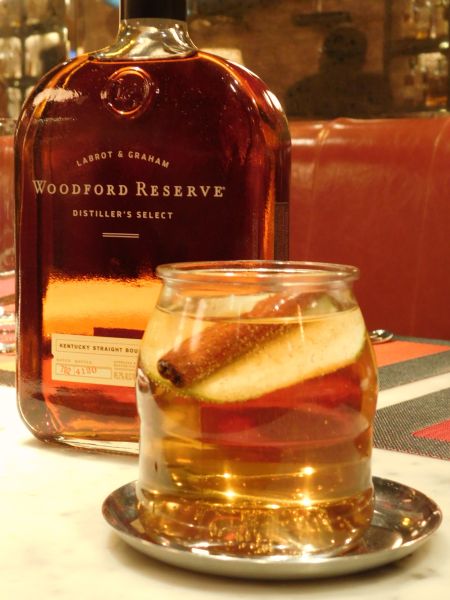 Afternoon tea, originally introduced in 1840 by the Duchess of Bedford, was created because she found herself quite hangry by 4 pm and couldn't hold off until dinner, which usually took place at 8 o'clock. So she requested a tray of tea, bread and butter and cake be brought to her room. The Duchess realized it was such a good time that she began inviting friends to partake in a midday tea party. Because tea time at Tavern62 is earlier in the day, from 3 pm to 6 pm, the bar on the first floor of the restaurant takes on a more casual vibe; you might even find Burke hanging out and chatting up the crowd. It still has a great old school Mad Men feel, as the restaurant used to be an actual townhouse, with beautiful dark wood ceilings and leather seats. This makes Tavern62 the ideal setting for a work meeting, and a nice pit stop to break up a long day, for the professional crowd.
The response from diners, since the restaurant opened in October, has been quite positive. "The spiked hot tea cocktails have been a hit, especially with the cold weather," Burke pointed out. "We've seen people coming over after shopping at Bloomingdales for a few snacks from the menu to refuel, to businessmen dropping in for a cocktail, flatbreads, oysters and open faced sandwiches before heading home for the evening."
Those tasty snacks include a very inventive tea menu (though there are some sweet treats like cheesecake lollipops and sweet cakes) including rock shrimp coleslaw, crispy pork rind popcorn, french fries, an assortment of flatbreads and, of course, the requisite avocado and cucumber toast that all New York restaurants are serving at the moment. Kate Middleton might not have fries at her tea time, but she doesn't know what she is missing.
Burke sees tea time as part of a growing trend on the New York food scene. "I think New Yorkers want to put their twist on tea time. Instead of it being about a subtle pot of tea and dainty sandwiches, it's about exciting bar snacks and tea with a little something extra. The classic places will always exist, and now New Yorkers can have their pick of what kind of tea time they want to have," he said.
And if you can't make it in time for tea, there's always the rest of the delicious menu for brunch and dinner, plus the presence of the very jovial Burke, who might even offer you a tour of the space and a peek at some of his favorite photographs adorning the walls.
"New Yorkers can always come looking for me at Tavern62, I'd love to see them," he said. Looks like there's a new Mad Hatter in town.