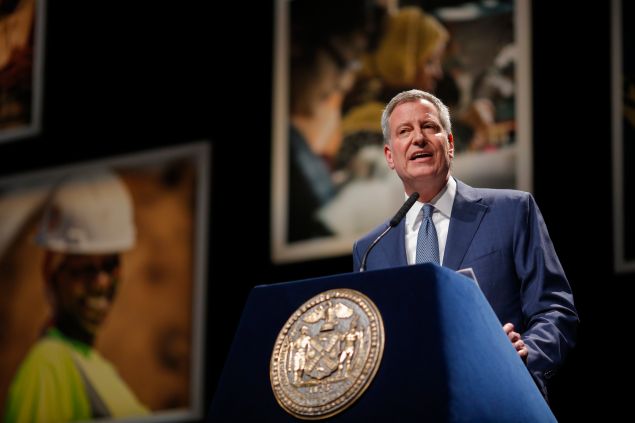 After meeting with federal prosecutors about his political fundraising last week, Mayor Bill de Blasio says he hasn't "gotten a clear answer" about when the investigation will conclude—but vowed it will be "quite clear that we handled things appropriately."
U.S. Attorney Preet Bharara has spent months studying whether de Blasio traded public favors for donations to his now-defunct political nonprofit, the Campaign for One New York—paralleling a separate probe by Manhattan District Attorney Cyrus Vance into the mayor's fruitless efforts to help Democrats take the State Senate in 2014,. Both prosecutors have impaneled grand juries to weigh charges against the mayor and/or his top political aides.
On Friday, the de Blasio met for several hours with Bharara's investigators at the office of his lawyer's firm, Kramer, Levin, Naftalis & Frankel in Midtown.
"All I can say is my goal was to be open and transparent and communicative and to be cooperative and I think it's quite clear a four-hour interview is a good faith effort to try and provide information," de Blasio told NY1's Errol Louis in his weekly "Ask the Mayor" segment. "And, you know, that's been the spirit all along and I believe when all the facts are looked at, it will be quite clear that we handled things appropriately."
He insisted that from the beginning, he has always said he and his team would cooperate "in every way" and that he was "happy to go in and recount the facts."
"It was fine," de Blasio said. "It was, as you know, about four hours and this to me is simply the process of getting all the information out. I know we've done everything appropriately, I know we've done everything legally. We held ourselves to high ethical standards and I was very comfortable going over everything I knew."
He added that "all the topics they had were covered" but that he would leave it to them to say whether that was the case and said he will not "guess" as to when the probe will be complete.
"I don't guess," he said. "I haven't gotten a clear answer on that but again, we'll cooperate in any way necessary."
The mayor cleared his public schedule for three days to prepare the interview, but he dismissed the characterization of it as "taking time off." He said he had to put in some time to prepare "as anyone would do for a four-hour interview" but that he and his administration have continued to do their work on behalf of the city.
"I'm very proud of what we've achieved," de Blasio said. "We've talked here about the fact that crime is down, we talked about graduation rates being up, affordable housing being built at a record pace. All that work has continued regardless of what's going on in the backdrop."
Not long after the mayor met with federal prosecutors, the mayor's office released a chunk of documents regarding interactions between the de Blasio administration and outside advisers his administration called "agents of the city." He released the first batch of documents on Thanksgiving Eve.
When questioned about his penchant for releasing information on a Friday afternoon—a common tactic for burying unflattering information—he only said that they'll continue to divulge the documents after carefully vetting them and redacting private details.
"We put out the information as it's prepared," he said. "It's just—there's a lot of material. As you know, there are confidentiality issues and other issues."
He also said that he would release a list of donors who did not receive the favors they sought "when all this is clear"—which he had promised to do in May.
Earlier this month, the mayor's office released a fact sheet stating that the mayor neither requested nor was offered immunity in exchange for participating in ongoing interviews with the offices of Vance and Bharara. And his office maintained that his meetings with them were not part of any deal.
And the mayor became upset at the mention of a King County Politics report indicating that he directly stepped in on behalf of Moishe Indig, a Satmar rabbi and one of his major fundraisers, to get a vacate order lifted on Satmar school buildings, calling the claim he put pressure on anyone "ridiculous."
In February 2014, the mayor received criticism after the Wall Street Journal reported that he personally made a call to inquire about a pastor after he was arrested for outstanding warrants, after which the pastor was released. He insisted that that agencies, whose leaders serve at his pleasure, "come to their own conclusion" independent of his input.
"I tell you when I was City Council member, public advocate, again as mayor, I believe it's perfectly appropriate to put an issue on an agency's plate," he said. "The agency has to make the decision they see is right."
And he dismissed as "conspiratorial" a Daily News report in which the husband of a Brooklyn film business owner said she donated to de Blasio because she was afraid of repercussions for her company.
Taxpayers are underwriting the legal bills of most City Hall staffer drawn into the vortex of investigations engulfing the mayor. De Blasio himself, however, recently announced he would decline his right to publicly financed counsel and instead pay his swelling attorney fees through private donations to an as-yet unestablished legal defense fund.
But critics, like Republican rival Paul Massey, have asserted this only creates further conflicts of interest: leaving the mayor in debt both to those who donate to the fund, and to Kramer, Levin, Naftalis & Frankel, which also represents clients with business before the city. The mayor has answered as always that his character and conduct are beyond reproach.