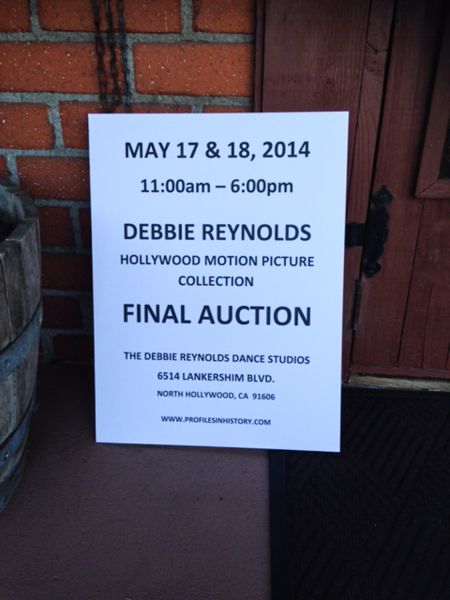 The weekend Debbie Reynolds gave up on Hollywood probably didn't feel much different to most people. But inside the gently tattered Debbie Reynolds Dance Studio on May 16, 2014, the atmosphere wavered unnervingly between strained celebration and outright dejection.
Family, friends, and fans surrounded the 82-year-old actress, as preparations finished for the third and final auction of her beloved memorabilia. Reynolds had, over many decades, amassed an extraordinary collection of cinematic ephemera.
Unfortunately, her husbands—particularly second husband and inveterate gambler Harry Karl—had amassed an equally extraordinary collection of debts.
"I have come to realize and accept that these cherished items will find new and happy homes," she said, in a gritted-teeth statement. But acceptance wasn't really so easy.
Debbie's son, Todd Fisher, had worked closely with the auction house Profiles in History to carefully display items like Orson Welles' mink coat from Citizen Kane, Elvis Presley's grand piano, and the original Star Wars posters signed by Reynolds' daughter, Carrie Fisher. Todd had been sleeping in an RV in the parking lot for days, preparing for the event. Carrie had just flown in from England, so she could be by her mother's side through the weekend.
When MGM sold off their property in 1970, Reynolds used her entire savings to buy everything she could. From then on, she made it her mission to gather—or, to her mind, rescue—as many mementos as possible. She saw herself as a living link to Old Hollywood, and honoring its history became her life's true love.
"We started collecting stills and posters for research," Todd explained of the doorstop-thick auction catalog. "Then Debbie said, 'Why not try recreating sets? And what if we have the cameras that shot the movies themselves? Lobby cards? Press books?' Debbie felt she alone had to carry the gauntlet. Otherwise, it would all be lost."
For years, she proudly shared her collection at the Debbie Reynolds Hotel and Casino in Las Vegas. When the hotel went bust, she planned a massive museum in Pigeon Forge, Tennessee. But the developer went bankrupt, too. Todd built a 16,000-square foot storage unit on his property, while they waited for Reynolds' prince—in the form of an institutional buyer—to show up.
Until the end, Reynolds held out hope that the Academy of Motion Picture Arts and Sciences would want her collection for their planned museum (currently scheduled to open in 2018). But, of course, real life is rarely as tidy as technicolor musicals.
When her efforts to make a fair sale to the Academy were repeatedly rebuffed, she needed a new plan. The collection reflected a sentimental streak, but her life was famously defined by practicality. It was the studio way: Be unsinkable. With a smile.
So she finally put her treasures up for sale. The collection was a huge expense, she was getting older, and as a weary Todd said, "She needs to let go."
The first auction—featuring iconic pieces like Charlie Chaplin's bowler hat, Judy Garland's ruby slippers, and Marilyn Monroe's white subway dress (from The Seven Year Itch)—was in 2011. The last, which I was invited to document, was in 2014.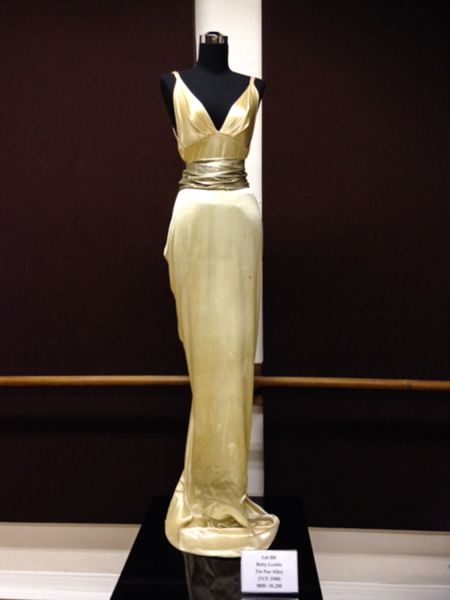 It was clear the Reynolds-Fisher family saw the final auction as a production of its own, a curtain call for history, fans, and culture at large. "My mom can't do this," Todd said of the preparations, as he fine-tuned each exhibit. "Carrie will take a shift, but she gets mauled when she shows up."
He looked around the old-fashioned, wood-paneled dance studio, which he'd transformed into an exhibit overflowing with posters, props, and costumes. "Carrie used to play in these dresses. She stuffed the busts with Kleenex, because she was fourteen."
He adjusted a stunning green velvet gown with intricate gold trim, worn by Katherine DeMille in George Cukor's Romeo and Juliet. "Look at the workmanship of the dresses Debbie saved," he said, shaking his head in frustration. "The Academy is spending millions to build their museum. But they don't have enough for this?"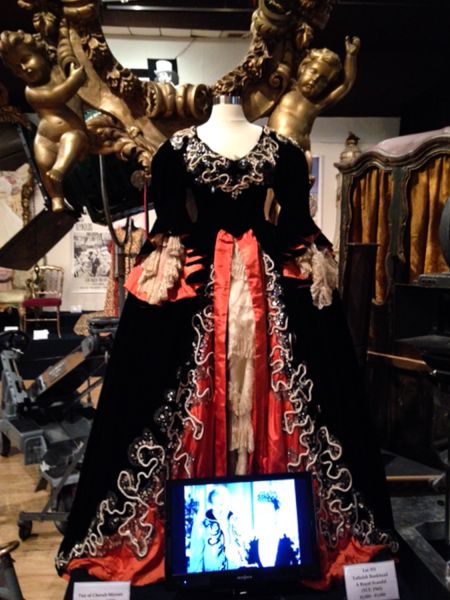 Around us, tech guys examined giant 35mm cameras used in Touch of Evil and The French Connection. An elderly man leaning on a walker stared at Mae West's black and ivory satin gown from Belle of the Nineties. Everyone stopped to contemplate the wall-sized poster of Singin' in the Rain, signed by all three leads.
Reynolds, already frail, was resting quietly in her dressing room on one of two large, ornate silk chairs. Carrie's sleepy-eyed bulldog had made himself comfortable on the other.
Carrie herself was standing in the corner, picking morosely through a pile of dried fruit and nuts. She explained, with wry humor, that she had been ordered to lose "a fast 40 pounds" for the upcoming Star Wars: The Force Awakens.
Debbie shooed Carrie's dog away, and motioned me next to her. "We are sitting in Ann Miller's chairs," she stated brightly, adding that she'd bought them at auction after Miller's death. "I think of it as a bit of preservation of my friend."
'When you get older,' Debbie Reynolds said, 'things disappear.'
Becoming more solemn, she seemed to search for the right words. "When you get older," she finally said, "things disappear."
I asked how she felt about the auction, and her eyes reddened. "I'm a little sad and confused why the industry never took hold of this. I wanted the public to see all their precious memories. That was my dream, which I did not get to see to fruition."
A sigh. "I hope I get invited to the opening of the Academy museum, but they missed a great collection."
Carrie was now sitting on the floor, barefoot and cross-legged. "People are always asking me, 'Don't you have The Bikini?' " she said, emphasizing the challenges of conserving memorabilia. "They don't just let you take things. I guess I could have put a robe on and worn it off the lot?"
Todd reminded her of a costume Debbie did have: "Your wedding dress from When Harry Met Sally. You said we should give it to Billie [Lourd, Carrie's daughter] one day."
Carrie laughed. "That would be funny. My daughter could wear a [wedding] dress from a movie."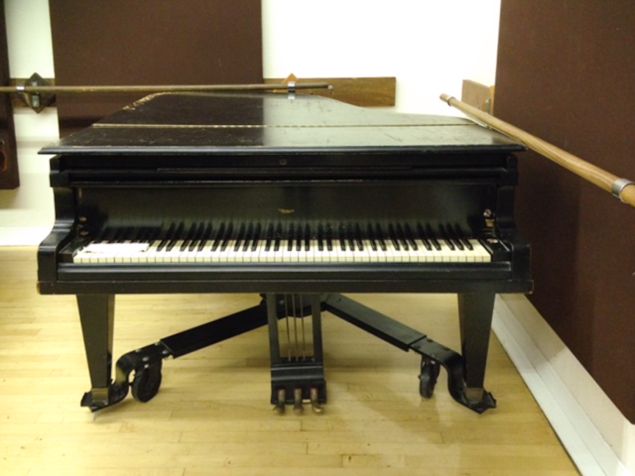 At exactly 11am the next day, Todd took the podium to welcome the crowd. "My mother sent me to greet you all: She doesn't do mornings." It was a decidedly low-key affair. There were plenty of empty seats, with people in T-shirts and baseball caps spread among the rows. In front of me, a guy with a "Hollywood" tattoo running down his arm sat munching on apple slices he'd brought in a plastic baggie.
Across the aisle, retired X-ray technician Michael Luzzi was studying the catalog intently. "I went to the first two auctions," he said. "It was very painful. Debbie's still a fan, just like us."
As the day progressed, I began to worry that Reynolds would show up to a half-empty room. She entered at 2 p.m., and if she was disappointed in the size of the crowd, she sure didn't show it. In determined good spirits, she went straight to the podium and sang "Good Morning," from Singin' in the Rain. The audience stood and cheered, filling the room not just with admiration but also deep affection.
She walked carefully down to her place in the front row; you can see her, in HBO's lovely, elegiac documentary Bright Lights, sitting tearfully between Carrie and Todd. But she moved around constantly, seeming to make it her duty to speak to everyone who'd cared enough to come.
"Look at this," Luzzi said, showing me the Sharpied front of his auction catalog. Todd and Carrie had scrawled their names, but Debbie's signature was pristine. "You could rubber-stamp that autograph," Luzzi observed. "That is class."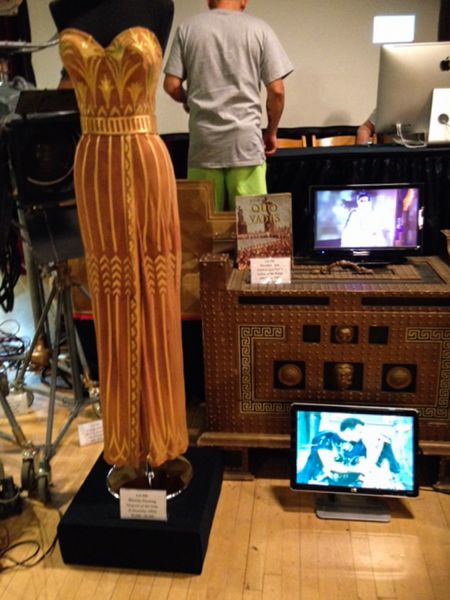 Reynolds came to sit next to him, and appraised the empty seats with evident regret. "In the olden days," she said, "everyone would fly in for an auction, no matter where they were. Now people are buying sight unseen from their living room."
The vast majority of items did go to anonymous online bidders. But they missed out. Reynolds introduced me to so many fans she'd gotten to know because they stood outside stage doors for years, or wrote letter after letter until she responded—the sort of behavior, frankly, that most contemporary actors would pass on to their security guards. To Reynolds, these were the people to be appreciated, the ones who got it.
Eventually, she retired to the back row, where she watched Lot 292—Scarlett O'Hara's black and yellow straw hat—come up and stall at $35,000. "That's a damn shame," she said quietly, before exclaiming to the crowd, "This is real! It was used in the movie! It's worth $100,000, at least!" When the gavel came down without any additional bidders, she sighed. "Too cheap," she muttered. "Too cheap." 
Elizabeth Weitzman was a film critic for the New York Daily News from 2000 to 2015. She is currently working on a book about women in film.