Ladies and gentleman, please stow your bags, take your seats, fasten your seatbelts and prepare for a fashion show.
This was apparently the scene on February 8, when Rubin Singer took his designs to great new heights. Well, 30,000-feet to be exact. The evening wear designer, whose label has been worn by the likes of Gigi Hadid and Beyoncé, decided to use an airplane aisle as his catwalk.
Seriously, the designer boarded a commercial Lufthansa flight, along with a cast of models and staged a full-on runway show on the trip from Frankfurt to New York. A crowd of "German influencers" were on board for the event, but it seems the rest of the plane's passengers were simply in for a very action packed flight. We hope they didn't have plans to catch up on sleep or binge watch episodes of New Girl, as there were two runway shows and a series of three expert talks during the duration of the flight.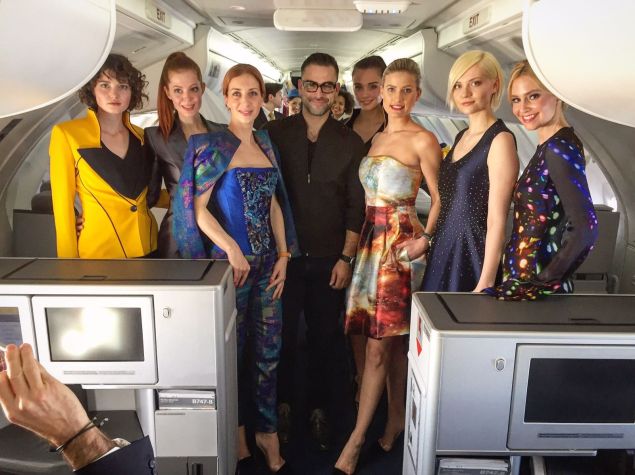 The first show comprised of Singers' fanciful frocks and sexy pantsuits, printed with images of outer space, to go along with the futuristic feel of this show. In the vein of modern fashion, the collection was for the Spring/Summer 2017 season, meaning it was a "see now, buy now" situation. You probably wouldn't want to buy the pieces from the second show, however, as it was simply a lineup of uniforms worn by Lufthansa flight attendants over the years.
"As a designer, I'm always interested in finding new ways to present my collection," Singer said in a statement. "Showing up in the air, over the Atlantic was truly a unique fashion moment like nothing I've ever done or seen."
If you have a Lufthansa flight booked soon, don't anticipate your flight turning into a fashion show. This was part of the FlyingLabs program the company has been offering, where air customers can experience talks and presentations at high altitudes.