Though New York Fashion Week has come a very long way in terms of diversity—long gone are the days when Naomi Campbell was considered a rarity on a runway—there's still more to be done. That rings especially true when it comes to one group in particular: plus-size women. This is a fashion-savvy group that wants to spend their money, but is not seeing the products they desire from designers.
One young woman is determined to push change in that category and she isn't doing it subtly. On February 9, Nadia Boujarwah, co-founder of Dia & Co, a personal styling subscription startup focused on the plus-sized women's category, took out a full-page ad in The New York Times. The bold advertisement challenged designers to make clothes for women of every size and shape. "Fashion she can't wear is becoming a bit unfashionable. This week, we challenge true fashion vanguards to start designing for women of all sizes," it stated.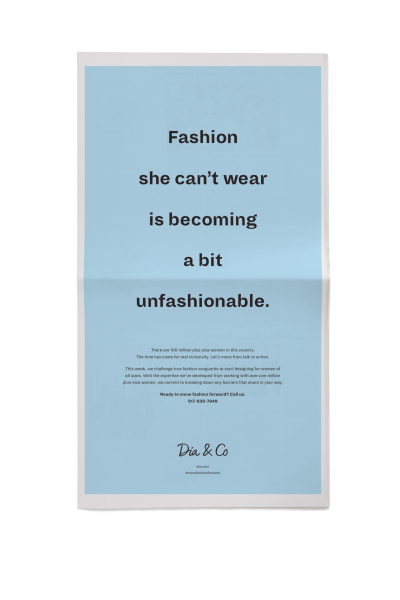 It's a timely challenge, and Boujarwah has the numbers to back it all up. Along with the ad, Dia & Co released new data from a poll of 1,500 women who wear a size 14 or larger and self-identify as plus-size. The company found that 72 percent said they do not believe fashion designers create their designs with the average American woman in mind. But here's a real gem: Nearly 80 percent would be willing to spend more money on clothing if more designers offered plus-size options. They called out Kate Spade, Tommy Hilfiger, Kenneth Cole and Diane von Furstenberg, in particular, for not providing options for them.
Dia & Co follows a model that is similar to the successful subscription styling service, Stitch Fix. Customers fill out a survey so their tastes can be determined and are then shipped a box with five items of clothing, as well as accessories. They pick and choose what they like and then send the rest back, free of charge.
"With this ad, we knew we wanted to do something to bring attention to the opportunity there is for designers to serve this community exceptionally. We have heard loud and clear from our community that there is a deep desire to participate fully in fashion. This feedback was reaffirmed by the survey we commissioned to illustrate the relationship plus size women have with fashion,"  said Boujarwah.
https://www.instagram.com/p/BQYhG8Egd11/?taken-by=diaandco&hl=en
Dia & Co is not trying to criticize designers that don't accommodate plus-size customers. Rather, the company wants to work with them and help them enter this underserved market. "When designing the ad, we knew we didn't want to just point out the problem―we wanted to put our money where our mouth is and step up to actually support those designers who do decide to take action. We are hoping that designers take us up on our offer to help them break down any barriers," she told the Observer.
Boujarwah commended designers such as Christian Siriano, Chromat, Prabal Gurung and Tadashi Shoji, who have made it their mission to create size-inclusive lines. Siriano in particular is becoming known for his diverse runway shows. His ready-to-wear fall collection featured eight plus-size models; almost double the amount from his NYFW show last year.
New York's Spring 2017 runways featured the most plus-size model appearances in recent history, and Boujarwah believes that the Fall 2017 runways are on track to hit that level again this year. But, she pointed out, plus-size models only accounted for 0.54 percent of all model appearances at September's fashion week.
"There's still an enormous amount of work to do there," the 31-year-old entrepreneur said. The Harvard Business School grad came up with the idea for Dia & Co after a lifelong struggle with shopping.
"I've always had a deep love for fashion, but as a plus-size shopper, I've always struggled to find stylish clothing that fit my body and suited my shape. It wasn't until I was at Harvard (where I met my co-founder, Lydia Gilbert) that I discovered how many other women shared this challenge. Sixty-seven percent of women in the United States wear a size 14 or above, yet plus-size clothing only accounts for 17 percent of total apparel purchased. As we began to investigate this massive gap, it became clear that retail was failing this customer in an inexcusable way and this was a problem we could dedicate ourselves to solving."
Investors see quite a bit of potential in the three-year-old brand, too. In September, the company raised an investment round of nearly $20 million, led by Sequoia Capital, which reportedly brought Dia & Co's worth up to $70 million. Morry Brown, an analyst at Wedbush Securities, told MarketWatch that the use of models of non-typical sizes is boosting sales at many brands. When H&M featured Ashley Graham in a campaign last year there was a rise of 7 percent in sales that followed.
"Graham's Sports Illustrated cover was a watershed moment. The willingness of celebrities like Leslie Jones and Aidy Bryant to speak openly about their lack of [fashion] options has drawn a lot of much-needed attention to the issue. And Tim Gunn's Washington Post op-ed last fall changed the momentum of the conversation," said Boujarwah. "Yet, we are still so far from true inclusivity. Most importantly to us, the progress has yet to be felt by the 100 million women in this country who still do not have access to the same stylish options as their straight-sized counterparts. More than anything, that's what inspiring us to do our part to take bold action now."
That is exactly what Boujarwah is doing. "Our long-term goal is to transform retail and fashion to be more inclusive and to make the power of style available and enjoyable for all women. In order to do this, our efforts will have to be comprehensive. We will look to partner with all players in the industry—fashion schools, existing brands, media outlets—to improve her access to and inclusion in fashion. And most importantly, we will lead by example by putting her first, always."