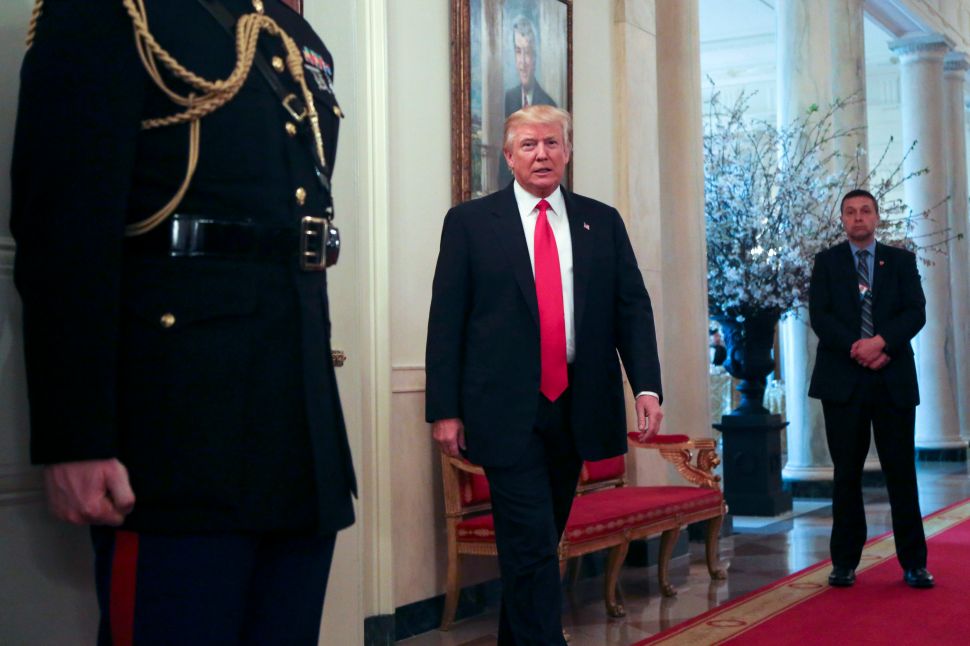 The State of the Union is a unique and important political moment each year, but it is singularly important in the first year of a new presidency.
President Donald Trump's first month in office has been unlike anything that has preceded it.
The glass is half full and half empty.
He has used executive orders to effectively carry out his promises, he has a sterling and accomplished Cabinet of conservatives, and he has solid support from his voters and the Republican Party.
He also has had a rocky few weeks, with a Cabinet nominee withdrawing, an ill-equipped National Security Adviser being fired for lying to the Vice President, the hasty release of a half-baked Travel Ban executive order, and historically weak poll numbers for a new President.
These are the facts.
But in the end, none of this will matter.
We objectively evaluate presidencies to be successful if they achieve three things: 1) reelection (proving popular support); 2) major bipartisan legislative accomplishments; and 3) succession by a member of your own party.
The first and third objective standards are too far away to evaluate after just one month.
But the foundation already is being set for evaluating the second objective standard: major, bipartisan legislative accomplishments.
It appears that the Trump administration is focused on Obamacare repeal and replacement and tax reform as their two major legislative initiatives for this year.
If that's true, then tonight's State of the Union must be judged solely by whether it makes passage of these two items more likely.
So far, Republicans have remained unified with the new President.  Unfortunately for President Trump, Democrats also appear wholly unified against him. This is where he must make inroads.
If President Trump delivers a solid, humble, substantive, hopeful, unifying speech, he will benefit politically.
He should exude humility and leave past slights, media battles, and his stunning election victory behind.
He should be more specific about his legislative proposals. He will need to sell the public on them and this is the first step in doing so.
He should aim to unify the country behind our shared ideals, and do so in a spirit of patriotism and generosity.
He should personally reach out to individuals Democrats, including Senate Minority Leader Chuck Schumer, Senate Judiciary Committee Ranking Member Dianne Feinstein, and the 10 Democratic U.S. Senators who face reelection in 2018 from states that Trump won in November.
Remember that the State of the Union has two audiences: members of Congress in the House chamber, and the television viewing audience.
This is not a speech you can wing. This is not a speech where you go off script.
A professional speechwriting department would have been testing language, through polling and focus groups, for weeks, to offer the best possible version of President Trump's message to the largest audience he likely will have this year.
The NBC News / Wall Street Journal poll this weekend showed Trump with 44 percent job approval, and 48 percent disapproval.
But recent polls also have shown that, for the first time in many years, a majority of all Americans believe the country is headed in the right direction. This is something he can build on while millions of Americans form an opinion about his presidency.
The narrow message President Trump offered in his convention acceptance speech, in his Inaugural address, and in his CPAC speech late last week, will be inadequate. This is not a time to fire up the base.
This is a time to advance your legislative agenda.
Executive orders are temporary. We have seen that, as President Trump has, with the stroke of a pen, reversed much of what President Barack Obama did within his executive authority
It is legislation that truly matters.
Look at how complicated and difficult it will be to repeal all or most of Obamacare and Dodd-Frank, as two examples.
President Obama had 60 votes in the U.S. Senate for the first 13 months of his presidency. President Trump has just 52.
With discipline, he will prosper tonight. Will he effectively seize the moment that the State of the Union presents to advance his legislative agenda and take a major step forward to making his first term a success?
Matt Mackowiak is the president of Austin-based Potomac Strategy Group, a Republican consultant, a Bush administration and Bush-Cheney re-election campaign veteran, and former press secretary to two U.S. senators. He is the host of a new national politics podcast, "Mack on Politics," produced in partnership with The Washington Times. His podcast may be found at washingtontimes.com/mackonpolitics.