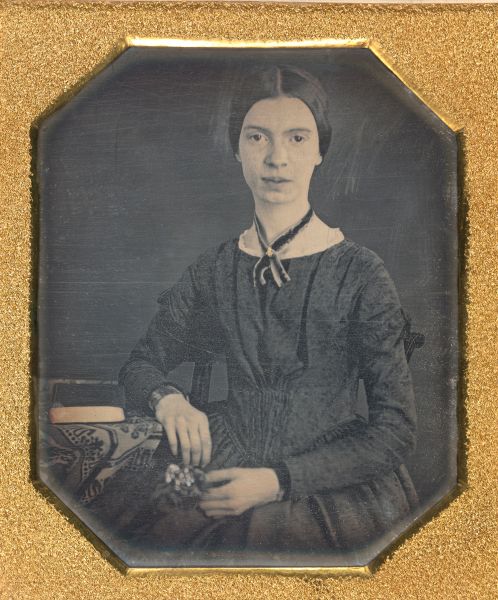 Emily Dickinson gives a gallery at the Morgan Library and Museum the feel of minimalism. She is depicted as a child in a single group portrait (in color) with her brother and sister. She is in one daguerreotype photograph, where we can be sure that the picture is of her. There is a lock of her hair, still a glowing auburn after much more than a century. Some of the walls are decorated with a rose pattern from the house where she grew up and later died at 55.
Her writing is just as minimal, although the writing about her produces a parade of huge volumes. The marks on paper are faint. It's a struggle to read them today, although the effort is well worth it. Poems that were published in her lifetime, without her permission, are also on display in broadsheet newspapers where her name didn't appear. All fed the mythology that this phantom was an enigma.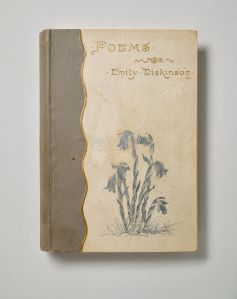 But there's life and lots of it in those shades of grey. The Morgan exhibition, "I'm Nobody, Who Are You?: The Life and Poetry of Emily Dickinson," seems determined to subvert the conventional wisdom about Dickinson as a solemn reclusive introvert. It's something that her biographers have known for a long time, and the voice of a tough-minded, witty, whimsical imagination is there throughout.
We're shown that she loved nature, and assembled a herbarium, reproduced at the Morgan in a vivid electronic display. And gardens, in her world, had room for snakes. "A narrow fellow in the grass,/Occasionally rides,/You may have met him – did you not,/His notice instant is,/The grass divides as with a comb,/A spotted shaft is seen,/And then it closes at your feet,/And opens further on." Is the snake the poet who won't conform, or an imagined love interest?
Dickinson also loved her sister-in-law, who encouraged her to write. Whether she need encouragement or not, she sought it. Yet the poet lived in her family's home in then-remote Amherst, Massachusetts, for all but two semesters at Mount Holyoke Seminary. She never married, she never published a poem by herself, and she instructed her younger sister to burn her correspondence. This was a private woman, but one with an active correspondence, to put it mildly.
Poems in her hand cover the walls of a small spare upstairs gallery at the Morgan. Once your eyes get used to deciphering them, you feel her independence of spirit: "My Life had stood—a Loaded Gun—/ In Corners—till a Day/ The Owner passed—identified—/ And carried Me away—".
It's an independence about rules of writing, about putting words on the page. Personality radiates, discreetly, out of her calligraphy, which moves toward what looks like abstraction and assemblage of poems from several pieces of paper as the years go on. Dickinson, who separated words on the page with improbable dashes, had a punctuation that was all her own. Calling this work modern makes the obvious point, but misses a larger one. The pages seem to exist outside of time, like her poems, which are tightly wrought and widely expansive.
Dickinson was especially independent about religion, veering away from the practice of the local church that her father attended. My Sabbath, from 1864, gives you an idea.
Some keep the Sabbath going to church,
I keep it staying at home,
With a bobolink for a chorister,
And an orchard for a dome.
Some keep the Sabbath in surplice,
I just wear my wings,
And instead of tolling the bell for church,
Our little sexton sings.
God preaches – a noted clergyman,
And the sermon is never long;
So instead of going to heaven at last,
I'm going all along.
For her, better a garden than a wooden pew. Seeing those words of resistance, written in her own hand, could be an inspiration for those who have only read them on the conventional page.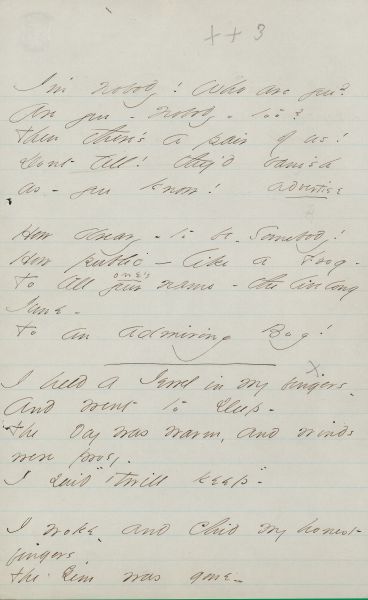 Yet besides those sheets, there aren't many objects in "I'm Nobody; Who Are You?" The exhibition lacks any intact fascicles, the texts that Dickinson sewed together, which we see on the wall as individual sheets. We see a book or two that she owned. We're back to austerity and enigma. Besides the one photograph that we're sure of, there is another daguerreotype that shows someone who looks a lot like her, with her arm around a friend. Scholars won't say definitively whether it's Emily.
Installing her in a gallery is as challenging as identifying her in that picture. The show also seems a step back, into pro forma museum display, as it aims for a Dickinson 101 narrative. (The show's catalog, The Networked Recluse, adds context.) Given how difficult her hand can be to read, it might have been helpful to blow up a poem or two to wall size. But that's for another Dickinson exhibition. Judging by the appeal of "I'm Nobody," there would certainly be interest.
That said, plenty of mystery remains about the woman who wrote in private, then wrote to prominent men seeking approval of her poems. Dickinson is revealed here as a poet of rare talent; still, that talent was revealed to a few in her family and to a few outside it. She seems to have wanted it that way — or did she? The poet still stymies even hardheaded scholars, among them the historian Brenda Wineapple, who admitted that "one cannot know to what extent Dickinson chose non-conformity, or to what extent it chose her." As Dickinson herself warned, "The Riddle we can guess/ We speedily despise."