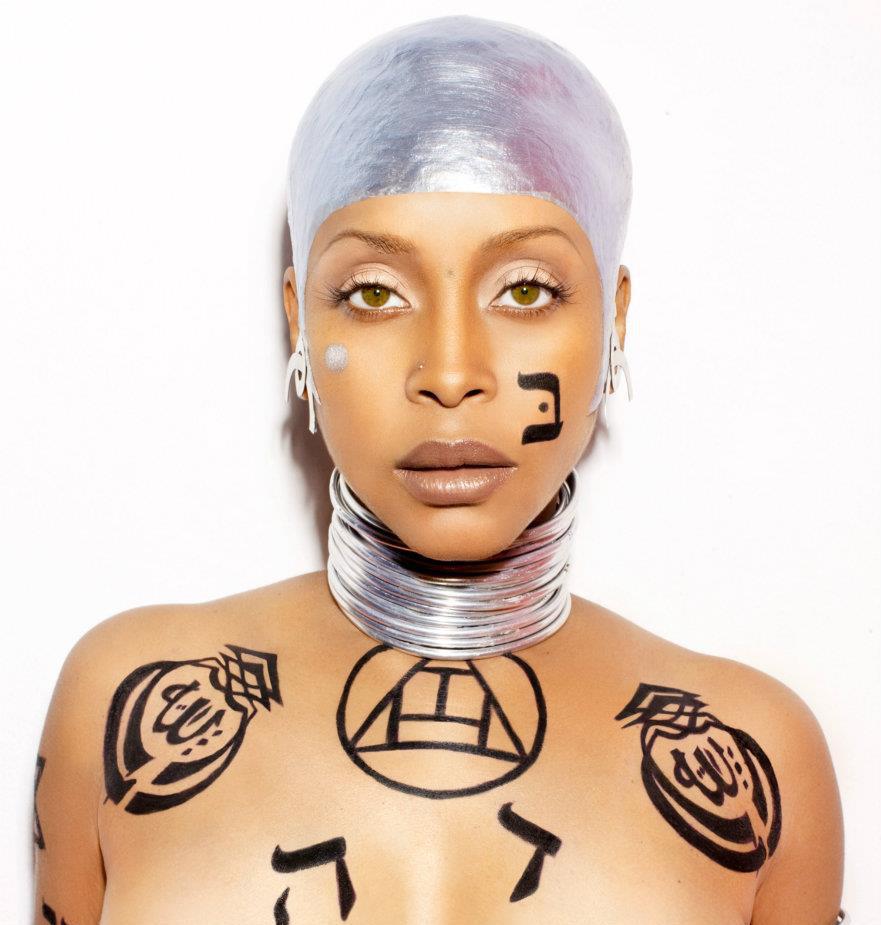 When "On & On"—the first single off Erykah Badu's auspicious debut LP Baduizm—first hit in late 1996, it was a breath of fresh air amidst the highly rote and commercialized market.
The Dallas-born singer had been writing her own songs since the age of 14 and possessed a beautiful, distinctive voice that split the difference between Billie Holiday and Minnie Ripperton, a talent for fluid duality displayed by her first single. Her voice sat atop that mellow, jazzy groove with precocious confidence that betrayed her young age of 24; the song had more in common with The Roots than Brandy, despite Badu's admission of the '90s teen soul queen's debut Never Too Late was a major inspiration for kickstarting her career.
"She inspired a lot of things about Baduizm because her album had come out before I finished mine," Badu told Entertainment Tonight in November of 2016. "Just musically, production-wise and the writing, it was really good. And I hadn't heard anything else like it."
With "On & On" and its accompanying video crossing over into alternative and college radio as well as R&B and hip-hop, few other artists could claim the same level of excitement that greeted Baduizm when it was released on February 11, 1997.
[youtube https://www.youtube.com/watch?v=-CPCs7vVz6s&w=560&h=315]
Working off the momentum built from such similarly groundbreaking titles as D'Angelo's 1995 debut Brown Sugar, Badu and producer Kedar Massenberg recruited an ace session band: keyboardist James Poyser (the man behind the Soulquarians movement the singer herself would play a major role in), longtime Dallas friend and legendary jazz trumpeter Roy Hargrove, and ?uestlove of The Roots on drums, not to mention a guest turn from iconic bassist Ron Carter on the song "Drama."
The key ingredient, of course, was Badu herself. A strong, independent black woman who wore flowing gowns and a multicolored headwrap ala Fontella Bass, whose cool confidence was a refreshing and empowering break from the traditional female R&B script, Badu created an innovative crossbreed of bebop and hip-hop that had never been seen before.
Her lyrical depth suggested a woman who did not suffer fools, who had no time for scrubs long before TLC thought to write a song about it. If you tell Erykah you're taking her to see Wu-Tang, you better follow through or she'll see you next lifetime.
Baduizm blazed a path for the "neo-soul" era that largely dominated the R&B universe at the close of the '90s and the early 2000s, and much of the freethinking experimentation blossoming right now in hip-hop, soul and jazz.
Soon enough, acts like India. Aire, Musiq Soulchild, Remy Shand, Bilal, Jill Scott, Angie Stone and Anthony Hamilton would make waves by embracing the throwback vibes of Baduizm while Badu herself went on to reinvent her sound with each new release over the last two decades. Even when she does revisit her beginnings, as she did on her brilliant 2015 mixtape But You Caint Use My Phone, she insists on keeping things fresh by lacing her rhythms with elements of Trap and Kate Bush-inspired art-rock just to keep you guessing and anticipating what's next.
In honor of her debut's 20th anniversary, the Observer spoke to a who's who of the best in modern jazz, R&B and hip-hop to hear how Baduizm inspired them to push the boundaries of their own particular styles. It was a joy to discover that two decades later, Erykah Badu's Baduizm remains as influential as ever.
[youtube https://www.youtube.com/watch?v=Jj_Q1FW3fpM?list=PLgqeEwS6Ak2AHfhJLVx9-MSvQdG8JuiUu&w=560&h=315]
Baduizm was released on my birthday in 1997; I was in college at the time. My first introduction was seeing the video for "On & On" and I was struck by Ms. Badu's sound and beauty. She is the root of what so many singers have tried to emulate…her tone, inflection, phrasing and vibrato. I always appreciated her being so locked into the groove, it was about being soulful and subtle rather than being loud and over the top…an inspiring, groundbreaking artist.
I first heard Erykah Badu's Baduizm when I was 13 years old and a freshman in high school.
On weekends I would go to music stores—where they would cell CDs and tape cassettes—and search for sounds. One of the clerks at the shop knew I was always digging through the Jazz section and recommended I check out something in the "Neo-Soul" vibe. I reluctantly obliged and was directed towards Baduizm. I remember putting the album on as soon as I got home. The first notes of the acoustic bass on "Rim Shot intro" immediately pulled me into Badu's world.
Goosebumps covered my entire body, I was hooked. It was the sound that was missing from R&B at the time. Erykah Badu's Baduizm opened a door across the entire planet. In the last 20 years there hasn't been an R&B artist, female jazz singer, and dare I even say, a single jazz instrumentalist that hasn't felt the influence of Erykah Badu. Baduizm still is the calling card that reminded R&B of its roots in the jazz tree. The importance of spiritual, lyrical content—that wasn't esoteric—and the power of black music to not only entertain but to heal the soul.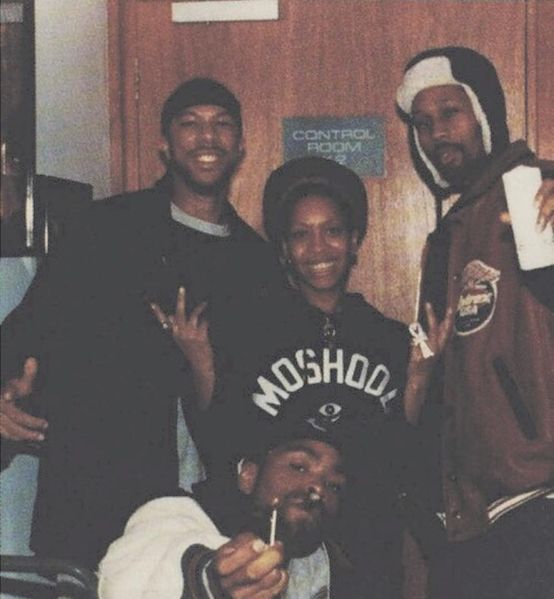 The first time I heard Erykah sing "Rimshot," I, like every other drummer on the planet, fantasized that she was singing to me.
"I'm in love with you/ cause of the things you/ do to me when you/ boom clack boom clack."
There's a very deep blues element in Erykah's voice that resonated with me. I immediately recognized it as something old—almost ancient—and it was juxtaposed against the brand-newness of the hip-hop musical backdrop. It was like hearing blues over a boom-bap, as if Q-Tip had remixed a batch of unreleased Billie Holiday masters.
I remember being in my sparsely furnished Richmond, Va., apartment the first time I heard "Other Side of The Game." I stood there as the CD played, watching the ticking track display, my mouth and eyes wide with wonder. There is something really beautiful about hearing her earthy, bluesy voice inside of that dreamy, jazzy track. Her voice has a raw, truth-telling quality, and I wholeheartedly believe every word she sings.
Erykah emerged from the so-called "neo-soul" movement as the hip-hop generation's blues siren, and she occupies a singular space. The impact of Baduizm, both in her singing style and her production aesthetic, is undeniable. It's really hard to imagine Amy Winehouse or Adele happening without Erykah Badu preceding them.
When I first hear Erykah's Baduizm, I immediately fell in love with how distinctive and timeless her voice and music was, in the tradition of the greats like Billie, Ella, Nina. She inspired me to be fearless and be true to myself as an artist. Albums like Baduizm stand the test of time. It sounds as fresh today as it did 20 years ago.
Kaveh Rastegar (Kneebody)
I first heard Baduizm in Denver the summer before I moved to Rochester to go to college. I was 20 and at the Club "So What," which was the Tuesday night party in Denver for the forward-thinking hip-hop heads, lovers of acid jazz and all things R&B. Kenny Hamblin Jr., a.k.a. DJ K-Nee, spun the song "Certainly- Flipped It."
I started hearing that record everywhere. My girlfriend listened to it constantly. It was everywhere that summer. I felt like it became the soundtrack as D'Angelo's Brown Sugar or Peace Beyond Passion from Meshell N'Degeocello had the summer before and The Roots' Things Fall Apart would the following year. She was an Afrocentric poet who was artistic, intelligent, beautiful and not to be fucked with. She was and is an Artist with a capital A. I can't believe it's been 20 years—it still sounds so good.
Erykah Badu's Baduizm is the pinnacle of the great music of the late '90s. It shows the diversity between the two musical genres of "jazz" and "hip-hop," exemplifying the marriage of the two, and the impact of that marriage in one single album. Baduizm changed music in a way. It elevates peoples' minds with its advanced musical sound and gives people a sense of community power, bringing people together. It also empowers women to be both strong and feminine. Such a great album!
I discovered Erykah Badu's Baduizm in college. A bass player friend of mine had given me a burned copy of it. Being a fan of Jill Scott I had fell immediately in love with Erykah. I think this album is one of the albums that started to mix more jazz influences with R&B and hip-hop.
Erykah Badu is one of the great innovators of our time. Roy Hargrove introduced me to her music in 1996. I've been a fan ever since. Roy was talking to me about people he had a musical connection with growing up in Dallas, and mentioned that him and Erykah came up together. He actually told me he was her Human Beat Box back then. It was also great to hear Ron Carter be amazing as he always is on Baduizm. What he added was so tasteful and soulful. Baduizm changed the sound of music and the originality influenced so many including myself; my definition of a classic.
Baduizm is spiritual guidance. Erykah is a matriarch and her debut record reflects that. The album is full of wisdom and listening to it is a healing experience.
When I first heard Baduizm it messed me up! I had never heard an album in my life time that fused hip-hop, jazz and R&B in such a seamless way! And Erykah's voice was such a breath of fresh air. Her voice, style, and vibe were something none of us had ever experienced before! She was and still is a walking middle finger! Doing her as only she can without a care in the world! Super influential; music would not be the same without her.
Baduizm is another great example of how jazz and R&B are inextricably tied. During a time when grunge was reaching its plateau, and Hanson's "MmmBop" was topping the charts, Baduizm served as an undercurrent that felt more visceral than its counterparts on the charts.
Where Puff Daddy and Mariah Carey were setting the tantalizing bar for glamour and opulence, Baduizm felt like an organic branch for common emotional trials. It was clear that Erykah's melodic and harmonic choices were heavily laced with jazz affectations. Baduizm offered a context for us as young jazz students, one that showed how our passion for jazz could be injected into pop culture in a way that remained honest.
As a child from mixed-raced parents, I spent time soaking up culture in both Los Angeles and Atlanta. The first time I heard Baduizm was during one of those visits down South. When I hear this album now, I have an immediate sense memory. The scent of cocoa butter, and Luster's Pink; the sound of communal laughter and gossip as I watched my cousins dolling themselves up for a date.
I'll never forget the new-found sense of empowerment this album gave them, as young women embracing the sound of their independence, and the "do-right" expected from the young men that courted them.