Do you ever feel like you've already had every possible conversation?
Hanging out with people is nice, but sometimes it's like: I get it—your boss doesn't take you seriously, no one's real on dating apps and you're giving up gluten. Didn't we already talk about this though? Or was that just everyone else I've had drinks with in the last year? Right.
Lately, here's what I've found makes hanging out with people a lot more immediate and interesting: playing games in person. Game designers, too, have been pushing hard to bring back in person multiplayer games, but these typically require a home console. What about a multiplayer video game for public places and for playing with strangers?
ESC Games has put together a giant new system for playing in person anywhere that lots of people gather. The company has created a system that lets up to 30 people play a video game system together at once. It opened up its first public gaming spot at the Westfield Garden State Plaza in Paramus, New Jersey, a shopping mall, at the end of last year.
The Observer joined other journalists and bloggers for a demonstration of the system, playing through three of the games in a group of about 20 players all together. We played Robot Basketball Pro, Cube Ball Pro and Pixel Prison Blues, all games designed specifically for this system.
"They're hard to master but easy to sort of jump in and keep going," Swidler told the attendees at the event.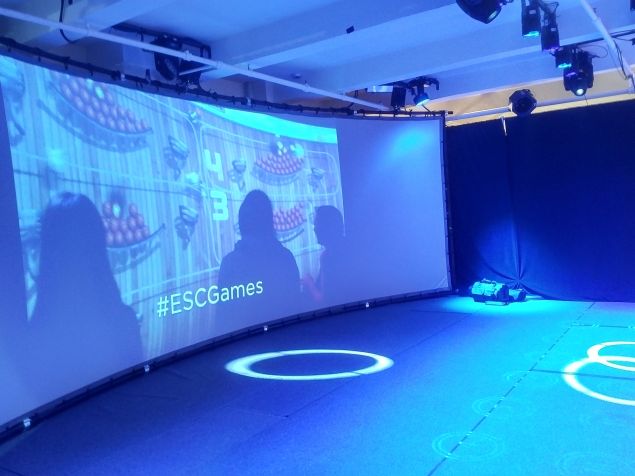 At the front of the play room, there is a movie theater style screen, but it sits right at floor level. The theater doesn't have any chairs, however. Instead, it has places for players to stand marked in numbers that shine down onto the floor. The lights are a key part of the experience, according to the CEO Todd Swidler, speaking before the demo. It lets them create a unique experience, such as marking teams in different colored glows or shiny spotlights on standout players.
Since it's a multiplayer hosted experience, it ads another feature that a videogame player won't often experience playing at home: a play-by-play announcer. I was so focused on figuring out the game, I mostly tuned our announcer out, but it does add an interesting layer to have someone commenting along with the play, critiquing it live and calling out what's happening.
To me, the heart of the experience was the controller, and I didn't love the controller. They made it using an iPod Touch inside its own bespoke housing. This meant that the controls were either using the accelerometer of the the touch screen. No buttons. No joysticks. Nothing haptic (designed for the sense of touch). I'm not going to mince words: I hated the controller.
A touchscreen videogame controller is the worst idea since the touchscreen keyboard from Lenovo. This is a solvable problem though. Hopefully ESC Games invests in a more traditional controller if it gets to a scale.
If you and your friends decide to head to New Jersey to check the system out, I suggest playing Pixel Prison Blues. It was the best one we played. It wasn't even really close.
Designed by the creators of Killer Queen Arcade—the first arcade cabinet with built-in beer cup holders— the game puts all the players inside an imagined prison complex. The majority of the players play convicts trying to break out of jail, while a smaller group plays as guards attempting to round all the prisoners back up before they can steal all the prison's treasure. (who thought a prison would be a good place to store treasure, by the way?)
The game makes really smart design choices from which the other ESC games should take a cue: every single player's character gets a unique animal head. This makes it a lot easier to find your character on the screen and to communicate with other players if you don't know them personally.
It plays sort of like arcade classic Dig Dug, but at a whole new level of multiplayer. Fans of Towerfall should catch on immediately.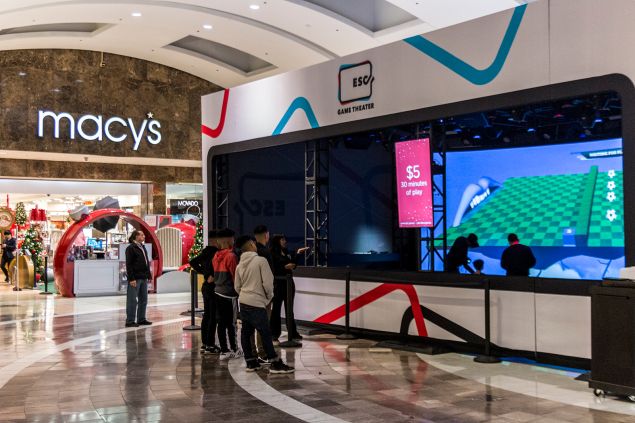 ESC Games was incubated in a partnership between ESI Design and  Production Research Group. We watched visitors at the Come Out and Play Festival's Field Day play ESI's Tough Bubbler game last summer on Governor's Island. Neither of these companies are household names, but they are both well established with a long global reach, which gives ESC an advantage in closing deals to set up partner spaces anywhere in the world.
Are game theaters like these the future of gaming? Nope.
Could mass video game experiences like this be a nice addition to the culture of in person socializing? Definitely.
At least it's something you can do with your friends without listening to someone debate whether they should finally start their GED classes.