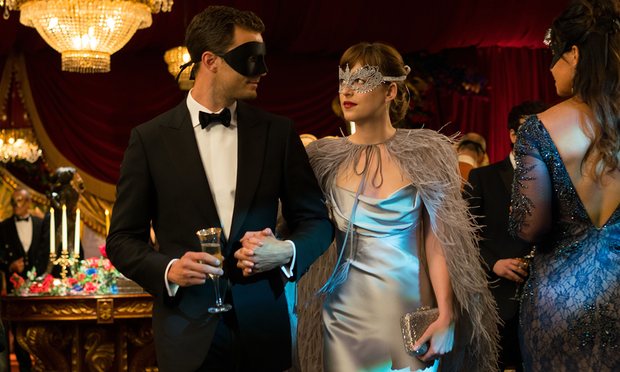 Hysterically bad reviews followed by toxic word of mouth killed off any chance that anyone could ever take seriously Fifty Shades of Grey, the first of three movie versions of the trashy, empty-headed novels by E. L. James that made dildos the most coveted items on every Cosmo girl's back-to-school list. But that didn't stop Hollywood moguls hooked on greed from green-lighting two more celebrations of sadomasochism and twisted, titillating sex for Valentine's Day. The second installment is called Fifty Shades Darker. It's fifty times more boring than the first one. It is also fifty shades dumber.
But the moral of this tale is a Muscle McGurk with a billion dollars, a private yacht and a four-poster can talk a girl into just about anything with a good pair of nipple clips.
---
Fifty Shades Darker ★
(1/4 stars)
Directed by: James Foley
Written by: Niall Leonard (screenplay), E.L. James (based on the novel by)
Starring: Jamie Dornan and Dakota Johnson
Running time: 118 minutes
---
Has even the target audience for this junk finally had enough? I don't know, but I saw it on its opening day in New York and counted only 15 people in the audience, including myself. As many of the original cast members were drafted as union contracts demanded, but since nothing ever happens during two hours of taxing tedium, the returning stars, Jamie Dornan and Dakota Johnson, should have stayed home—in their own beds! The lucky girl who did just that was the first film's director, Sam Taylor-Johnson, now replaced by James Foley, who demonstrates no visible proof that he could so much as aim a lost Washington, D.C. protest marcher in the direction of the Lincoln Memorial. When the first movie ended, Anastasia Steele, the naïve, slow-witted college girl from Vancouver, walked out on handsome Seattle billionaire and passionate S&M practitioner Christian Grey after he achieved his goal of turning a virgin into a sex slave. When Fifty Shades Darker begins, she's outgrown the handcuffs and gone to work in a publishing house, but he wants her back, so he follows her to an art gallery where six photos of her face are for sale. (This is the first of an endless series of tactical blunders, since Ms. Johnson, the daughter of Melanie Griffith and Don Johnson, is not photogenic enough to write home about.) Anyway, she's so turned on when her own personal Marquis de Sade buys all six of them for his penthouse dungeon walls that she agrees to a second chance in exchange for a good spanking. The new terms are simple: No pain. But the moral of this tale is a Muscle McGurk with a billion dollars, a private yacht and a four-poster can talk a girl into just about anything with a good pair of nipple clips.
The retarded screenplay by Niall Leonard eschews such trivialities as motivation, logic, narrative cohesion and character development, favoring discreetly posed shots of the lingerie she removes under restaurant tables, the cigarette burns on his manly chest, and the dialogue when he hands her a chain connected to two steel balls and she says, "You're not putting that up my butt!" Of course not. He's got a better place for it than that, and the movie dares the censors to object.
He's a wacko sex addict, she's a slut, and for awhile it's a match made in porno heaven—except the big sex scenes are so innocent the cameraman might just as well be photographic newborn golden retriever puppies. Enter Kim Basinger, in what amounts to little more than a walk-on, as Elena, the discarded over-the-hill Barbarella who taught Christian everything he knows about the ecstasy of whips, chains, sex toys and exotic lubricants. "He needs a submissive—in life as well as in the bedroom," hisses Elena, signaling the threat of Part Three in a dreaded trilogy, along with the menace of revenge-seeking Jack Hyde (dashing Eric Johnson, who is sexier than Jamie Dornan), Anastasia's oversexed editor who loses his job when Christian buys the publishing house, beats him up, and wrecks his career. He'll be back.
The two stars are still pleasant and attractive enough, although Ms. Johnson has a "Duh,what's up Doc?" expression that never changes, and despite the fact that he can act with obvious talent, in or out of his pants, Mr. Dornan, from Belfast, Northern Ireland, remains an odd, not entirely convincing choice to play an all-American corporate executive. Despite his beefcake torso, Mr. Dornan doesn't really live up to the books' torrid description of Christian Grey as "ridiculously hot" but looks instead like dozens of other nice young junior stockbrokers on Wall Street. For one of the richest men in the Pacific Northwest, who pilots his own helicopter and prides himself on his looks, dining by candlelight and feeling up women in crowded elevators, I found it baffling that he never shaves, even on his way to a formal ball in a three-piece tux, and goes through the entire movie with a face that looks like a Brillo pad.
If there is a God, maybe "freed" means they're all dead.
The movie has no resolve. It just dead ends, with a trailer advertising the third installment, called Fifty Shades of Freed. If there is a God, maybe "freed" means they're all dead. I pray I'm out of town for that one.