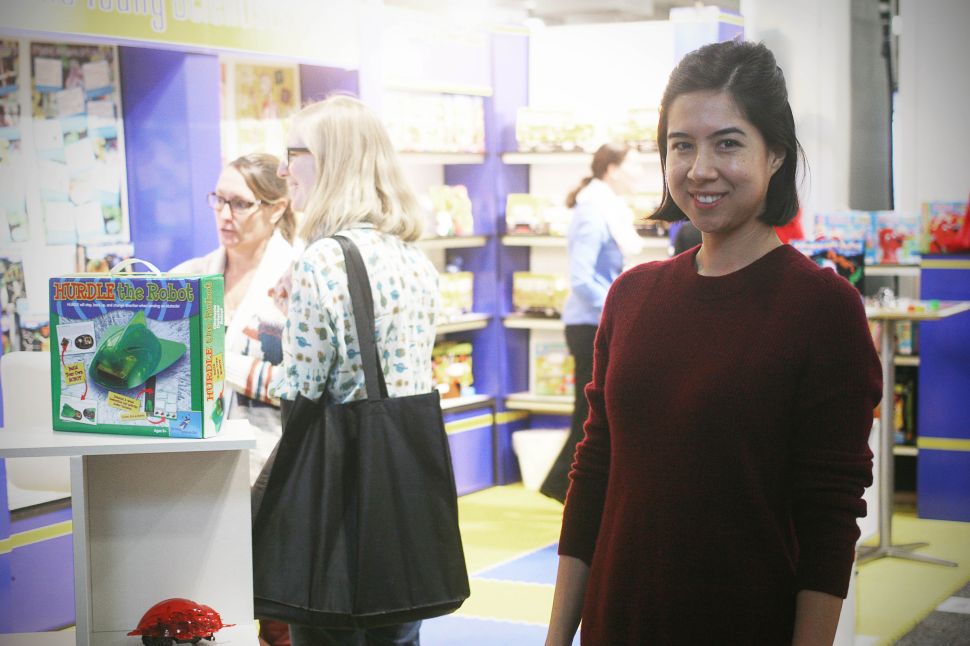 The Observer got a rare chance to see a young company work a trade show in its target industry this week at Toy Fair 2017. Stefanie Botelho, the founder and CEO of Fitzroy Toys, was there re-connecting with existing customers and looking for what might be the next cool thing.
Botelho, who's been named one of Forbes' 30 under 30, told LinkedIn recently that she wants do for the brick-and-mortar toy industry what Alibaba did for e-commerce.
The toy industry still relies too much on atoms and not enough on bits. "If you're a retailer who's at a trade show like Toy Fair and you're looking to bring on new brands, you're still going to actually be filling out carbon copy paper order forms," she told the Observer. "So we digitize that entire process."
Fitzroy Toys has a website for retailers that has a similar user experience to a consumer facing e-commerce site, even though it's a wholesale platform for owners of stores. The company aims to provide the discovery, ordering and re-ordering system for "any brick and mortar presence that wants to be able to source interesting product in a children's category," Botelho explained.
We spent a little time walking around the floor with Botelho and listening in as she asked some of her basic questions of toy makers. Things like: minimum orders, wholesale prices, shipping rates, etc. Every brand has different rules about these kinds of things and some products get distributed by other companies that also have their own rules. One could see how this would be a frustrating number of details for someone who just wants to run a small town shop wants to keep track of, but it's the sort of information databases were made for.
Everyone knows that the world of retail is changing, but for Botelho that means that there are more locations in the world that sell toys now than there used to be. "We work with folks who are traditional toy stores as well as museum stores, gift stores, design stores," she said. "We work with a high end car wash—kids hair cutting salons." 
Meanwhile, there's also a lot more new suppliers of toys, such as "a mompreneur or someone who just got funded on Kickstarter," she said. Once upon a time, these folks could open the yellow pages and cold call all the toy stores, but that's not how the business works anymore. An independent toy maker can find shops that want to devote some of their space to children's products and help these very new businesses get discovered.
"These days stores don't look like toy stores," Botelho said. Makers can handle servicing the big box stores and Amazon themselves, when they reach that level. Her company wants to help them reach the plethora of small shops in the world that might be looking for something unique.
The company started with a discovery engine. At Harvard Business School, Botelho made a recommendation system for friends to buy toys for the children of their friends. They could put in preferences and a price range and her system would suggest toys from the brands she collaborated with while building the engine.
The company has continued to build on this recommendation technology, because stores "need to make sure that what they have on the shelf is optimal to get off the shelf as soon as possible, to help them buy more," she explained. 
Her Los Angeles-based company started in 2014. "I actually had a finger puppet company when I was in the 4th grade," she told us. "I've always really loved toys."