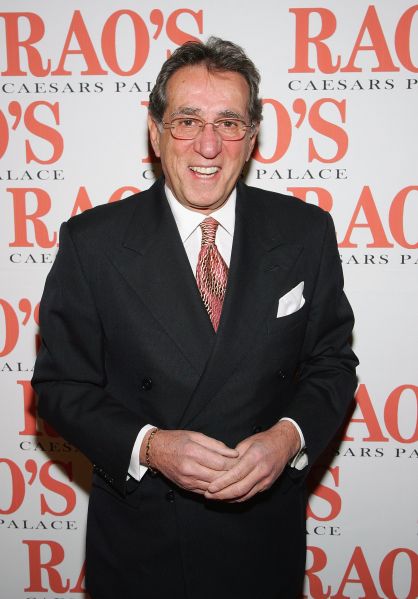 Some know him as the restaurateur not shy about denying diners a seat at the table, while others know him as an actor who frequents mob dramas. Defying precise definition is quite possibly Frank Pellegrino, Sr.'s greatest feat — that, and saying 'no,' no matter who was asking.
Pellegrino, Frankie to his friends, displaying an attitude and loyalty that categorized him as a true New Yorker, died Tuesday. He was 72. According to his son, he succumbed to lung cancer.
As the owner of the ultra-exclusive eatery Rao's, located in East Harlem, Pellegrino was impossibly protective of the space. With its four tables and six booths, Pellegrino adopted an "ownership" policy for the coveted seats.
"The tables were given out to old time customers when the place became hot some years ago. New entrants needed to wait their turn to "own" a table, and it didn't matter who they were," explained friend and Fox Business News correspondent Charlie Gasparino via a Facebook post.
Included in the post, Gasparino recalled a time when billionaire Warren Buffet asked for a table. "The Oracle was there as a guest one night a few years back," Gasparino remembered, "and heard directly in a way only Frankie could pull off. You see Frankie loved to sing to his patrons and that night as he was belting out The Temptation's classic My Girl, he turned to Buffett (and) sang: 'I don't need no money, fortune or fame. I've got all the riches, baby, one man can claim.' He did of course: His family, friends, his restaurant and his acting."
Pellegrino begin as a struggling nightclub and cruise ship singer when a relative enlisted him to help out at the restaurant on East 114th Street.
"I came for two weeks and stayed 44 years," he told Vanity Fair last year.
As he rose to the level of co-owner and handled the reservations, Pellegrino earned the moniker Frankie No for his firm refusal to accommodate individuals, regardless of monetary or social statute.
Along with authoring four cookbooks, Pellegrino also produced the CD An Evening at Rao's, featuring music from Rao's jukebox. In addition, he opened sister restaurants in Los Angeles and Las Vegas.
Pellegrino finally realized his early dreams of stardom via his connection to director Martin Scorsese, a Rao's regular, who cast Pellegrino as Johnny Dio, the cigar-smoking prison chef, in the 1990 gangster film Goodfellas. Mr. Scorsese later filmed a scene from his movie The Wolf of Wall Street at the restaurant.
His most notable role came in the form of FBI New Jersey bureau chief Frank Cubitoso on the acclaimed drama series The Sopranos. As the boss of Tony Soprano's nemesis, Agent Harris (Matt Servitto), hard-nosed Cubitoso and his team attempted to turn Tony (James Gandolfini) after learning his own mother tried to have him killed.
Pellegrino's other roles included stints on the television series Law & Order and New York Undercover, and in the films Cop Land and It Could Happen to You.
Frank Joseph Pellegrino was born in East Harlem on May 19, 1944 to Frank, a truck driver and the former Ida Puccillo, a seamstress.
After graduating from Oceanside High School on Long Island he attended Pace College (now Pace University). He and his cousin Ronald A. Straci inherited Rao's in 1994 after Vincent Rao and his wife, Anna, died. Vincent's father, Charles, has originally purchased the saloon from George Ehret's Hell Gate Brewery in 1896.
In addition to his son, who is the managing partner of Rao's in Las Vegas and Hollywood, Pellegrino is survived by his wife, Josephine, and his daughter, Angela Pellegrino.
Whether working as an actor or overseeing his precious restaurant, Pellegrino was all in, embossing his New York brashness and devotion on everything he touched, right to the very end.
This sentiment was echoed by Gasparino as he wrote, "Frank was so old school — tough exterior but had a heart of gold and he fought cancer as you would expect a street-kid from East Harlem would — until he could fight not more. To say Frank was a N.Y. legend is an understatement — he bled this city and its egalitarian promise."