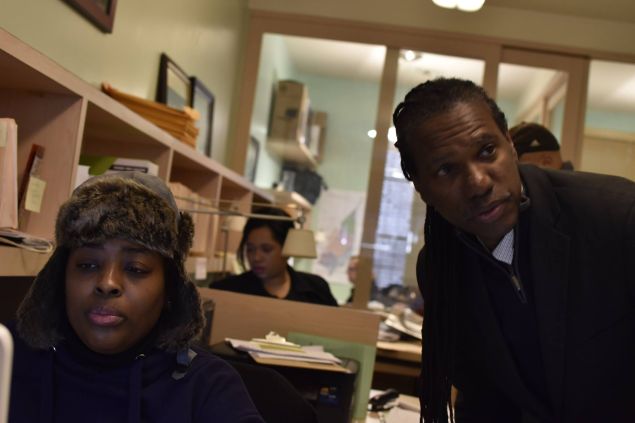 A Manhattan judge today threw out a fraud case brought against Harlem State Senator Bill Perkins, allowing him to remain on the ballot for in the February 14 special election for the vacant City Council seat that formerly belonged to Assemblywoman Inez Dickens.
Attorneys for Marvin Holland, one of Perkins many rivals, had alleged the longtime lawmaker had illegally begun collecting signatures to get on the ballot before Mayor Bill de Blasio even called the referendum to select a new Council member. But a special referee appointed by the court determined Holland had presented "no credible evidence" to support this claim, and Judge Arthur Engoron accordingly dismissed the case.
"There was an absence of proof by petitioner and a failed showing that the respondent-candidate Bill Perkins actually participated in any fraud or that his independent nominating petition was permeated with fraud," referee Steven Liebman wrote in his recommendation to the judge.
Holland's team had filed general objections challenging the validity of the signatures of his other rivals: Cordell Cleare, Charles Cooper, Caprice Alves, Todd Stevens, Dawn Simmons and Athena Moore. This is a common tactic in competitive races, and did not succeed in booting any of Holland's opponents from the ballot.
Dickens' favored successor, Larry Blackmon, convinced the Board of Elections to allow him back in the race. Special elections for Council seats on nonpartisan elections—instead of running on a major party's ballot row, candidates must create and run on their own, unique lines.
Blackmon initially got tossed off the ballot because his "Harlem Family" line appeared too similar that of the Working Families Party.
All the candidates in the race are registered Democrats except for Simmons, who is a Republican. Perkins, the only current elected official in the race, is regarded as the frontrunner due to his name recognition—an enormous advantage in what is expected to be an extremely low turnout contest.
Perkins held the Council seat from 1998 until 2005, when he ascended to the State Senate. Sources told the Observer that Perkins has long been unhappy in the upper chamber of the State Legislature, where Republicans have held the majority for most of his tenure—and where, after the most recent Council pay raise, salaries are almost $70,000 smaller than they are at the municipal level.