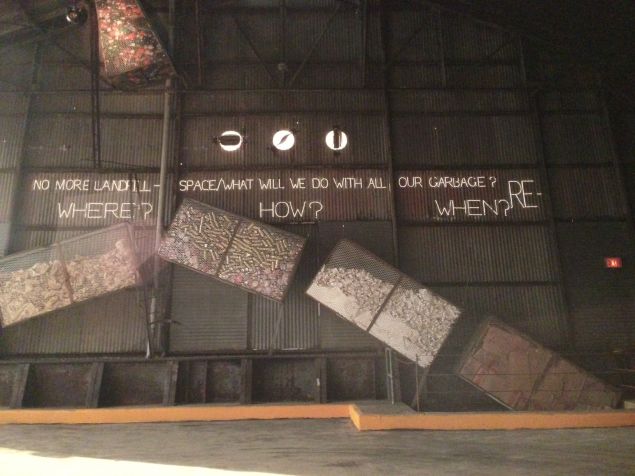 Mierle Laderman Ukeles had some very practical concerns for a conceptual artist. Chief among them: after the revolution, who is going to pick up the garbage on Monday?
She didn't exactly mean it metaphorically. New York City Department of Sanitation workers were the focus of much of this artist's work. So much so that she's been the official but unsalaried "artist in residence" for the department since 1978.
Her conceptual performance pieces, one of which included shaking hands with every member of the Sanitation Department, center on what she considers half of Western Civilization's output, and the bit no one cares about: maintenance. And there's no maintenance more key, essentially, than taking out the garbage. (Maybe flushing the toilet? We won't get into that.)
Touch Sanitation Performance (1979) involved meeting and greeting all 8,500 sanitation workers—on very different schedules—and took 11 months. She thanked each man for his service. But Ukeles' focus on maintenance is also feminist—much of the work the world never thinks too hard on is done by women, in the form of washing, cleaning up, cooking food and watching kids. Her 1969 Manifesto For Maintenance Art, is her response to discovering this. By the end of the piece, she's decided that her "working will be the work," meaning her art. It's a statement she's clearly taken seriously ever since.
Now is your chance to view a sprawling retrospective of Ukeles' work, up at the Queens Museum of Art for another week and a half. The films, documentary photos, drawings, multimedia assemblages and an installation piece that itself fills a large room make up "Mierle Laderman Ukeles: Maintenance Art," and illustrate both Ukeles' range and her commitment to her fundamental mission: to explore the material interactions we don't value, which make up huge parts of our lives.
Her fascination with workers, industry and their physicality is evident in everything from her many performance works involving public cleaning, which are documented in the show with printed outlines of the steps of each performance, photographs and preserved paraphenalia; to her "work ballets," wherein she met and choreographed the movements of various types of maintenance workers around the world, such as snow removal professionals in Tokamachi, Japan.
Videos of the work ballets and pieces like Marrying the Barges, a 1984 work uniting two trash barges in the Hudson river, bring the rare opportunity to remember Ukeles' brave undertakings and experience an historical glimpse at the fierce spirit of conceptual art before the likes of Tracey Emin's My Bed. Conceptual art with meaning in our actual lives.
In Trax for Trucks and Barges II, a massive relief map of New York City, Ukeles revisited the enormity of the task of removing New York City's trash each day. Lighted lines show the routes that sanitation trucks take, winding through the city, which we're reminded on this map—which is exactly proportional, unlike say, the subway map—consists mostly of Queens, Brooklyn and Staten Island. Recorded sound of trash trucks groaning and sanitation workers talking make the installation immersive. The soundscape plays three times a day in the current exhibit.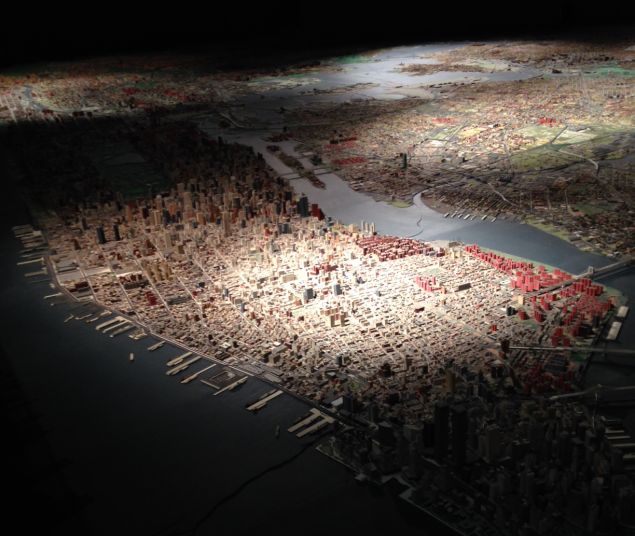 Historical context helps for some of the pieces. In It's Okay to Have Babysitter (Including Long-Distance Calls): Some Kinds of Maintenance Cancel Out Others: Keep Your Head Together-1,00 Times, a performance piece that involves calling a babysitter and has an accompanying work on paper in which the artist affirms that its indeed ok to have a babysitter, we're reminded of her existential crisis after becoming having her daughter in 1968. She believed that, now that she was a mother, people saw her art as secondary. Many pieces reacted to this perception—something female artists struggle with even now.
We're also reminded how the city sat on a financial precipice in the late 70's, as evinced by supplemental archival material, such as a New York Post article dated October 6, 1978. It describes the state of the city's snow removal services: most of the trucks had fallen into disrepair, with no money to fix them, potentially leaving the city stranded in a Snowpocalypse-type scenario. The article underscores how, while conceptual, her work dealt with the things that materially affect us that many of us take for granted.
The museum is offering free admission to all sanitation workers and their families for the duration of the exhibition, which closes February 19.
Welcome to Closing Time, a new feature where Observer Arts alerts you to great shows you should catch before they're gone.