Welcome to our TV Fashion column, where TV Ate My Wardrobe's Emma Fraser discusses the trends in television apparel. This week: Looking back on the good, the bad and the ridiculous wardrobe decisions of HBO's Girls.  
Plastic dresses, sleeping bag hoodies, sequin sweat pants, neon string vests and endless supply of short shorts; over the last five years Girls and costume designer Jenn Rogien have taken us on a journey through the conventional and occasionally wacky styles of these four women navigating their twenties in Brooklyn. While your teens tend to be more about discovery and experimentation with fashion, your post-college years are more self-assured when it comes to personal style. But this doesn't mean there aren't stumbles, mistakes and changes in how we dress.
Girls shows evolution of character through wardrobe in subtle and nuanced ways while also producing some very big THEY WORE WHAT?! moments. The latter being where I will start this costuming retrospective; Marnie's gold plastic dress from the season 2 episode "Boys" is quite possibly the most absurd thing a character has worn on this show. It also happens to be one of my favorite costumes – and it was custom made by Jenn Rogien – as it tells you everything you need to know about who Marnie is and where she is emotionally in one outfit. Marnie thinks she is hosting a big art party with artist boyfriend Booth Jonathan, when actually Booth Jonathan sees her as just a girl he is sleeping with and that she is now working for him. The most Marnie miscommunication and her attempt at being the cool artist girlfriend is every level of try-hard.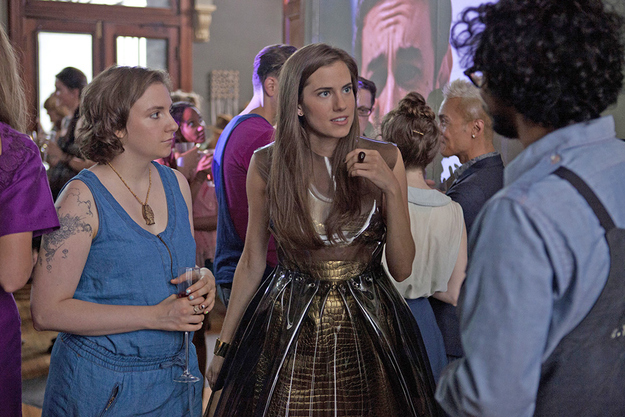 Prior to this Marnie's party outfits are very Saks or Neiman Marcus; a very strong level of safe and put together. Or "so basic" as she puts it while figuring out what to wear to this super important event. Even her plastic dress looks like a futuristic Stepford Wife and later on as she waits at the subway station with her deconstructed garment in hand it appears as if she could be holding her dry-cleaning. Now the gold bandeau top and skirt is the outfit, which is what Marnie would probably wear to Studio 54 if that was still a thing. In this scene she lies to Hannah about how fabulous her life is and Marnie is forever trying to insert herself into a much better narrative while often missing the mark. Her expectations rarely hit the reality of a situation and this gold dress is the epitome of that. And a character who tries this hard is always going to be a gift when it comes to their costuming. Right down to her casual threads such as the Michael Kors sequin sweat pants from last season, which I am still obsessed with.
There are a couple of other standout frock moments for Marnie and two of these occurred last season; her Edward Sharpe video inspired wedding and the red '70s plunging gown she wore on her night with Charlie. Marnie generally has a strong lack of self-awareness while also being incredibly self absorbed and her Pinterest infused wedding is indicative of that. The night of the 'Bob Mackie Barbie' scarlet dress is perhaps the most aware Marnie has been; of her flaws, her exes and where she currently finds herself and she does all of this in a look that is so unlike her. And maybe this is what she needed; the fake and phony façade has dropped (for now) and she is finally okay with being who she is (for now).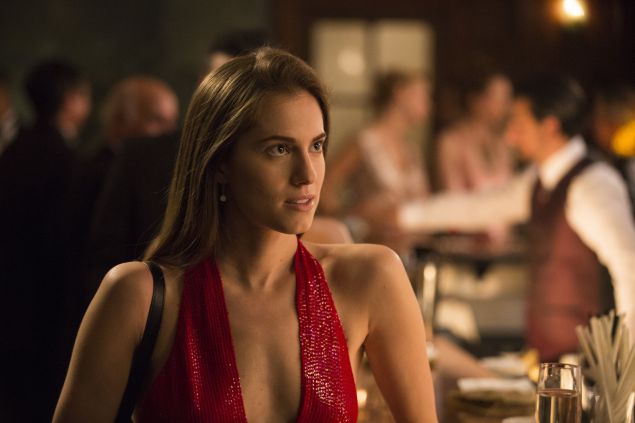 So while Marnie is the woman who will flick through a copy of Vogue or InStyle and carefully curate her wardrobe accordingly to the classic trend pieces, Shoshanna will take whatever is the current outlandish fad, run with it and wrap it up in a pink bow. When we first meet Shosh she is in a pink Juicy Couture inspired two-piece; it is 2012 and she is late to the Ugg/Juicy party by a number of years. However she is only 21 and her worldliness is lacking as she still has a Sex and the City movie poster on her wall. 
Shoshanna leans into all things super girly with her wardrobe and she has a penchant for wearing pink; she looks every level bottom half Barbie as she runs around Bushwick in her tights after mistaking crack for pot at a warehouse party. This girlish vibe adds to this sense of her being the youngest and this sense of whimsy is present in her costuming throughout these five seasons.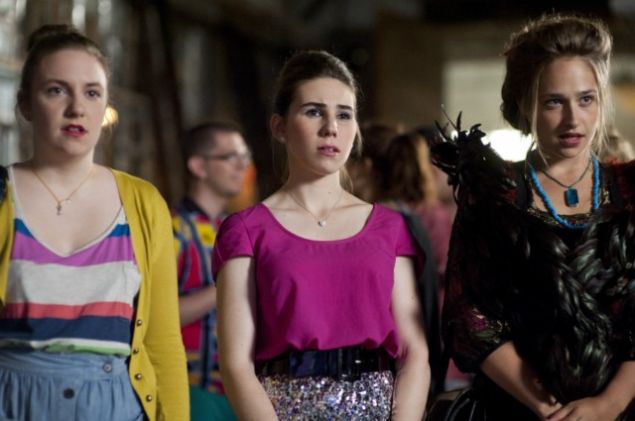 There is also the issue of following certain rules and her near meltdown at Jessa's surprise wedding because she wore a white dress is the most Shoshanna. Fascinators for fancy dinners (or what she perceives as that), looking the campaign part in red, white and blue while Ray is running for local council or going full spy in a trench coat and huge sunglasses; Shoshanna's wardrobe has it all accumulating with her trip to Japan last year where Tokyo street style was strong.
Another thing that factors into the costuming of Girls is that it is a summer show; with the exception of the snow filled season 4 coda. This means Hannah can wear all the shortalls, short shorts, playsuits and skirts that she wants. Hannah's never seen a pair of jorts that she doesn't want to wear and the shooting schedule of this show makes this a possibility. The fit of Hannah's clothes has got better over the seasons and there is less of the 'picking up whatever is clean off her bedroom floor' crinkles to her outfits now.
Some bold Hannah takes include the time she switched shirts at a club while high on coke (although I'm pretty sure she also would've done this sober) losing her floral top for a nipple barring neon string vest. There was the sleeping bag hoodie (also in season 2) that makes every Snuggie looks like the least cozy thing ever. Hannah makes bad clothing choices like wearing a swimsuit for a hike (season 5), wearing a bikini and no shoes for a bike ride (season 3), but there is also a lot of very cute patterned shirts and dresses in her wardrobe. When she gets the job at GQ her costuming noticeably improves and she has office style down by season 3.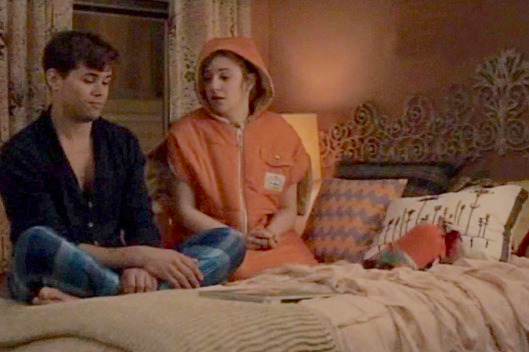 Standout dresses that show Hannah's understanding of what styles suit her tend to happen at the big events or moments of personal significance so she crushes Jessa's surprise wedding with almost has matching shoes, her birthday party in season 2 and the really cute cherry print Anthropologie dress she wore when she went back home to say goodbye to her dying grandma. The first payday blow out treat outfit feels so relatable and this Alexander McQueen is still one of the best things Hannah has ever worn and it isn't a coincidence that it comes at a time when Hannah is in a good place.
For all things boho and acting like you don't give a shit (even if you kinda do) then Jessa has you covered. Maxi dresses a plenty with varying levels of being able to see her underwear underneath and sometimes Jessa's floaty ensembles were to cover up Jemima Kirke's IRL pregnancy. While Marnie is a wannabe when it comes to her hippy ceremony, Jessa's wedding dress is pure 1960s in both the short length and floaty drama of her dress to the fact that she only just met her husband. And both marriages are just as successful.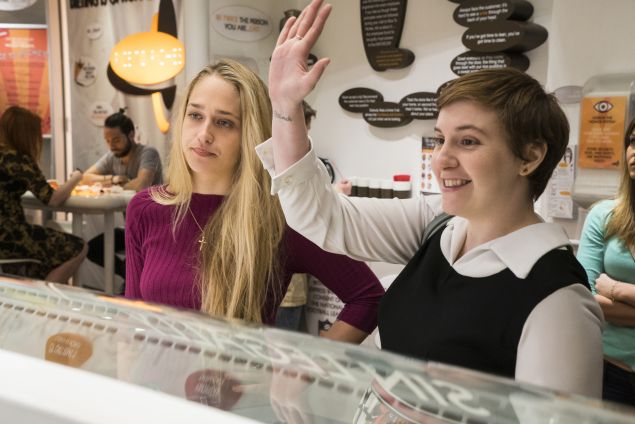 Jessa is the Cool Girl of Girls and for all her worldly grown-up vibes that Shoshanna laps up in season 1, she is just as lost as the rest of them. She just hides it better behind red lipstick and fabulous feather covered outfits. As the seasons have progressed and Jessa has let down some of her protective DGAF walls, her costuming has become less dramatic with heels getting switched for boots and frocks for shorts. Last year when she decided to go back to school her look reflected this desire to be taken more seriously; turtlenecks and overalls became the norm and her take on sexy was a striped T-Shirt and jeans. In a way Jessa is always playing a part and she has gone from the whirlwind to studying to become a therapist and her wardrobe reflects this.
From the promo materials for the sixth and final season there is an emphasis on this being the end. But this doesn't mean that everything is in its right place as the tears are flowing and there's still plenty of fun looking costuming to look forward to such as a very 'of course' Marnie ensemble; wearing a headscarf and oversized sunglasses while in a convertible. Shosh goes classic with her trench, but keeps her love of all things dramatic jewelry with huge hoop earrings, Jessa is still bold and the sky high pumps make a return and Hannah is never ditching the denim shortalls. She'll be wearing them when she is 80.
Emma Fraser is the creator of TV Ate My Wardrobe and spends most of her time writing about TV, fashion and costuming; Abbi and Ilana's Broad City style, the wigs on The Americans and Mindy Lahiri's pajamas are just as vital as talking about '90s, '00s teen shows. Emma has a MA in film and television, and she probably holds Angela Chase responsible for this path. You can find her on Twitter @frazbelina.