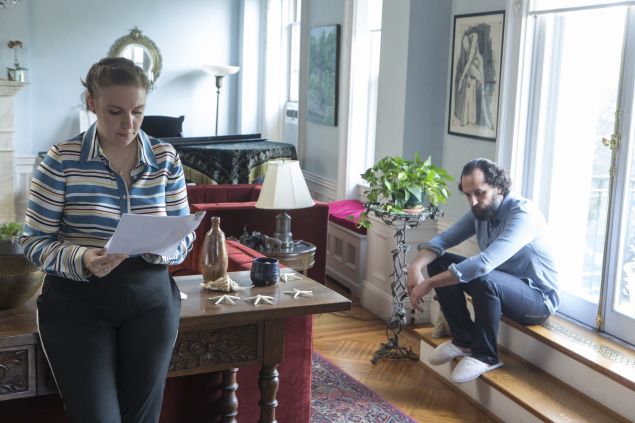 The third episode of the final season of Girls is one of the strongest of the entire series, taking on critical issues Dunham has explored in her work–and been criticized for–over the run of the show.
It's a bottle episode (throwing back to "One Man's Trash" from the second season) where Hannah pays a visit to acclaimed author Chuck Palmer (played brilliantly by Matthew Rhys) at his fancy Manhattan apartment. Writing awards and photographs of him with celebrities line his apartment.
He has asked Hannah to come over, and we realize his intent is to confront her about an unflattering article she wrote about him. She is shocked he came across her piece: "I was just surprised that you found the article I wrote… you must have an ass deep google alert on yourself, this was like a niche feminist website, not the front page of the New York Times."
He says he's not looking for an apology but wants to give his side of the story.
Hannah explains that she came across some disturbing allegations about him: "Using your power and your influence to involve yourself sexually with college students on your book tour… and whether all those sexual encounters were consensual or not…" He stops her there and says this word – consensual – is why he has lost 20 pounds and can't sleep. He reads from her piece, at once giving her a compliment while simultaneously insulting her: "You're funny, that's a funny sentence… but you should be using your funny to tackle subjects that matter."
Hannah retorts that it does matter, because consent matters. "By the way, how exactly does one give a non-consensual blowjob," he asks Hannah.
Suddenly he gets a phone call from his ex-wife and answers it in front of Hannah so she can hear about his daughter.
After going on about his depressed daughter and the situation with his ex-wife, Hannah tries to get to the point: "I don't know you but your work means a lot to me… so when I saw Denise's Tumblr…" he stops her there, to rail against Tumblr and how the internet and rumors can destroy a career. She isn't buying it: "Destroyed seems like an overstatement… You got a rave review in the Times."
He tells her he's worried his daughter's friends could Google him and find Hannah's piece and hold it against her, manipulatively framing this conversation as him wanting to protect his child.
The camera follows them into his kitchen where he continues to plead his case: "I'm not saying I'm perfect. I'm a horny motherfucker with the impulse control of a toddler. I have never fucking forced anyone to blow me, that is not my style. These Tumblr girls hurl themselves at me like I'm some fire-and-brimstone preacher. I invite them back to my hotel, we may drink teeny-tiny bottles of booze, a couple of them might stay and, voila, they have something to write about."
He tells her how Denise pursued him for a long time before the encounter she accused him of occurred.
Hannah asks why he can't let it go if he is so sure he is innocent: "Plenty of people wrote about Denise's story, did you call all of them to come to your apartment?"
He compliments her, using his charm on her as much as he did Denise: "No I only called you 'cause you're smart, you write sharply. You even made me believe what you're saying and I'm the one you're fuckin lying about."
She calls him out on the larger significance of these women's stories – the power imbalance happening in these kinds of encounters: "No I'm talking about the part where you're a very fucking famous writer and she's working very hard to get just a little bit of what you have every day… she admires you… then you unbuckle your pants… what's she gonna do next? You got it wrong, it's not so she has a story… it's so she feels like she exists. By the way, people don't talk about this for fun, it ruins their lives – you know that."
In an excuse many abusers and their supporters give, he tells her sexuality is a gray area. "I am so sick of gray areas." She tells him about her teacher in middle school rubbing her neck, and how it made her feel special as a 10-year-old, but makes her deeply uncomfortable in retrospect.
He asks if he can read her something to her from his latest work, a beautiful piece that makes Hannah start to feel more sympathetic to his claims: "This is what I wrote about Denise before she published her fucking Tumblr article; before she told the world that I was a menace, and a sleaze and a fraud. I saw a woman who was lovely, lonely and scared. I saw a woman who didn't want to let anyone in. And I see now in myself every fucking guy who didn't care enough to push a little further. Hannah, that is what I am guilty of – not pushing hard enough to get to know Denise, to get to the heart of her story. Do you get that?"
He says he wanted to meet Hannah so he could fix that, so he can get to the heart of her story, and asks her questions about her life and goals. Hannah begins to come around to him, loving the feeling of an author she adores giving her attention, buying into his manipulation.
They bond over a mutual love for Phillip Roth, who Hannah admits she feels bad for enjoying because he is dubiously sexist. In a line that sums up the debate that has held strong throughout feminism and art criticism (and this episode) he responds: "You can't let politics dictate what you read or who you fuck, those are my rules – write that down."
He asks her to lay down next to him so he can "be close to someone" in a way he hasn't in a while, saying she should keep her clothes on to reduce any awkward tension. She apologizes for writing a piece about him before knowing all the facts, and he says it's alright, he's not angry, then he rolls over and pulls his dick out. She touches it for a second, and unlike the Hannah we met in the first season who offered herself up to her boss, she realizes what he has just done, and freaks out. Matthew Rhys should win an Emmy for the sinister look on his face in this scene.
She wants to leave, but his kid arrives, and she gets sucked into listening to his daughter perform her flute routine.
We see her leave the apartment, as Rihanna's "Desperado" fittingly plays.