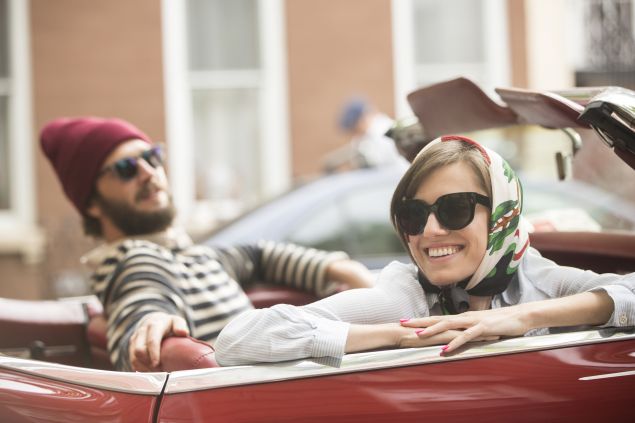 The second episode of the new season picks up with Marnie continuing to cheat on Ray with Desi, apparently feeling some sense of guilt about it – screaming that she's a horrible person while she reaches orgasm. Desi responds: "If you don't believe in your own goodness, you can't expect anybody else to," as though he is a character to give advice about goodness.
Then we catch up with Hannah telling Elijah all about Marnie and Desi's sexual reunion while she gets ready to spend a weekend in Poughkeepsie with the pair in order to help Marnie keep the rekindled romance a secret from Ray. She feels momentarily bad about breaking Marnie's trust and telling Elijah about it, but instantly justifies it because she and Elijah have a "sacred bond" so she can trust him not to tell. He of course reminds her that she is in no way a good secret keeper and pretends to forget everything he's just learned about Marnie because it's not about him, so why would he care?
Elijah then explains that he's going to hang with Shoshanna that night in a somewhat forced monologue that seems written for the audience more than Hannah, since it doesn't make much sense for these two to be suddenly at an event together after never ever hanging out together in the show previously.  In a classic Girls moment, he leaves Hannah's room and we see his bare ass, as he's wearing a top without bottoms.
When Marnie and Desi pick up Hannah in a sports car with the roof down they're obnoxiously listening to Joni Mitchell's classic "Free Man In Paris" and she begrudgingly gets in.
Then we see Shosh and Jessa making a 97th birthday video message for their grandma, with Shosh complimenting her on meeting her goal of still weighing under one hundred pounds. Jessa gives a purely Jessa birthday wish: "I hope there's no elder abuse at the home that you're in and I hope you're using protection… for the sex," upsetting Shosh who now doesn't want to send it. It has been interesting to watch this character, who began the series completely enamored with her cool cousin, become completely repulsed by her. Unfortunately, we later find out her reasoning for hating on Jessa is entirely egocentric. Shosh, being the youngest of the girls seems to be reaching that super selfish point in her life that the other three began the series at.
Jessa, of course, ends up inviting herself to the networking event despite Shosh trying to make it seem unappealing.
A funny scene in an antique store in Poughkeepsie plays out with Hannah questioning a beautiful woman about why she is running a dusty store instead of being a model in Dubai. In a monologue that reiterates Hannah's beachside discovery about the negativity of NYC life in episode one, the woman explains how she was living in a tiny Queen's apartment, broke and working in fashion, when she fell on the third subway rail and miraculously survived (the writers are obviously having fun with all the Sex and the City comparisons Girls has endured by saying it was "Law & Order's own Chris Noth" who saved her).
Then we find out why Shosh is so annoyed with Jessa – she tells Elijah how she ditched the girls running this networking event back in college to spend time with Jessa, so now she blames Jessa for her not being a part of their company. He reminds her that we can't all be perfect like Justin Trudeau, "You mean Justin Theroux, right?"
At the event Shosh stops her former friends to congratulate them on their success. They talk about their jobs and one of the girls gives another line that reminds us why this show is hilarious: "They're total visionaries floor to ceiling, like basically they do nothing and achieve everything, and I'm all about that."
Back in Poughkeepsie Marnie finds a bottle of pills in Desi's bag and asks what they are. He gets upset telling her to put them back. When she doesn't he tells her they're Oxy and that he's addicted and has been on them for a year. They get into a crazy fight where she smashes the container on the floor and steps on the pills: "You're not gonna get them, I'm stompin em' out!" Desperate, he snorts them off the floor.
Making a brilliant point about Marnie as a character, Desi points out her oblivion: "Yeah I'm fucking sick, but you're fucking demented, who doesn't know that their husband is on 20 Oxy a day?"
Hannah hears the fight and they throw him out and lock the doors. He shows up at the window apologizing, trying to get back inside, but they refuse so he smashes a window, screaming "bitches and cunts bitches and cunts let me in bitches and cunts!"
Shosh asks her former friends to exchange numbers for future hangs but they tell her they're still mad at her for ditching them on their trip to Aruba. Jessa tells her not to care because those girls are "like Khloe Kardashian and Bethenny Frankel if those women weren't amazing and two revolutionaries."
Back at the rental house, Hannah continues to show she's finally growing up by pointing out how Marnie's absolute selfishness has blinded her from seeing both Charlie and Desi's addiction issues: "But seriously Marnie, it can be pretty hard to have observations about other people when you're only thinking about yourself. I would know. And I'm not judging you, okay? I promise, I'm done with that. I'm done judging, I'm done being superior, I'm done acting like I know anything at all. None of us know fucking anything."
Outside of the event, Elijah calls Jessa a dick and when she asks why, he gives the line that he was wrote into this B-plot to say: "Because I actually came to try to help our tiny little friend here, not steal fine china… or someone else's fuckin boyfriend." Then he lets it slip that Marnie is cheating on Ray, to Shosh's surprise, and Shosh tells Jessa something that makes her look wise despite her self-interest throughout this episode: "I don't give a shit about Adam but if you are using Marnie to justify your behavior then .. ew."
Shosh then rants about how Jessa ruined her life by ruining her friendship with those girls, and she and Elijah both yell at Jessa to leave. When Jessa tells them both to grow up, we have to agree with her. Jessa's behavior with Adam truly sucks, but she doesn't deserve the shit Shosh is giving her here. 
In the final beautifully shot scene, Marnie and Hannah leave the rental, and Hannah bandages Desi's bloody hand and brings him to the car while the Joni Mitchell song that began their trip plays. Hannah and Marnie exchange a look of complete understanding and support that we've all shared with our best friends after enduring an entirely strange evening together.