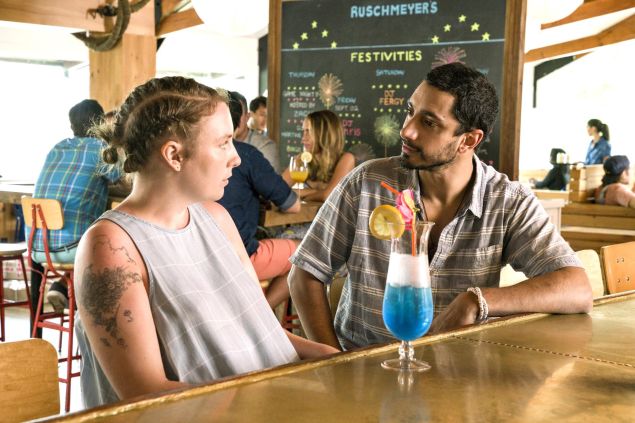 GIRLS is back for its sixth and final season, and the premiere episode begins with Hannah finally experiencing a major breakthrough in her writing career – having her piece, "Losing My Best Friend To My Ex-Boyfriend," published in The New York Times famed "Modern Love" column. Her friends and family read the piece with the joy you'd expect from people who've been supporting a career-obsessed, floundering character for six years, with Marnie proudly exclaiming from the toilet: "Hannah's in print!"
Adam reads it, asking Jessa if she wants to, but she declines. Those of you holding out hope that last season's brutal fight and resulting sex scene was a form of well-this-was-a-truly-terrible-idea goodbye sex – I am sad to say, they are still together.
Hannah meets with a magazine editor played by the hilarious Chelsea Peretti, who read her New York Times piece and questions how Hannah can even function after going through something that terrible, equating her to a "welcome mat" in a scene that satirizes everything horrible about modern media. She wants to hire Hannah to write a piece about a female surf camp in the Hamptons, exposing how rich women are ruining surfing the way they ruined yoga. This show has always poked fun at Hannah's unique sense of style and unwavering body confidence, and this scene is no different: "I already love your writing, but even if I didn't, I mean, we're basically hiring you for your look, your vibe, and your shape," Peretti enthusiastically notes.
Next, we find Ray and Marnie essentially living together in her tiny apartment, which her online therapist is concerned about. She does something surprisingly mature and tells Ray he should start spending more time at his apartment, as she needs to break her old habits and deal with her divorce from Desi. He doesn't want to be around Adam and Jessa's "boundaryless hinterland of sexuality and emotion," and says he will stay with Shosh instead, which Marnie is not okay with. They debate it and call each other "baby" about sixty times, and finally Ray agrees to go to his own place.
Marnie helps Hannah pack while voicing her concerns about Ray wanting to stay with his ex, and Hannah mentions how she and Elijah do it successfully. Elijah asks if he can borrow Hannah's room for a fifteen person orgy with fellow actors while she's in the Hamptons, to which she responds "ya, absolutely." Marnie suggests that he take an acting class if he wants to network. Insulted by the notion, he rants that only theatre nerds take classes. "I'm gonna fuck my way to the middle," might be Andrew Rannells' most hilariously delivered line in the entire series.
Hannah arrives in Montauk at the surf camp. In the parking lot, she meets Paul-Louis, played by The Night Of star, Riz Ahmed, in a lighthearted role that must have been a relief to play after portraying Naz.
Ray returns to his apartment to find Jessa completely naked on the couch eating yogurt. Adam appears – embodying his peculiar handsomeness as his ripped body contrasts his boyish briefs, and he tells Ray they moved his stuff to the corner: "We needed a clearer space for sex reasons so we thought we'd give you your own area." Their blatant disregard for his presence makes them the worst Girls couple (yes, worse than Jessa and Thomas-John, and Marnie and Desi, and Marnie and Ray, and Marnie and Booth) and maybe the worst TV couple, of all time. But we're not supposed to like them, and that is part of the beauty of a show that has realistically portrayed how ugly modern romance can sometimes be.
After accidentally putting on someone else's pink wetsuit and stripping it off on the beach (revealing she is wearing absolutely nothing underneath in true Hannah Horvath fashion) she makes a hilariously poor attempt at following the surfing lesson before falling over and asking to see the nurse.
At the bar, Paul-Louis jokingly chides her for quitting the surf lesson, and she offers to buy him drinks charged to the magazine. They dance the night away, and Riz Ahmed gets to show off his real-life serious rap skills, leading to a drunk Hannah exclaiming, "I know him, he's my surf teacher! I'm gonna fuck him!"
Back at his room we're given another look at something Girls has always done well – realistic sex scenes in all their awkward, getting-to-know-a-new-body glory.
Ray ends up staying with Shoshanna, and Marnie arrives in the morning with Starbucks coffee, which Shosh points out Ray – being the coffee snob that he is – would never drink. Ray and Shosh bond over their mutual hatred for New York Times writer Paul Krugman, leaving Marnie feeling very out of the loop. It will be interesting to see if Ray and Shosh, probably the strongest couple of the entire series, end up back together in the end. At the very least, we all collectively need a character as well-written as Ray to not be stuck as Marnie's failsafe back-up plan.
Hannah wakes up in Paul-Louis' bunk, throws up on his floor, and attempts to leave for her room. But not before he comments on her unkempt bush. "For your information, this is what adult women look like when they're using their pubic hair the way that like, whatever, the lord intended, which is to protect their vagina, so thank you for pointing that out." Clearly his sex skills are lacking if he isn't seeing her bush until the morning after, but he still manages to convince her to hang out with him while he skips work for the day.
They make out on the beach, rolling around in the water with sand everywhere, in an adorable scene that looks like it must have been absolutely hilarious to shoot. After discussing their respective childhoods growing up in Michigan, and Hannah's surprising newfound love for the beach she had always hated, she has an epiphany that speaks volumes of Girls overarching message and commentary on life as a twenty-something in the city: "But all my friends in New York define themselves by what they hate. I don't even know what any of my friends like, I just know what they don't like. Everyone's so busy chasing success and defining themselves, they can't even experience pleasure."
At Marnie's place, Desi is over to finalize their divorce settlement. After fighting about guitar pedals and their failed tour, Desi delivers a panty-dropping line after Marnie questions if she should even be making music at all: "Before everything, before I even saw you as a woman, I saw you as an artist. You are a musical force." While this might be a hilarious statement to our ears, in that moment there is only one way Marnie will react, pulling him toward her. Poor Ray.
Hannah wakes up with Paul-Louis and tells him she's thinking of getting an Airbnb in the area to stay and get to know him better. He encourages it, and casually mentions his girlfriend is coming into town Friday so she can meet her. Hannah is very confused, but he mentions they're in an open relationship. Noticing she's upset, he tells her he didn't think she was looking for something serious and apologizes, and she agrees she wasn't.
That night, the surf group is on the beach having a campfire to the apt 90's hit "She's So High," and Hannah is in Paul-Louis' arms, enjoying the moment with him while it lasts, for once.