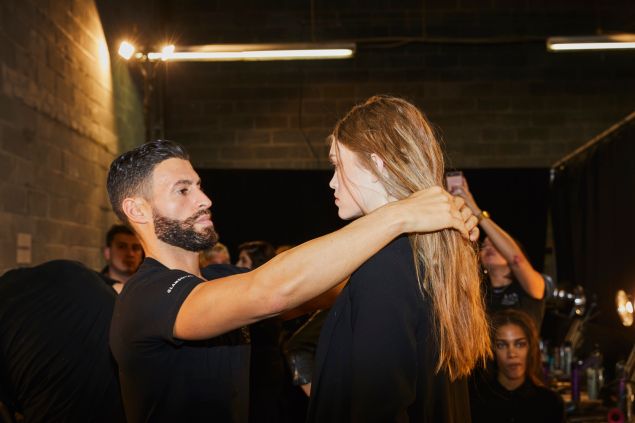 The backstage of any New York Fashion Week show is a carnival. Spaces are cramped, models are rushed from hair to makeup to nails in record time and makeup artists provide canned answers about the the looks they've created to hordes of editors trying to discern the next big beauty trend. While those looks are often quite beautiful, the insanity of the atmosphere where they are created makes it hard to wax poetic about rouged lips and romantically tousled hair.
Many of these beauty looks have long been sponsored by Maybelline, or M.A.C., the big name brands. But occasionally, things shift. A smaller brand like K-beauty pick Too Cool For School provides the eyeshadow, lipstick and more for Libertine. Victoria Beckham's eponymous collab with Estée Lauder is used at her show, while Marc Jacobs sticks to his namesake makeup backstage. Of course, any show helmed by Pat McGrath garners a ton of attention.
But the biggest shift we've noticed backstage in recent years is that of Glamsquad-sponsored shows. You probably already know Glamsquad; the tech-meets-beauty startup that pioneered the blowout-in-your-bedroom concept. This on-demand concept doesn't immediately seem like a natural fit for fashion week. But to Glamsquad, the relationship could not be a more natural fit.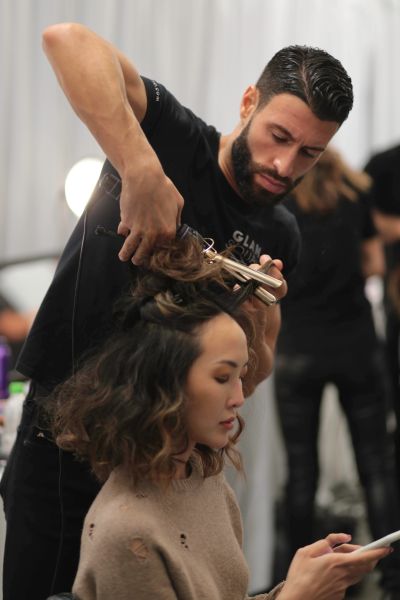 In fact, the company first participated in NYFW in 2014 (also the year of Glamsquad's inception) and the number of shows has steadily risen, hence our intrigue. This season, they provided hair services for Cinq à Sept, makeup and nails for Erin Fetherston, nails for Noon by Noor, hair and nails for Dennis Basso, and makeup for Mimi Prober.
But this NYFW presence started slowly. Glamsquad started off by servicing the influencers, VIP clients, celebs who were attending the shows. Then, personal clients became professional ones—Erin Fetherston, for example, who's enlisted the beauty and tech company for her past two shows.
The growth has come from both directions; Glamsquad actively worked on NYFW outreach, while designers sought out their expertise. As the company grew and proved itself a "credible resource for providing a luxury experience," more designers were interested. In fact, Glamsquad CEO Amy Schecter pointed out that their artists are so used to collaborating (think, getting a woman ready with hair, makeup, and nails all happening at once) they work especially well in sync, "as though doing a dance."
It's a savvy move. Most women would find it rather appealing to tap-tap at the app and have a makeup artist in your home within an hour, especially if they are a professional who worked backstage at NYFW just a few weeks before. All of Glamsquad's artists, whether they were backstage at NYFW or not, have been briefed on the major beauty trends to emerge from the shows.
"We create these trends and these beauty moments with the designers. But, because our team is backstage working with us one day, and then they're off taking appointments with our clients the next, we can instantly bring these trends directly to the consumer," Kelli J. Bartlett, the company's Director of Makeup Artistry, explained. "We're really integrating beauty and fashion into the homes of our clients with such expediency—it's instant gratification of having something that was just backstage and can then be directly translated to the consumer."
"Even the looks that don't immediately appear consumer-friendly, like a really black smokey eye, or something more theatrical—we take those trends and break them down and make them easy to translate—we interpret the trends to make them more wearable," Bartlett said, noting that this, in fact, is one of the company's expertises, and major points of difference.
Giovanni Vaccaro, master hairstylist and Glamsquad's Creative Director expounds on the runway-to-real-way domino effect the company is able to create for their clients: "We actually have the ability afterwards, to bring all of our team members together, and there's hundreds of them, to create a class and a recap, so everyone is fully versed on the trends, the looks we created, and where fashion is going at the moment. We create step-by-step [guides], which are then emailed out to the team—and not only for shows we led, but for shows that we think are creating the trends that we're seeing."
So can you look like a Rebecca Minkoff model in time for your hot date on Friday night? At least when it comes to hair, makeup, and nails, the answer is a resounding yes.