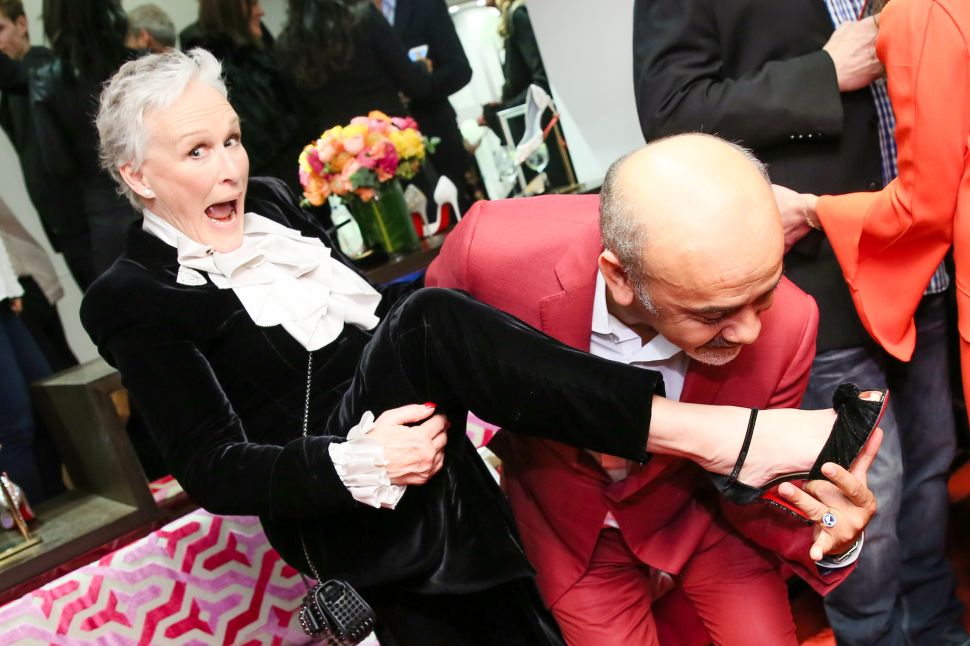 Perhaps the most well known shoemaker in the world, Christian Louboutin, and close pal Glenn Close celebrated the return of Sunset Boulevard to Broadway on Tuesday night. Close is set to reprise her role in the Andrew Lloyd Weber-directed hit as starlet Norma Desmond – one that earned her a Tony Award in 1995. Shoppers including Fern Mallis and Tracy Morgan, with wife Megan Wollover, came out en masse to hang with the duo at the designer's Madison Avenue boutique. They were also treated to the unveiling of a new red bottom stiletto designed by Mr. Louboutin to benefit Close's own charity, Bring Change 2 Mind. 
Saks Fifth Avenue opened the doors to their first mens-only outpost on Wednesday night as the first portion of an all new "Saks Downtown" concept at Brookfield Place. The store was appropriately packed with menswear obsessives like former Giants running back and current free agent, Rashad Jennings, who wore his finest Burberry ensemble, as well as Chef Marcus Samuelson, who accessorized with a Pharrell-worthy cap. Joining in on the boys night was Leighton Meester, who arrived directly from her appearance on Late Night with Seth Meyers in a plunging Prabal Gurung pantsuit. Entertaining the crew was Timothy Goodman, who created a live art installation currently on view at the sprawling shop, and James Murphy of LCD Sound System on the 1s & 2s. 
Later in the evening, The Standard High Line converted its wildly popular beer garden into a curling course for the first annual "Game of Stones" curling tournament. The groups selected for the battle royale came from every stylish corner of New York industry including, to name just a few, the Bottega Veneta public relations team, Opening Ceremony's design staff, and the creators of the Facebook for the fashion set, the Billy Farrell Agency. Foodie blog Lucky Peach ultimately prevailed as the winner of the heated competition, celebrating with, of course, a few large pints of The Standard's house beer.
Shindigger is Observer's weekly party column, written by Zachary Weiss and published every Friday morning, recapping the best parties in New York City and beyond.