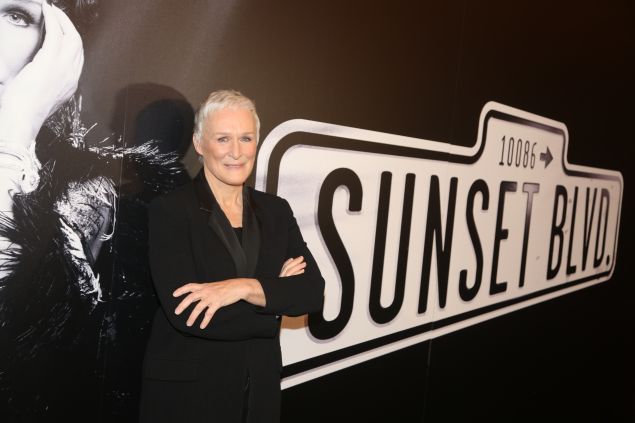 "So they were turning, after all—those cameras. Life, which can be strangely merciful, had taken pity on Norma Desmond. The dream she had clung to so desperately had enfolded her."

–The late Joe Gillis narrating Norma Desmond's mad staircase descent at the end of  Billy Wilder's Sunset Boulevard
Norma Desmond met the press the other day at her Palace (commonly known as The Palace at 47th and Seventh). Questions flying, cameras flashing—she loved it.
But then, what's not to love? The cause for all this media commotion was her long-time-in-coming comeback—or rather, as she pointedly prefers, her "return—a return to the millions of people who've never forgiven me for deserting the screen."
Actually, regardless of how offensive it may be to poor Norma's super-sensitive sensibilities, comeback is the correct word—especially when referring to Glenn Close, the Tony-winning Desmond and, arguably, the greatest Desmond of all, who will commence a 16-week reprise of her 1994 triumph Feb. 9 in case you missed it.
Close's objection is with the word "reprise," and she speaks right up: "This time, my whole approach was that I didn't want to go back to anything I did before. I came to it just thinking I'm not recreating. I'm exploring, starting from scratch. I'm 22 years older now. I've had 22 years more of craft and life. It's bound to be a different take.
"Also, it's a story that invites revisiting. It's one of the greatest stories ever to come out of Hollywood—and certainly one of the greatest roles ever written for a woman, either on stage or in film. Playing this character takes everything. As cathartic as the story itself is—for any actor or actress in it, it's also cathartic and, ultimately, very satisfying just to feel that all your creative muscles are being flexed while you do it."
Close is 69 now and holding herself to seven performances a week. "We found out you can't do eight performances a week of this role without getting sick. Anyone who has ever played this role will tell you it's physically, and vocally, challenging."
Those who saw her make her West End debut last spring as Norma at London's English National Opera say that age makes La Desmond less monstrous and more vulnerable. "To the astonishment of us all, Glenn was even better than before," declares Christopher Hampton, who co-wrote the show's book and lyrics with Don Black. "She nailed it. I've seldom been in a theater where people got so excited."
Michael Xavier, Siobhan Dillon and Fred Johanson, who co-starred with Close in that production, are making their Broadway debuts repeating their performances here.
Hampton was the first person to see a musical in Sunset Boulevard. When the English National Opera passed on it, he gave the idea to Andrew Lloyd Webber—mostly as a way of politely passing on doing the book for The Phantom of the Opera.
Last month Phantom started its 30th year at the Majestic as Broadway's longest running show—so, when Sunset Boulevard opens tomorrow at the Palace, with Cats and School of Rock also in town, Lloyd Webber will be the second composer ever to have four shows running simultaneously on the Main Stem. The first was Richard Rodgers, who, in the summer of '53, had four of his shows with Hammerstein going full blast on Broadway (South Pacific, The King and I, Me and Juliet and Oklahoma!).
The British composer is a bit embarrassed, and more than a little humbled, by that statistic. "I met Richard Rodgers very, very early on in my career," he says. "To think that I got anywhere near what The Great Man did is really astonishing for me."
Unlike Rodgers, who needed a show to focus on to access his melodic storehouse, Lloyd Webber claims he compulsively composes every day. "Melody is what I really believe in. Right now, I have in my drawer of melodies probably 20 that I'm really pleased with. It's a hopeless waste and strain because I can't find a subject I want to do as a show, which is dreadful for me, but I can't help it. I just think in melodies."
A 40-piece orchestra, uncommonly large for Broadway, should help to hold that melodic line. "This is really the esteemed English National Opera's staged concert version of the show," Lloyd Webber underlines. "Because of that, it's very much more about the material than the actual performance, so, therefore, now it's all about the music and the story—without the encumbrance of huge scenery."
John Napier's multi-ton, Tony-winning gilded staircase, which dominated Norma's gothic-Victorian-baroque mansion in the original Sunset Boulevard, is a brain-burner for anyone who has seen it. It sometimes ascended so a party scene could be played on stage under it, and, during the shaky L.A. tryout, its revelers would break into collective cold sweats from the after-shocks that followed a big California quake.
"That went on for months," Close recalls. "The suspended stage always moved a bit when the earth was still, but, after that, even little shakes got the adrenalin going."
She may be glad to see that magnificent monstrosity go, but it has been replaced by many more stairs for her to scale. "It's more abstract and more deconstructed than Napier's gorgeous, hyper-realistic set," points out the show's director, Lonny Price.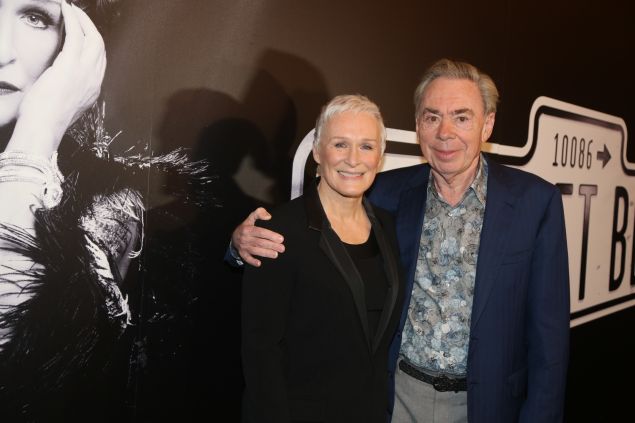 "The original set and production encouraged a kind of grandiosity and, I think Glenn would even say, a kind of grotesquerie. Now, it's a middle-aged woman fighting for her life and her career. She's eccentric, for sure, and she's been hurt a lot, and she's going to lose her mind, but she's not there yet. We watch her incrementally lose it."
Just prior to presenting his star to the press, Lloyd Webber gave Close's arm an affectionate squeeze and whispered to her like an excited schoolboy, "We're all here because of you." Which was true, he admits, "What happened was that we had the opportunity to do it at the English National Opera, and they asked Glenn. She had never done it—or anything on stage—in London, so I think she was keen to do it."
It may be remembered that Lloyd Webber hired his stateside Evita, Patti LuPone, to world-premiere Norma in London, with the promise of her repeating the role on Broadway, but, when he saw Close do Norma at the American premiere in Los Angeles, he decided to give her the Broadway shot instead, resulting in an extremely acrimonious lawsuit that wound up paying for LuPone's swimming pool. In this year's Tony race, LuPone has the edge (via her Helena Rubinstein in War Paint) over Close, who, for all her from-the-ground-up work on Norma, isn't eligible for seconds.
"Glenn," Lloyd Webber still insists, "is the best Norma Desmond that I've ever seen."
"Glenn," Lloyd Webber still insists, "is the best Norma Desmond that I've ever seen." That may or may not include the original madwoman of Sunset Boulevard—Gloria Swanson in Billy Wilder's 1950 film classic. A haughty beauty from Keystone Kops days, Swanson was not known to be much of an actress before—or after—Sunset Boulevard, but for this one film Wilder manipulated from her a great performance of a silent screen star whose career crashed and burned with the coming of sound.
It's now hard to believe, but she was not the first, second or third choice for the role. Wilder's first choice, Mae West, was insulted by the offer. His second—Pola Negri, a Polish actress who didn't survive sound—still had an accent that would mangle Wilder witticisms. He even went to Pickfair to pitch the picture in person to No. 3, Mary Pickford, who reacted in such horror at the story he was telling he stopped. Greta Garbo and Norma Shearer were asked but wouldn't budge out of retirement.
Swanson was the suggestion of George Cukor, who, ironically, would direct the one performance that would take the Academy Award away from not only Swanson's Norma Desmond but also Bette Davis' Margo Channing: Judy Holliday's Billie Dawn.
A major plus about the Swanson casting was that she'd worked with director Erich von Stroheim, whom Wilder hired to play Norma's first husband and lasting butler, Max von Mayerling. The film they did together for producer Joseph Kennedy, Queen Kelly, was never finished, but a clip of it flickers by in Norma's home screening room.
The role of Joe Gillis, who draws very dubious double duty as Norma's screenwriter and lover, also went through casting loop-de-loops. Montgomery Clift bolted two weeks before shooting was to begin because he thought the older woman-younger man relationship reflected on his real-life one with Libby Holman; Fred MacMurray disliked the gigolo aspects of the role; Marlon Brando was considered too much of an unknown to take a chance; MGM refused to loan out Gene Kelly, so Wilder had to settle for a Paramount contract player, William Holden, who came through big time.
Wilder and his longtime writing partner, Charles Brackett, almost came to blows over a montage showing what Norma goes through to look young for the cameras. They never made another movie together. It was their 13th collaboration, and it won them—and someone named D. M. Marshman Jr.—a Best Original Screenplay Oscar. Marshman was a poker crony of Wilder's whose chief contribution was dreaming up the two-decade age gap between Norma and Joe and turning him into "a kept man."
Fearing a negative reaction to the movie's damning depiction of the film industry, the script was kept top secret and titled A Can of Beans while in production. That fear turned out to be real: At the movie's splashy Hollywood premiere, a livid Louis B. Mayer caught up with Wilder and accused him of biting the hand that fed him.
Wilder, never one to be at a loss for a witty retort, shot back a terse "Fuck you!"